Save Money in January: 20 Unwanted Gifts Being Unloaded on Ebay for Cheap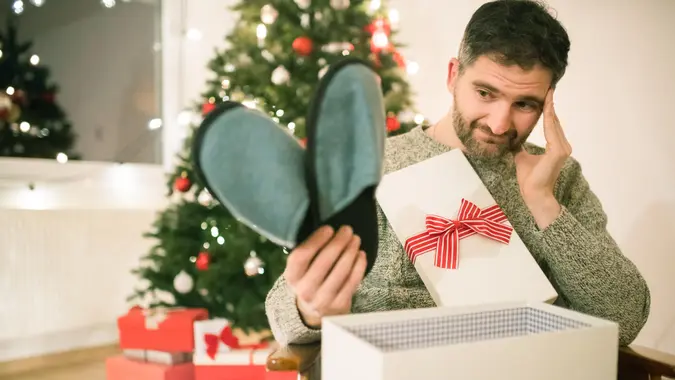 SrdjanPav / Getty Images/iStockphoto
Americans spent like crazy on the holidays, with many landing in debt. But, alas, not every gift bought was wanted. According to a survey from Finder, 52% of Americans surveyed admitted to getting at least one unwanted gift over the holidays. Some may have returned or exchanged those gifts; others may have tried to make money off of them by listing them on sites like eBay. 
Using Google's product of the year list, which shows the most-searched-for gifts of 2022, Financial-world.org used data from eBay to see which items had the highest number of new auctions from Dec. 30, 2022 to Jan. 4, 2023.  
Based on those findings, these are the top 20 gifts of 2022 most likely to be sold on eBay right now. Since the site is currently saturated with listings for these items, chances are good consumers can find them for cheap — or at least cheaper than they normally would. 
Beanie hat: 4,800 
Messenger bag: 1,600 
Bath bombs: 927 
Aromatherapy diffuser: 785 
Bluetooth speaker: 638 
Cordless vacuum: 573 
Sweater vest: 516 
VR headset: 511 
Electric toothbrush: 507 
Sherpa jacket: 491 
Electric bike: 459 
Handheld gaming console: 455 
Quarter-zip pllover: 421
Huggie earrings: 418 
Fidget toy: 306 
Air fryer: 301 
Gaming keyboard: 248 
Electric scooter: 244 
Vitamin C serum: 166 
Trampoline: 161 
"While we're no doubt grateful for the gifts we receive during Christmas, everyone has had the experience of opening a present and knowing instantly that they wouldn't use it, or they already owned it," said a spokesperson from Financial-world.org in a press release.
Make Your Money Work for You
"That, combined with the fact that January can often be a time of financial stress, means that plenty of people will be looking to make some money from an unwanted gift, so it's fascinating to see which items are most likely to be listed on eBay at this time of year." 
More From GOBankingRates