Slash Your Grocery Bill with These Coupon Stacking Tips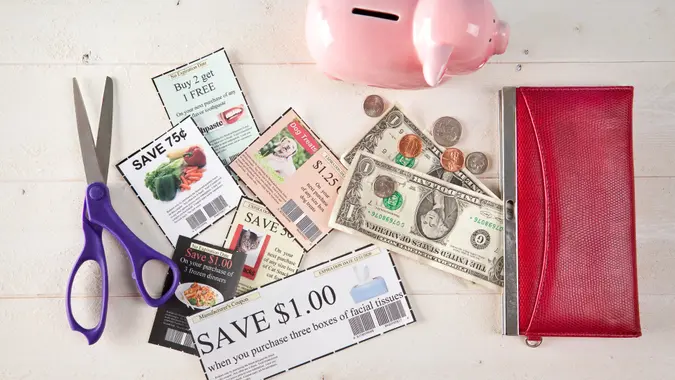 sdominick / Getty Images/iStockphoto
Couponing isn't new, but it's gaining more traction recently. Inflation has turned regular trips to the grocery store into scavenger hunts for the best deals and savings one can find. Shoppers are flocking to big box stores with rewards programs and smartphone apps that make finding savings that much easier.
The biggest question now is how to maximize those savings. Couponing is a skill, and knowing the different types of coupons and how to stack them is key to getting the most out of each grocery trip. Follow along to learn more about couponing and how it can help lower your grocery bills.
1. Catalina Coupons — Paper
Some stores are well-known for their long receipts, but don't throw these away. Catalinas are long and narrow coupons that print alongside your receipt. When the cashier hands back a roll of paper with your groceries, be sure to check it for potential savings. Catalinas can come from the supermarket or the product manufacturer; read the fine print to make sure you know which it is to best stack your coupons.
When stacking coupons, a good rule of them is to use 1 type of coupon per item, i.e. stacking a store coupon with a manufacturer coupon for the same product. If you have a Catalina from the manufacturer for $1 off a carton of orange juice, you cannot also go online and print the same manufacturer coupon to get savings from both. Essentially, because they're both from the manufacturer, they are the same coupon in different forms. You can stack a store coupon Catalina with a digital manufacturer coupon, but if both are store coupons, and they're for the same item, they won't stack.
Make Your Money Work for You
What Stacks
Opposite types of coupons — store coupon Catalinas stack with manufacturer coupons and vice versa.
2. Manufacturer Coupons — Paper, Printable, Digital
These coupons come directly from the manufacturer of the product, making these some of the best coupons for stacking with other types. When it comes to finding them, break out your scissors and the local paper. Some of the best places to find manufacturer coupons are in the weekly ads from the mail. Before tossing them in the recycling bin, flip through the pages for any savings.
You can also find a number of manufacturer coupons online (if you know where to look). Before setting out for the store, do some research. Websites like Coupons.com and smartphone apps for stores like Target can help one find an even wider range of coupons than might be in the weekly papers. Online coupons can be either printable or digital. Be aware that because manufacturer coupons are available in both print and online, you won't be able to stack them together at the checkout counter. Although the coupons are in different forms, they are still technically the same.
What Stacks
3. Store Coupons — Paper, Printable, Digital
These coupons come from your chosen grocery store. Store coupons and manufacturer coupons are often found in the same places — weekly newspaper, websites and apps — so be sure to read the fine print to confirm which it is. These coupons are typically the easiest to find because most grocery stores display their weekly printed ads by their entrances so shoppers can pick one up on the way in. If you have a favorite grocery store, download their smartphone app. These apps not only provide an easy way to create a shopping list, but they also give people access to digital coupons that can be used then and there.
Make Your Money Work for You
What Stacks
Manufacturer coupons
Catalinas
4. Additional Savings
Loyalty programs and rebate offers aren't exactly coupons, but both will maximize your grocery savings. Rewards programs are there to encourage repeat shoppers. If you frequent one store more than another, it might be worth signing up. This way, all of your regular purchases can be applied toward a reward. Got a lot of receipts? Download an app like Ibotta that offers cash back rebates for a wide variety of products. With an account, shoppers can pre-select deals on their phone before shopping. Afterward, just upload a picture of the receipt to earn cash back from your purchase. Both loyalty rewards and rebate offers can be used with all of the more traditional coupons at checkout.
More From GOBankingRates