10 Nifty Gadgets You Should Buy This Spring To Help You Save Money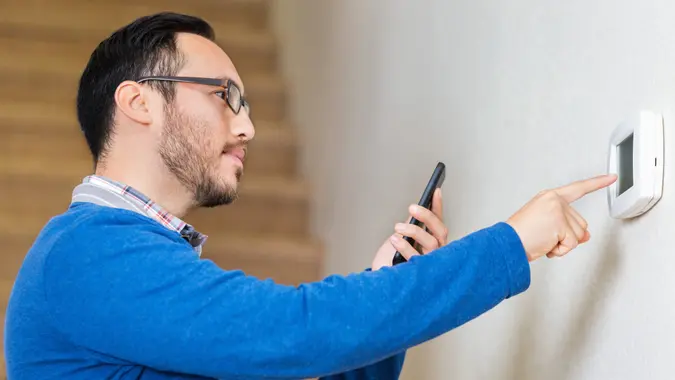 Steve Debenport / Getty Images/iStockphoto
Spring has officially sprung, which means it's time to make things like new again. Cleaning your windows and wrestling the dust bunnies out from under your bed are a good start, but you can also do some things to help your wallet this season.
Related: 10 Quick Tips To Save on Your Energy Bill This Spring
Tips: Unplug These Appliances That Hike Up Your Electricity Bill
To help give new life to items you thought were worn out, change some of your expensive habits or protect your investments, here are 10 nifty gadgets that can help you save money along with daylight savings.
Water Bottle With Filter
If you're a person who buys case after case of bottled water, you can save a ton of money by investing in a reusable water bottle with a filter. For example, a 26-ounce Brita water bottle with a filter can replace 1,800 single-use plastic bottles a year. So not only will you save money, but you will also aid the environment. You can pick up a reusable water bottle with a filter for about $20 on Amazon.
Make Your Money Work for You
Smart Thermostat
You can find a wide range of smart thermostats at a cost ranging from $60 to over $200. Which one you pick doesn't really matter as much as actually installing one in your home this spring.
If you're wondering how much you can save, Google Nest reports that its users reap an estimated average savings of $131-$145 per year on their utility bills. However, any thermostat that is Energy Star certified is required to save users at least $50 annually on utility bills.
See: 25 Extra Grocery Costs You're Probably Forgetting About
Rapid Egg Cooker
If you find yourself buying expensive snack food that's loaded with carbs and sugar to help you get through the mid-afternoon slump, consider buying a carton of eggs for a few dollars and hard boil six at a time for protein-packed, low-calorie snacks that have virtually no carbs instead. Not only will you save money on snacks, but you'll be snacking healthier too.
You can pick up a rapid egg cooker that has a capacity of six for around $18, or pay around $25 for one that will cook a full dozen at one time.
Make Your Money Work for You
Wine Preserver
Sometimes, you want a glass of wine but you don't have a friend or two around to help you finish the bottle in one sitting. If you decide to pop the cork anyway, you'll be saddled with leftover wine, which is often unappealing to drink due to oxidation.
Instead of pouring your leftover vino down the drain and wasting it, invest in a wine preserver, which can delay oxidation for up to seven days. For $12.99, you can pick up a pump and four wine stoppers — just in case you decide to follow that glass of white wine with a glass of red.
Produce Savers
If your New Year's resolution to eat healthier is still in effect, you might be struggling to consume all the healthy (and expensive) fruits and veggies you've been buying before they turn bad. If you're tired of having to toss those $5 cartons of organic berries, buy some produce savers, which absorb ethylene gas.
Make Your Money Work for You
You can get a year's supply for about $20, which adds up to a little over a nickel a day to help your produce last two to three times longer.
SodaStream
If you find yourself drinking a lot of soda or sparkling water, SodaStream can ease the burden on your wallet and the environment. You can purchase a bundle that includes the machine and everything you need to get started for around $140.
That may seem pricey, but you could save a couple of hundred dollars per year depending on how many cases (and the cost) of soda or sparkling water you typically buy. Plus, think of all of the soda cans or bottles you'll avoid tossing in the trash.
Beauty Spatula
If you've ever regretted tossing that last bit of makeup or hand cream into the trash because you just couldn't salvage it, your struggles are over. For about $5.50, you can buy a reusable Beauty Spatula that will help you mine the last bit of those precious creams, serums and foundations that were lost to you before. As a bonus, you can also use this product as an applicator.
Find: 8 Clever Ways To Stop Wasting Money on Clothes
Fabric Shaver
Fabric pilling can make a perfectly good sweater or comforter look worn. Instead of putting these items in the donation bin and buying replacements, invest in a fabric shaver. You can pick up a rechargeable model for around $14, which means you'll make your old items look new without spending extra on batteries.
Cable Protector
If you don't take steps to protect your charging cables from twisting, abrasion or pet chewing, sooner or later you'll have to replace them, which can be quite costly. Instead, consider buying spiral-shaped pieces of protective material designed to wrap around your cord.
Some users report that while wrapping the material around the cords takes time, doing so has deterred pets from chewing or extended the life of cords at their twist points. You can pick up 10 pieces of protective material for $8.50, which is probably less than what you paid for your last phone charging cord.
Luggage Scale
If you've ever had to fork over an extra fee while traveling for having a bag that exceeds an airline's weight limits, it's not something you likely want to repeat. The way to avoid hassles at the checkout counter is to invest in a luggage scale. That way, you can weigh your bag before you head to the airport and make any necessary changes.
For around $20, this little gadget could more than pay for itself the first time you use it. For example, Delta Airlines charges up to $200 per overweight bag.
More From GOBankingRates
Make Your Money Work for You