Stock Up Now on These 11 Costco Items for Winter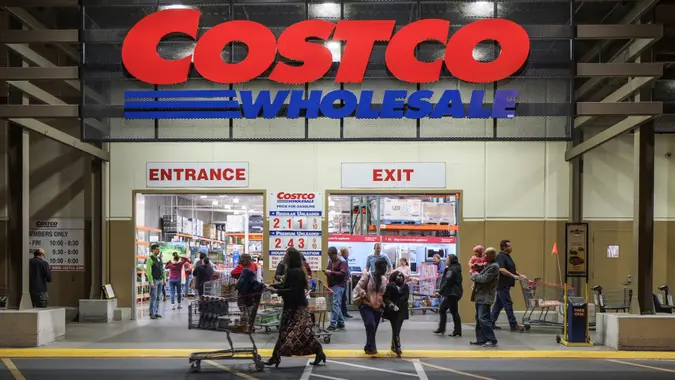 slobo / Getty Images
As the days grow shorter and temperatures drop, it's time to prepare for colder weather and everything that comes with it, including more time indoors. One of the best places to stock up on essential items is Costco. Known for bulk buying, exclusive offerings and unbeatable prices, you'll find a wide range of products that can help you stay warm, cozy and well-stocked until spring. 
GOBankingRates reviewed hundreds of the retailer's products to bring you this year's top 11 Costco items for winter. Nearly all are available at warehouse locations or for purchase online should you decide you'd rather stay cozy inside and wait for home delivery.
1. KitchenAid 6 Quart Bowl-Lift Stand Mixer, $399.99
Costco's KitchenAid mixer in signature red is a fantastic purchase for the winter season. The color alone brings in the holiday cheer during the cold, dreary months. The iconic KitchenAid mixer is a culinary workhorse, perfect for all your holiday baking and prep needs. The powerful motor offers 11 speed settings. It can handle nearly anything that fits in the large six-quart stainless steel bowl effortlessly, from mixing cookie dough to kneading bread, making homemade winter meal preparations a breeze.
The mixer comes with a flat beater, flex edge beater, dough hook, whisk and pouring shield. However, KitchenAid provides other compatible attachments, to make pasta, grind meat and more, for a versatile investment that can be used beyond winter. Look out for Costco discounts to save even further — the mixer is $299.99 through November 19.
Make Your Money Work for You
2. Kirkland Signature, Organic Chicken Stock, 32 fl oz, 6-Count, $11.99
When the winter chill sets in, there's nothing quite like a hot bowl of soup to warm you up. And if you can throw something together from scratch, why not start with an organic, gluten-free base? Costco's Kirkland flavorful chicken stock is slow-roasted for rich flavor and available in bulk as a box of six cartons that don't require refrigeration.
For anyone in search of nutritious, low-cost meals, start with a chicken broth base that's less than $2 for 32 fluid ounces. Add dumplings, vegetables or other favorite items for a hearty meal on a cold day.
3. Chefman 1.8L Digital Precision Electric Kettle with Tea Infuser, $44.99
Chefman's digital kettle is ideal for anyone in need of boiling water fast (two cups of water in three minutes). The precise temperature control comes with seven presets perfect for brewing tea, coffee or preparing hot water, for instant meals such as oatmeal or noodles. With a generous 1.8-liter capacity, it's great for multiple servings. Plus, the included tea infuser expands the kettle's utility, making it an excellent choice for tea enthusiasts. 
4. A'cappella Classic Hot Chocolate BevBombs, $29.99
There's no better way to enjoy a snowy evening than with a creamy mug of hot chocolate. Costco carries a wide selection of hot chocolate mixes but hot chocolate bombs may be this season's standout. Each bomb is made from layers of dark and milk chocolate with a cocoa dusting on the outside. But the best part is the marshmallows inside, ready to release and float up to the edge of your mug, when the chocolate bomb melts.
Each box comes with 16 individually-wrapped bombs. Load up on these as stocking stuffers, Secret Santa presents or hostess gifts, to make sure you have a warm and indulgent treat for yourself — and your special ones — this holiday.
Make Your Money Work for You
5. Pendleton Plush Throw, $24.99
Pendleton's blankets are a big draw at Costco. New designs are released every year in their signature patterns printed on to the soft and plush polyester material. Costco offers members five designs this year ranging in colorways from neutral tans, grays or blues or a bolder, multi-color design.
Having an extra blanket or two on hand is always a good idea for staying warm, stylish and comfortable. The throw's size is generous at 50 inches by 70 inches to envelope you on a chair, daybed or anywhere you're planning on lounging at for a few hours.
6. Neutrogena Hydro Boost Water Cream 1.7 fl oz, 2-pack, $19.99
Winter weather can be brutal to skin. Whether you're outdoors in harsh conditions or feeling flaky from forced-air heat, keeping skin hydrated is essential to feeling comfortable. According to Neutrogena, your skin will feel nine times more hydrated for up to 72 hours. The advanced formulation is ideal for anyone with sensitive skin, thanks to the lack of dyes, fragrances and parabens many skincare products include. 
7. Eddie Bauer Family Holiday Pajamas, $12.99 to $19.99
Costco's winter apparel section is a great place to stock up on cold-weather essentials. You can find everything from thermal socks and insulated gloves to warm winter coats and snow boots. Eddie Bauer's collection of family pajamas is bound to be a popular seller for the ubiquitous Christmas card photo or simply for building memories nesting at home together. 
You'll find matching plaid for nearly everyone at home. The collection comes in multiple sizes for babies, kids, women and men. Even furry friends can participate in the holiday photo op — there's a matching plaid pajama available in pet sizes from small to extra large.
8. Augason Farms 72 Hour Emergency Food Kit 5-pack, $109.99
Winter storms can sometimes lead to power outages, making it difficult to access fresh food. Or a storm may make it impossible to leave home for food and supplies. Augason Farms' emergency food kits provide non-perishable food items with long shelf lives of up to 25 years. 
Make Your Money Work for You
These kits are a smart way to ensure you have access to food during unexpected disruptions. You'll get 130 portions, enough for a family for three days, providing 1,627 calories and 35 grams of protein per day. Don't forget to keep some rations, along with a blanket and flashlight, in your vehicle in case you're stuck on the road.
9. Winter Tires
Safety should always be a top priority, especially when driving in winter conditions. If you live in an area with snow and ice, investing in winter tires is essential. Costco often offers great deals on quality winter tires and tire installation services to keep you safe on the road. 
Besides the tire sales and installation, the level of service offers additional value for no extra charge. Free tire rotations and balancing, a five-year, road-hazard warranty and flat repairs add to the convenience and savings of getting your tires at Costco. Plus, Reddit users mention that Costco will swap your all-season tires for the winter ones for $20 per tire as long as they were purchased from the center.
10. Bellevue Luxury Candles, 12oz, 4-pack, $29.99
For the utmost in ambiance, Bellevue's four-pack of glass candles in warm, inviting scents provide a multisensory experience. The scents included are Berry Clementine, Vetiver Birchwood, Balsam Cardamom and Toasted Vanilla in earthy-colored containers.
While plenty of retailers sell candles, what makes this Costco selection unique is the excellent, earth-friendly quality. Candles are crafted with natural soy wax using essential oil for fragrance, keeping the air quality of your home toxic-free.
11. Little Hotties Hand Warmers, 80 pairs, $34.99
If you or your little ones tend to have cold hands, these odorless and earth-friendly heating packs will keep you warm for up to eight hours during the coldest days. Stuff them into your pockets, gloves or boots for a portable heating solution. Simply recycle the pouches when you're done. 
Make Your Money Work for You
There's plenty of heat to go around. Each case comes with two boxes of 40 pairs of hand warmers that heat up to 135 degrees. Each pouch is air activated — once you're ready, give it a shake and let it heat up for about 20 minutes for maximum warmth.
Do You Need a Costco Membership To Order Online?
If you're intrigued by many of the products on this list but don't have a Costco membership, the good news is, you don't need one to order online. That includes online pharmacy products. However, skipping out on the annual fee means you may miss out on members-only deals and offers that are kept behind an online login wall. Plus, warehouse prices are sometimes cheaper, which may be a good incentive to sign up. 
Costco membership fees are either $60 or $120 for the year, but it may be worth it when you factor in the savings and number of services available, including travel deals, rebates and special partner discounts.
Takeaway
Get ready to nest during the harsh weather of the season, entertain for the holidays and gift your family, friends and coworkers with thoughtful, unique items. Costco, with its reputation for value and variety, is an excellent destination for everything from food to housewares to clothing. 
By stocking up on the top 11 Costco items for winter, you'll be well-prepared to face the challenges while enjoying the cozy moments that the season brings. But don't delay — while some of the items are stocked throughout the year, many, including the chocolate bombs or the Pendleton blankets, are only available while supplies last.
Make Your Money Work for You
More From GOBankingRates