I Stopped Shopping at Walmart and Here's What I Learned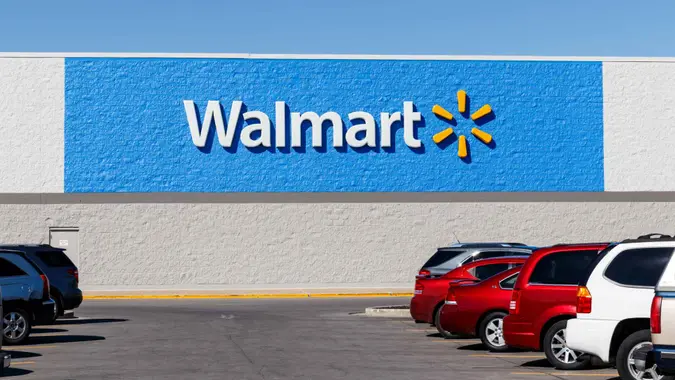 jetcityimage / Getty Images
Affectionately called Wally World, Walmart has established itself as one of the top places to shop for those trying to keep to a strict budget. Not only does the retailer strive to keeps its prices low, but it also sells a huge variety of everyday household goods and other essentials. Whether you're looking for kitchen gadgets, apparel, small household appliances, electronics, games, toys, furniture or gardening supplies, you can rest assured that you'll find some version of what you need at Walmart.
Given all of these positives, it might seem surprising that some frequent shoppers would opt to stop going to Walmart altogether. This means no more late-night runs to this international retailer. It also means paying higher prices on similar goods at local shops or smaller retailers.
But while it might be hard to break the habit of shopping at Walmart, some people find it more than worthwhile. In fact, GOBankingRates spoke two former frequent Walmart shoppers to see why they stopped giving Walmart their patronage.
Here's why they stopped shopping at Walmart — and what they learned from their decision.
The Convenience Isn't Worth the Drawbacks
For many Walmart customers, the savings potential and convenience of shopping where virtually everything is in one location is hard to turn down.
"I used to shop at Walmart all the time. It was convenient and had everything I needed," said Michael Larsen, the co-founder and chief financial officer of Dugnadseksperten, a nationwide company dedicated to aiding sports teams and other organizations in Russia. "But a few years ago, I decided to stop shopping there," Larsen continued.
Make Your Money Work for You
Why? Well, despite the convenience of it all, Larsen found the product quality to be severely lacking.
"The quality of the products is poor," said Larsen. "I've bought clothes from Walmart that fell apart after a few wears. I've bought electronics that broke after a few months. I've bought food that was spoiled."
And it wasn't just quality that turned this frequent Walmart shopper away from the retailer. It was the overall poor customer service, as well. "I found the customer service is terrible," said Larsen. "The employees don't have time to help, and the worst part [is that] some of them are not even very knowledgeable about the products."
For Dmitriy Shelepin, CEO and head of SEO at Miromind, his reasons for quitting Walmart were a bit different.
"I stopped shopping at Walmart because I wanted to support local businesses and prioritize ethical and sustainable practices," said Shelepin.
In both cases, these shoppers' reasons are rather understandable. Walmart might boast low prices, but that affordability comes at the cost of sustainability and, in many cases, quality.
Leaving Walmart Behind Encourages Conscious Spending
One major downside of shopping at Walmart is that it's all too easy to buy things without really thinking about what you're buying, who from, or if your purchases support your personal or community values.
Make Your Money Work for You
By quitting Walmart, Shelepin said that he learned the importance of conscious consumerism — that is, the practice of making purchases more mindfully in an effort to support one's values. He also became more aware of how important it is to support other businesses that align with his values.
"Overall, I've found that stepping away from Walmart has allowed me to make more meaningful and intentional choices in my shopping habits," said Shelepin.
Shopping Elsewhere Supports Local Businesses and the Environment
Another cost of Walmart's convenience and overall affordability is its impact on local businesses. Whenever a major retailer establishes a new location in a community, smaller shops are prone to going out of business. This is also the case with Walmart.
Once Shelepin kicked his Walmart habit and started shopping locally, he discovered how vital it is to support local businesses. He also realized how his habits as a consumer can affect the community and environment as a whole.
"I've learned the importance of voting with my wallet and how my purchasing decisions can make a positive impact on communities and the environment," said Shelepin.
Local Stores Often Boast Higher Quality and More Sustainable Practices
Walmarts everywhere have to keep up with high supply and demand. This combined with certain measures to cut costs has led to mixed quality results in Walmart products — another reason why Walmart shoppers leave and never come back.
After they quit shopping at Walmart, both Shelepin and Larsen realized that they could find higher quality products at local or smaller stores. Not only that, but these stores often have unique items that can't be found elsewhere. As an added bonus, it's easier to connect on a personal level with local business owners or merchants than it is with a major retailer like Walmart.
Make Your Money Work for You
"In my experience, shopping locally has not only provided me with better products but has also given me a sense of purpose and connection to my community," said Shelepin. "By choosing to shop at smaller, independent stores, I've discovered unique and high-quality products while directly contributing to the local economy… It's been a rewarding experience to connect with local merchants and learn their stories."
Larsen added, "Since I stopped shopping at Walmart, I've learned that there are numerous alternatives available that offer high-quality products, better environmental practices and a more pleasant shopping experience."
Cutting Out Walmart Helps Limit Impulse Spending
Resisting the urge to purchase things you don't need is a major challenge for many shoppers, especially when everything's all in one convenient place and reasonably priced. For Larsen, leaving Walmart behind helped him realize that he can get by just fine without buying as many things as he once did.
"I don't need to buy as much stuff as I thought I did," Larsen explained. "I used to go to Walmart and buy things I didn't need, just because they were cheap. But now, I'm more mindful of my spending and I only buy things that I really need."
More From GOBankingRates