10 Summer Essentials To Stock Up on at Dollar Tree This Week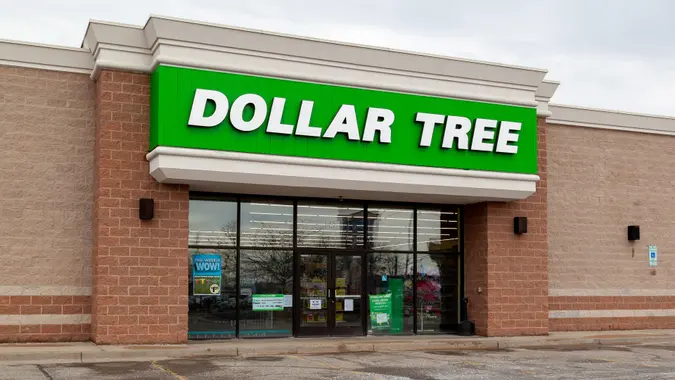 JHVEPhoto / iStock.com
Summer is here and you're not quite prepared. Thankfully, Dollar Tree has everything you need to get ready for the grilling, pool days and parties that make this season so fun.
I Worked at Dollar Tree: Here Are 5 Insider SecretsYou Should Know

If you think filling your cart with summer essentials at this discount retailer will break the bank, you're mistaken. GOBankingRates rounded up a list of 10 necessities, priced at just $1.25 each.
Ready to start shopping? Visit your local Dollar Tree through July 4 to take advantage of these amazing buys.
Patriotic Party Supplies
Fourth of July is around the corner, so get all the red, white and blue supplies you need now. You'll find packs of eight-count star-shaped paper plates, table covers and more at your local Dollar Tree.
This will allow you to create a festive setting without breaking your budget.
Freezer Pops
Whether you have kids or are a kid at heart yourself, freezer pops are a summer must-have. Choose from an eight-count pack of Tampico Freezer Pops or a 24-count pack of Fun Pops, priced at $1.25.
Tortilla Chips
You can't have a summer party without tortilla chips. Choose from several El Sabroso varieties, including Baja Limón, Salsitas Salsa Chips and Original Guacachip, which offer so much flavor, there's no need to pair them with dip.
Water Bottles
The warmest months of the year have arrived, so it's more important than ever to stay hydrated. Choose from several different styles of water bottles to refill throughout the day.
Make Your Money Work for You
Pitchers and Ice Cube Trays
Get a two-quart pitcher or a two-pack of ice cube trays for just $1.25. This is essential to hold your summer lemonade and keep it cold.
Grilling Tools
Summer is the season of grilling, so now is the time to purchase essentials you don't already have. Choose from spatulas, tongs, bamboo skewers, reusable condiment dispensers, corn cob holders, deli baskets, grill brushes and scrapers and more.
Disposable Dinnerware
When hosting a summer party, the fewer dishes you have to wash, the better. Get napkins, paper towels, paper plates, foam plates, foam bowls and plastic cups at a bargain price.
Barbecue Condiments, Seasonings and Sides
Meat might be the main event of your barbecue, but you'll need many supporting acts to please the whole crowd. Fill your pantry with all the condiments, the right seasonings and delicious sides — i.e., cans of baked beans — to ensure there's something for everyone.
Inflatable Swim Toys and Pool Noodles
Whether you have a pool, pool membership or a friend with a pool, you need inflatable swim toys and pool noodles to keep your kids entertained. Buy everyone their own and some extras at this affordable price.
Swim Goggles
If you have kids, you know how quickly goggles are lost. Avoid stressing over pricey pairs of lost goggles by stocking up on these bargain pairs.
More From GOBankingRates
Make Your Money Work for You