8 Summer Items That Are a Waste of Money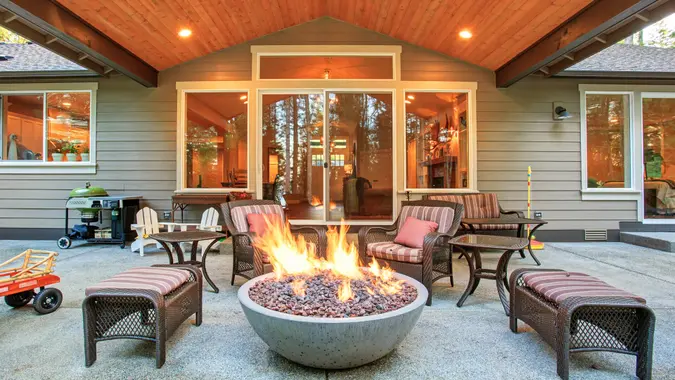 irina88w / Getty Images/iStockphoto
Summer is just around the corner, and you know what that means: It's time to start preparing for warm weather, long days and fun times with family and friends.
But while summer is an exciting time, it can also be an expensive one — and not just because of things like higher air-conditioning bills or flight prices. This is the time of year when many major retailers and e-commerce companies promote their summer-themed products. It's also a prime time for people to spend money on things they don't necessarily need or that are a waste of money.
If you're getting ready for summer but want to cut back on excessive spending, here are the top summer items to avoid.
Outdoor Summer Decorations
Plenty of outdoor summer decorations exist, ranging from pretty garden lights to banners to themed tablecloths. And while some of these things are reusable, if you're getting something that you'll only use for this one season, it might not be worth the cost.
Raymond Quisumbing (MBA), registered financial planner at BizReport, cautioned against buying single-use outdoor party decorations in particular. "Items such as balloons, banners, and tablecloths can quickly add up in cost. To save on costs in the long-run, consider using items that can be reused in other occasions. These may include outdoor string lights, potted plants or fabric cloths that are easy to clean."
Make Your Money Work for You
Expensive Grills
Owning a grill isn't necessarily a waste of money, but it can be if you only use it once or twice this summer before storing it away for the rest of the year. A high-end grill can easily cost thousands — or even tens of thousands — of dollars.
"Although high-end grills can serve as an impressive and practical piece for one's guests, they often come with a high price tag and seldom get used afterwards due to [their] large capacity," Quisumbing said. "In my experience, small portable cast-iron charcoal grills can last a lifetime and are just the right size for small families and even individuals who frequently enjoy grilling."
A simple cast-iron charcoal grill goes for under $100, though you can find pricier options. And it can work just as well, especially if you're getting it mostly for the novelty effect.
Firepits
A simple concrete firepit goes for around $250 at Lowe's, but you could easily be looking at spending over $1,000 for one. And then there are additional costs that you might not think about, such as gas or firewood, depending on the fuel the firepit needs.
Oftentimes, people buy a firepit for their home thinking it will be a great addition to any summer evening gatherings they might host. But many of those same people end up putting away their firepits for the majority of the year.
Make Your Money Work for You
If you're going to get a firepit, make sure it's one you can use during the other seasons or for other occasions. That way, you'll get the most for your money.
Pricey Outdoor Furniture
If you have a deck or patio, you might be tempted to buy some outdoor furniture this summer. Popular options include lawn chairs, tables with umbrellas, porch swings and outdoor sofas. But consider the cost of this furniture before adding anything to your shopping cart.
"While outdoor furniture can enhance the comfort and luxury of your outdoor space, expensive sets can consume a lot of resources and may not last long enough as it is exposed more to the elements of nature," Quisumbing said.
Not only that, but if summer is the only time when you're going to use that furniture, it'll only end up taking up space and collecting dust and debris.
That's not to say you shouldn't have outdoor furniture. Just go with the more affordably priced options, ideally those that are built to last in the elements. This might include things like wicker furniture or plastic folding chairs that you can store indoors.
Summer-Only Toys
Summer is a great time for the whole family to go outside and play. Some families end up purchasing large summer toys like kids' waterslides, bicycles, jet skis and swimming pools that they can enjoy during the warm season.
But a lot of these fun summer toys are costly. A waterslide can go for a few hundred to a few thousand dollars. A new jet ski might cost you anywhere from $5,999 to $21,000.
Unless you live in an area where it's warm year-round and you can use these toys for months on end, it might be better to hold off or go with something cheaper. For example, you could get an inflatable swimming pool for under $200. It might not last past the summer, but it could be worth the cost if you use it often.
Low-Quality Pool Toys
Another common summer expense that isn't worth the money is cheap inflatable pool toys. "While inflatable pool toys can be fun for a short period, they often come with a higher price tag compared to the enjoyment we get from them," said Taylor Kovar, CFP and CEO of TheMoneyCouple.com. "Instead, I would recommend investing in durable water toys like water guns, reusable water balloons, or even a volleyball set that can be used year after year."
Summer Kitchen Appliances
Another area that could be a waste of money is summer-themed appliances and gadgets, especially if you only use them during the summer season.
"So many stores roll out summer-themed gadgets like watermelon slicers, ice cream sandwich makers, or pineapple corers during the summer months," Kovar said. "While they may seem fun, they often end up sitting in the drawer unused after the novelty wears off or tossed in the trash. Instead, invest in an ice cream or snow cone maker that is more durable and can be used time and time again."
Trendy Summer Apparel
Another common thing you'll see at the store is summer apparel. This includes things like shorts, swimwear, sunhats, sunglasses and more. While clothing itself is not inherently a waste of money, it can be if you buy things you'll only wear once.
Try to go for things that have re-wear value or that look good throughout the year. Or shop early and look for discounts on any must-have items.
More From GOBankingRates