According to Superfans, If You Only Buy One Thing at Dollar Tree, Make It This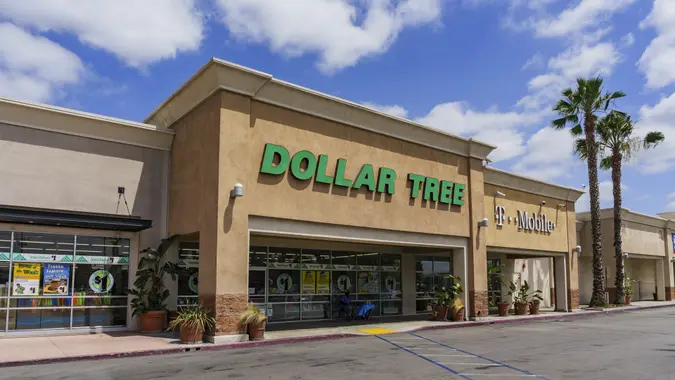 Kit Leong / Shutterstock.com
Despite raising its base price from $1 to $1.25 in 2022, Dollar Tree is still a great place to buy inexpensive items at a surprisingly high quality. In fact, the retailer sells hundreds of popular everyday items like dishes, greeting cards, cleaning supplies and other household goods. So, whatever it is you're looking for, chances are you can find it at a location near you.
While having plenty of options is often a good thing, it can also make it tricky to decide just what to purchase the next time you go shopping. And it's even tougher to make decisions when you can buy only one or two things. That's why GOBankingRates asked several Dollar Tree superfans and avid shoppers what their top pick would be when shopping. Here's what they said.
Glassware
"If I were to choose just one item to buy from the Dollar Tree, it would be their glassware, specifically their beer glasses," said Dollar Tree fan Adam Jones, the founder and editor of Low Beers. "You might wonder why, so let me explain. When you host social events or even for everyday use, having a good set of beer glasses can elevate the experience of enjoying a cold brew.
"Dollar Tree offers a variety of beer glasses, from traditional pint glasses to more specialized craft beer glasses," Jones said. "While they might not be artisanal or custom made, these glasses do their job perfectly well — holding your beer and letting you enjoy it. For just a dollar per piece, you can equip your kitchen with a full set without breaking the bank."
Make Your Money Work for You
Jones also said Dollar Tree glassware is a great buy for anyone who enjoys brewing beer or hosting beer-tasting events at home. This is because, even if a glass gets broken, it won't be a major financial loss.
Seasonal Paper Products
"Without a doubt, I would purchase seasonal paper product items like decorative paper plates, cups, colored utensils or napkins," said Heather Kaley, a frugal mom and Dollar Store Guru. "Whether it is for Christmas, Thanksgiving, Easter, July Fourth or any other season, these products are much cheaper at the Dollar Store, and you will not reuse them.
"So, it makes budgetary sense to purchase them for a $1.25 rather than upwards of $4 at the grocery store, or even $2 to $3 at a Walmart or other comparable big box store. So, for $1.25 you get hassle-free clean up, seasonally attractive place settings for that party, BBQ or holiday family get together, and save money."
Kitchen Dishes
"If I could only pick one item at Dollar Tree it would be in the dish aisle. They have beautiful plates from Royal Norfolk that rival sets found in higher end stores like Pottery Barn for quality and design," said Dollar Tree fan Kim Montenero, author, creator and publisher at Exquisitely Unremarkable. "They come in a variety of colors and patterns, some seasonal, including dinner and salad plates, bowls, mugs, cups and saucers. You could fill your cabinets and set a gorgeous table for four for $20."
Notepad and Pen Set
"If I were to select just one item from the Dollar Tree, I would choose a reliable notepad and pen set. This choice may seem mundane, but it reflects my commitment to staying organized and prepared in all aspects of life," said Dollar Tree fan Mike Schmidt, trial lawyer at Schmidt & Clark, LLP.
Make Your Money Work for You
"A notepad and pen are essential tools for any attorney, enabling me to jot down important case notes, client details, and legal strategies during meetings, court hearings and consultations. In the legal profession, attention to detail and thorough documentation are critical, and having a dependable notepad and pen ensures that I can capture crucial information accurately and efficiently."
Schmidt also added, "Furthermore, selecting this practical item underlines the value I place on cost-effective solutions that provide tangible benefits. Just as I strive to offer cost-efficient legal services to our clients at Schmidt and Clark, I appreciate the Dollar Tree's commitment to affordability without compromising quality."
Miniature Magnetic Photo Frame
"If I could only buy one item at Dollar Tree, it would be a mini magnetic photo frame," said Dollar Tree fan Mac Steer, owner and director at Simify. "I've been in all kinds of situations where someone wants to hang up a picture, but they don't have nails or screws, or their wall is too thin for those things. In those situations, I've used the mini magnetic photo frames to hold the photos up — I just stick them on the wall with a small piece of tape and then put the frame around it. It's super easy and it looks really cute!"
Greeting Cards
Rebecca Pytell, a Dollar Tree fan and founder of Strength and Sunshine, suggested greeting cards as the top buy. "Cards are so overpriced typically and we all know they get thrown out after we open them up. Birthdays, anniversaries, congrats — you can find something suitable and save $8 dollars on this obligatory social obligation."
Wedding Items
Sometimes it's hard to pick just one thing at Dollar Tree, but if you have a big event coming up, you can find some great buys at a low price. Heather Valle, Dollar Tree fan and senior account manager at Caliber, said the retailer offers great event items.
"I have my own wedding and other weddings coming up," Valle said. "I bought 'bride tribe' cups, 'bride' flip-flops and a sash for a bachelorette party. I bought picture frames, chalkboard signs and vases for upcoming bridal showers."
Make Your Money Work for You
All of these things can add to a great event while still being budget friendly.
More From GOBankingRates