T-Mobile Giving Away up to $2,250 on Friday in Select Cities (and Online)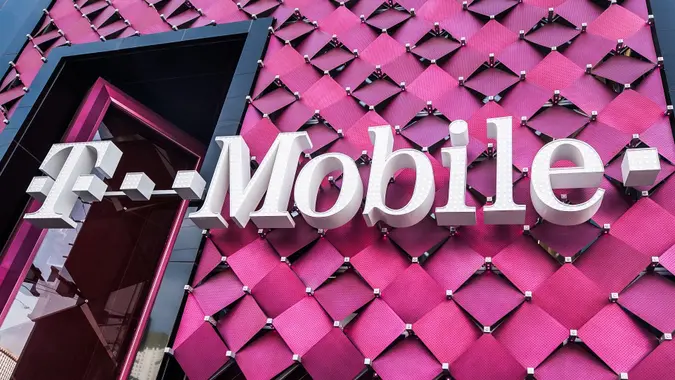 Davslens Photography / iStock.com
When carried out successfully, promotional campaigns like giveaways and contests can help retailers gain new customers and better engage with existing ones. By doing so, companies build brand awareness and grow their business.
Free Retirement Money: Robinhood Offers 1% Match on New IRA Contributions
Explore: Tricks for Using Store Rewards on Christmas Shopping at 6 Major Retailers
T-Mobile is keeping it uncomplicated for its latest contest during the holidays by giving away gobs of cash to lucky "ATM" users on Friday, Dec. 16.
According to the product trend and testers at BGR, T-Mobile will be giving away $225,000 in money prizes through "larger-than-life" ATM events to be held Dec. 16 at the Mall of America in Minneapolis and T-Mobile signature stores in Chicago, Santa Monica and Times Square in NYC. Everyone who participates will win $22.50, $225 or $2,250 while cash supplies last.
Won't be in one of the four contest locations on Friday? No problem! T-Mobile is giving people the chance to win a part of an additional $225,000 online by visiting MagentATM.com between 9 a.m. EST on Dec. 16 through 11:59 p.m. EST on Dec. 18 to enter a draw.
As T-Mobile's CEO Mike Sievert noted, the cash contest is a great way to help Americans out when they need it the most, and rewards existing T-Mobile Magenta MAX customers with two or more lines $225 in monthly added value. "With the Un-carrier, families don't have to choose between getting a great network and great value — T-Mobile customers really do get the best of both worlds," Sievert said.
Make Your Money Work for You
"In addition to America's most-awarded 5G network, they get $225 in extra perks available on Magenta MAX each month…it's almost like finding free money in your bank account every few weeks," added Sievert. "And since it's the season of giving, there's no better time to give all wireless customers a chance to see just how sweet the Un-carrier life is."
See: 5 Easy Ways To Get Spotify for Free
Find: Get Free Shipping for Holiday Gifts Without Paying Store Minimums
The ATM experiences will open at 10 a.m. local time on Friday, Dec. 16 in Chicago, Minneapolis, New York and Santa Monica, per the T-Mobile press release.
More From GOBankingRates
Make Your Money Work for You