8 Target Brand Food Items That Are A Waste of Money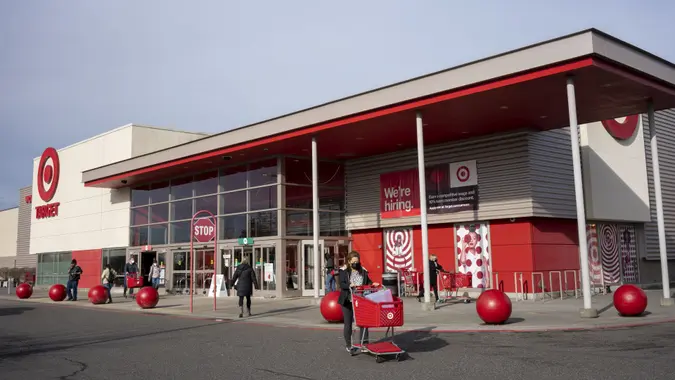 hapabapa / Getty Images
Target is a convenient place to shop for a variety of everyday goods, as well as groceries. The store's own food brands — like Market Pantry and Good & Gather — cover a wide range of different foods you can stock your pantry or refrigerator with. This, combined with the many other name-brand items Target sells, makes this retailer a solid choice for many of your shopping needs.
But when buying groceries specifically at Target, you may want to reconsider before adding certain items to your cart. That's because some of the Target brand food items are more expensive or of lower quality than what you could get elsewhere.
The next time you head to Target to buy groceries, here are some of the retailer's food brand items that just aren't worth the money.
1. Market Pantry Snack Items
Target's store brand, Market Pantry, includes a lot of snacks, some of which could be a waste of money.
"In my opinion, some Market Pantry snack items at Target can be overpriced compared to other brands," said Michael Martin, founder of RPG Overload. "While convenient, the quality might not always justify the cost. Opting for store brands at competitor stores or exploring bulk options can provide better value."
Make Your Money Work for You
Examples of these snacks include Ripple Potato Chips ($2.19), Mini Pretzel Twists ($4.49), and Toasted Crackers ($2.99).
Sophia, the founder of Sophiv.com, added, "Market Pantry snack foods like chips, cookies, or crackers are often priced higher compared to name-brand versions. Generic snacks at Aldi or Trader Joe's are significantly cheaper and offer more diverse options."
2. Market Pantry Coffee Pods
You can purchase single-serve coffee pods at Target, but you might not want to add the Market Pantry version to your cart.
"Avoid Market Pantry's single-serve coffee pods," said Christy Pyrz, chief marketing officer of Paradigm. "While not a bad price at $4.49 for a box of 12, the quality isn't there. I've tried more than one flavor and there are a lot of other store-brand coffee K-cups that are better. For instance, the Wegmans brand of coffee pods are delicious. They're only $0.10 more per box and well worth the slight increase. Trader Joe's also has excellent K-cups at $4.99 for a box of 12. If you have a Keurig and are looking for coffee pods, try one of these alternatives instead."
3. Market Pantry Bottled Water
Another popular Target brand item to avoid is bottled water, including flavored waters and club sodas.
"Target's Market Pantry bottled water can be considered overpriced, especially when you compare the cost per gallon to other store-brand or generic bottled water options," said Scott Trachtenberg, CEO of ADA Site Compliance. "If you're looking to save money on water, you might consider purchasing larger packs of store-brand water from your local grocery store. Alternatively, if your tap water is safe to drink, using a water filter at home can be an eco-friendly and budget-conscious alternative."
Single bottles of Market Pantry's flavored sparkling water cost around $0.99 each. Small multi-packs of their club soda and tonic water are around $3.99.
Make Your Money Work for You
4. Good & Gather Granola Bars
Good & Gather — which replaced Simply Balanced and Archer Farms — is another popular Target food brand. One of the food items this brand is known for is its granola bars, another potential money waster.
"Target's Simply Balanced granola bars can be overpriced compared to similar products from other brands, and the taste can be underwhelming," said Julia Rueschemeyer, attorney and owner of Amherst Divorce. "Instead of going for these, you could opt for well-known, trusted brands of granola bars such as Nature Valley or KIND. These brands often provide better taste and quality for your money, making them a more satisfying choice."
A 12-pack or organic Good & Gather Granola Bars goes for around $7.29. That's $0.61 apiece.
5. Market Pantry Frozen Pizza
In many homes, pizza is a freezer staple, and Target's gotten the memo. But while the retailer does carry some great-tasting pizza brands, its Market Pantry version is cheap both in price and quality.
"From my experience, I would say that Target Market Pantry Frozen Pizza is a popular choice for busy families, but it is also overpriced and low in quality," said Luke Van Der Veer, the founder of Lukevanderveer.com. "The pizza is made with white flour, processed cheese, and high-fructose corn syrup. It has a lot of saturated fat and sodium as well. For a healthier and more affordable option, you can make your pizza at home using fresh, whole ingredients…You can also buy frozen pizzas that are made with whole wheat crust, natural cheese, and lean protein."
Make Your Money Work for You
6. Up & Up Supplements
You might or might not consider supplements to be a food item, but they're worth including in this list. Target's Up & Up brand of supplements, vitamins, and generic medications can be hit or miss. Depending on what you're looking for, you might want to get these items elsewhere.
Dr. Mollie Newton, the founder of PetMeTwice, specifically advised against buying certain generic brand supplements. "Whether it's for humans or pets, I've noticed that some might not provide the same quality or efficacy as more established brands. I'd suggest health-focused stores or online platforms with user reviews for these."
7. Good & Gather Organic Veggies
Under the Good & Gather, or Simply Balanced, brand comes a variety of organic fruits and vegetables. Not only does the term organic typically come with a higher price tag, but Target's selection isn't always of the best quality.
"Some Simply Balanced organic items might seem overpriced compared to similar products in other stores," said Martin. "Exploring local farmers' markets or specialty health food stores could offer organic options at competitive prices."
Many Targets don't switch out their fresh produce often enough, resulting in potentially wilted items as well.
8. Market Pantry Canned Vegetables
Picking up a few canned goods, like canned vegetables, can be an inexpensive way to add some greens to your meals. But keep in mind that not all canned goods are created equal when it comes to nutritional value.
"Market Pantry, Target's store brand of canned vegetables, might not always offer the best value or quality," said Denny Mah, partner at Dennymah.com. "To save money and enjoy better quality canned vegetables, consider shopping at a local grocery store or a discount warehouse club. Another alternative is to opt for frozen vegetables, which often retain more nutrients and flavor compared to their canned counterparts. Brands like Green Giant or Birds Eye have a good reputation for their frozen vegetable offerings, providing a tastier and more nutritious option."
Make Your Money Work for You
Bottom Line
Target as a whole can be a great place to shop at, but you should still keep in mind that low prices can often mean low quality. In some cases, Target's brand food items are also higher priced than what you'd get if you were to shop elsewhere or pick up a different brand. If you're trying to get the best deals, compare prices at different grocery stores or retailers before you shop.
More From GOBankingRates