6 Target Brand Items That Aren't Worth the Money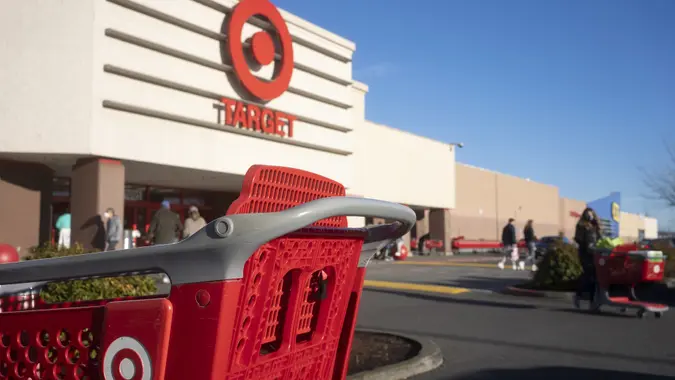 hapabapa / iStock.com
Many of us depend on Target for groceries and other everyday essentials, and Target has a wide selection of house brands found on the grocery, personal care and household aisles, as well as clothing, holiday goods and paper products.
Also: 11 Grocery Items To Buy at Dollar Tree
Learn: 3 Easy Tips To Turn Your Credit Woes Into Wows
Target has 45 "private label" brands, designed to give consumers a healthy selection of goods at an affordable price.
However, there's a range of quality, functionality and value with some of these products. Here are some specific items or general areas where the Target store brands might not provide you with the biggest bang for your money.
Clothing
"When it comes to clothes, getting quality items at a low cost is always the goal," said Rebecca Gramuglia, consumer expert at TopCashback.com. "However, be sure to read labels when it comes to low-priced clothing. While materials like rayon may look and feel soft, they tend to wrinkle easily — you'll have to spend a lot of time ironing only for the item to wrinkle once you sit down.
Make Your Money Work for You
"Target's A New Day brand makes great basics for layering, but I would pass on something like this trendy dress to avoid having to deal with a wrinkly outfit.
Take Our Poll: How Has Inflation Impacted Your Holiday Shopping Plans?
Mustard
Julie Ramhold, consumer analyst at DealNews.com, said there is a variance in Target house brands. Market Pantry yellow mustard, for example, didn't rank high on her list.
"Yes, you can get a few different sizes for less than $1, but it's a basic yellow mustard; so, if you're looking for something more, it's better to skip this," she said. "Even the Market Pantry spicy brown mustard has a better flavor profile, and if you really want plain yellow mustard, you can at least pick up an organic bottle of Target's Good & Gather brand for around $1.60."
Cereals
The Market Pantry cereals are "pretty basic flavors; so, if you want anything nostalgic like Fruity Pebbles or Cap'n Crunch, you're better off going for the Malt O Meal cereals," Ramhold said. "You may pay a cent or two more per ounce, but you have more to choose from than within the Market Pantry label."
Furniture
Gramuglia isn't against buying furniture at Target, but she does recommend carefully thinking about how you'll use it.
"Before buying furniture at a non-furniture-focused store, think about the functionality," Gramuglia said. "Will people be sitting on the item or will it be more decorative? If the item is more for storage/decoration, it's important to compare prices to still make sure you're getting the best deal — even at Target.
Make Your Money Work for You
"For example, Target has both Room Essentials and Brightroom branded organizer shelves that are made of similar materials. The Room Essentials one  is slightly smaller but also cheaper, while the Brightroom organizer is a bit bigger but more expensive."
Dinnerware
While you're outfitting your home, dinnerware might be on the list. Ramhold said this is another area where one Target brand is better than another. Room Essentials dinnerware doesn't compare to some of the others, she said.
"You can get bowls, plates and cups for ridiculously affordable prices, but ultimately they're plastic and probably not something you're going to want to keep around for long," Ramhold said. "They can be good for stocking a college student's kitchen or someone moving out on their own for the first time, but beyond that, I'd say skip it and try to find a set of Threshold — another Target brand — dinnerware for a decent price.
"For instance, a 12-piece stoneware set is about $25 right now; while not as cheap as a 50-cent plastic plate or a four-pack of plastic mini bowls for $3, it's still pretty reasonable and should last a good bit of time as long as it's well taken care of."
Peppermint Crunch Sprinkles
This time of year, peppermint is everywhere. Ramhold said you can find a better deal than Target's Favorite Day Peppermint Crunch Sprinkles.
Make Your Money Work for You
"Yes, this little 2.1-ounce jar is super convenient," she said, "but, for the same price, you can get a box of 50 mini candy canes or 24 regular-sized ones and crush them yourself. I'm in favor of a little more work up front — especially since you can control the size of the sprinkle that way — rather than just buying a jar of already crushed candy."
More From GOBankingRates
Make Your Money Work for You