The Single Best Thing To Buy at Target This May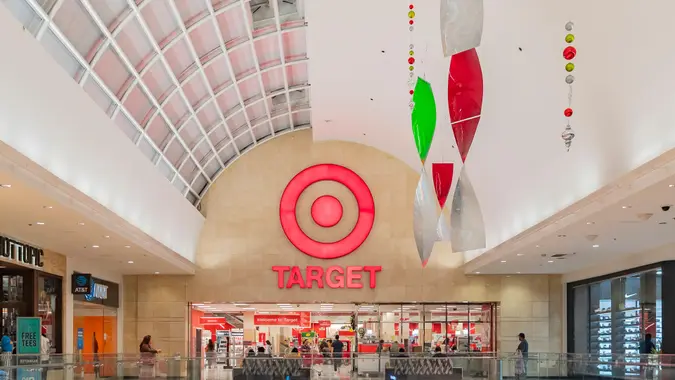 Kit LEONG / Shutterstock.com
With discounted prices online and throughout stores, Target has everything your household needs and almost always for a lot less money than its competitors. In the minds of many consumers, Target has become synonymous with one-stop shopping for all purchases, big and small.
When it comes down to the wire, though, what is the single best thing you could put in your cart at Target? GOBankingRates asked experts in the retail field what they thought. Although they didn't agree on just one item, there's an argument to be made for each of the five they mentioned.
Drop any of these products in your cart as the spring/summer shopping season at Target kicks into high gear.
Opalhouse Painted Floral Doormat
Price: $9.10
Availability: Online and in-store
"Target is having great deals on their doormats," notes Jeremy Yamaguchi, CEO of Lawn Love. "Several of them are around 30% off. For example, this Opalhouse painted floral doormat is currently $9.10, with an original price of $13. This is also a deal that is both in-store and online."
Look: 7 Luxury Goods That Are Cheaper at Costco
Make Your Money Work for You
Aveeno SPF 60 Sunscreen Body Lotion
Price: $13.49
Availability: In-store
"The month of May is a great time to stock up on the best sunscreen before summer officially begins," offers Miles Becket, CEO and co-founder of Flossy. "Target has some great selections, including Aveeno sunscreen body lotion, which is available through shipping and by pickup at select stores." 
"[This sunscreen] provides ample moisture and hydration, preventing aging," Becket points out. "Furthermore, it is water-resistant for up to 80 minutes. With this item, you'll protect your face from sunburn while nourishing your skin."
Char-Broil Performance 4-Burner Gas Grill
Price: $192
Availability: Online and in-store
"Target is having some good deals on their grills," says Christen Costa, CEO of GR Leaf Blowers. "For example, the Char-Broil performance four-burner gas grill is having a great deal right now. It's normally $240, but it is currently on sale for $192. If you are looking to kick off the summer right with a new grill, take advantage of this deal. It's going on online and in-store, though you may have a better luck availability-wise of getting it online."
Make Your Money Work for You
Apple AirPods (2nd Generation) With Charging Case
Price: $129.99
Availability: Online and in-store
"[These Apple AirPods are] so comfortable to wear, and the sound quality is amazing. With their compact and lightweight design, I can easily wear them for hours without any discomfort," raves Sumit Jain, the founder of ScoopByte.com. "Also, it offers a convenient charging case for extended battery life."
Costco's Best Deals? Employee Reveals 10 Standout Buys for Your Money
Apple Watch Series 7 With GPS
Price: $329.99
Availability: Online
"Target is already having some great Memorial Day sales," says Miguel Camperos, VP of operations at SunVara. "One item in particular that I'd recommend getting right now is the Apple Watch Series 7 with GPS. This watch is normally $430, but right now it's only $330 – a full $100 off! If you've been wanting to get an Apple Watch for a while, now is one of the best possible times to buy one."
More From GOBankingRates
Make Your Money Work for You
Make Your Money Work for You