7 Things You Should Always Buy at Thrift Stores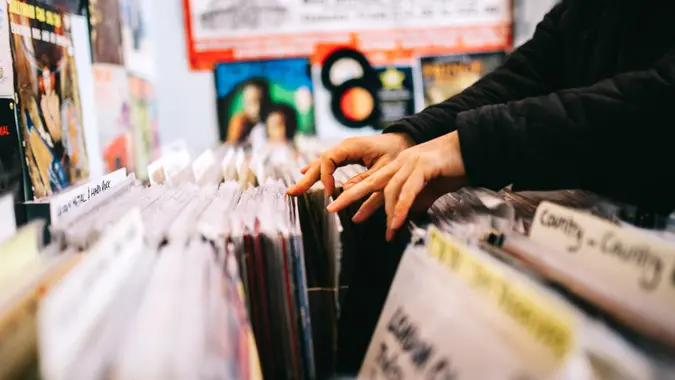 urbancow / Getty Images/iStockphoto
You've likely popped into a thrift store in the past; but, unless you set out with a specific list of things to search for there, you may have found yourself overwhelmed.
Thrift stores can be chaotic places, with teeming aisles and a general sense of clutter. Despite the hectic atmosphere, they almost always bear treasure for those who have the patience and discipline to sift through the heaps of stuff. 
Not only can consumers find significant savings on a variety of items at these havens of pre-loved goods, they can help the planet by giving items a second life — instead of sending them to a landfill.
Additionally, shopping at thrift stores can be a boon for your community, as thrift stores help provide jobs to marginalized people, which is great for the local economy.
Still, as noted, thrift stores can be tricky to navigate. What are the best things to buy at them? Let's explore. 
Make Your Money Work for You
Lamps 
A lamp is the sort of furnishing that not only literally lights up a room but also can bring a lot of character to a space. At retailers such as Target, you can find plenty of run-of-the-mill lamps. Standing lamps start at around $30, and table lamps average at around $60.
There's nothing wrong with these lamps, and you actually can find some fun ones. But a $70 lamp at a thrift store is probably a seriously cool and unusual find that will have all your guests asking, "Where'd you get that lamp?" 
Real estate expert Don Chambers always buys lamps at thrift stores when staging open houses. "The buyers always want to keep them," Chambers said.
Artificial Christmas Trees 
Artificial Christmas trees cost a fortune — as much as $1,000, in some cases. Some thrift stores sell these and will definitely offer you a better price than a retailer selling a new fake tree. 
"I once got a decorated Christmas tree at a thrift shop for $5," Chambers said. "You can't beat that price with other retailers." 
Make Your Money Work for You
Classic Books 
Every home needs a solid collection of books. But books aren't cheap; and, if you're just starting to build out your shelves, you may have a long road ahead of you. You can stock up on the classics at thrift stores. Bonus points if you're seeking books that are rare or out of print. 
"Thrift stores can be an excellent resource for finding books that are no longer in print," said Brian Meiggs, the founder of Smarts. "These books can include out-of-print titles, first editions and other rare editions that can be difficult to find elsewhere. You may even come across signed copies of books by well-known authors. Prices are typically very reasonable."
Clothing for the Whole Family 
Most every thrift store sells clothing. If you're up for a hunt and know your sizes, this is an excellent place to sift for deals. 
"My husband, daughter and I love to check out thrift stores wherever we go — small towns or secondary cities are often the best — and our favorite thrifting category is apparel," said Trae Bodge, smart-shopping and money-saving expert. "We've all found some of our favorite unique pieces on these trips and have saved a fortune in the process."  
Make Your Money Work for You
Designer Handbags
Every handbag collector knows that these seemingly whimsical items can cost an arm and a leg. You might just find your biggest steal ever at your local thrift store.  
"You'd be surprised by the handbag selection at some thrift stores," Bodge said. "If you know your stuff, you can sometimes find a gently used, genuine designer handbag that just needs a little TLC to look brand new. Why spend hundreds of dollars when you don't have to?"
Vinyl Records
Streaming may be the most popular way to listen to new music, but vinyl has made a huge comeback. If you're looking for a place to get classic albums for your record player, look no further than thrift stores.    
"My dad gets secondhand records at thrift stores all the time," said Katie Roberts, consumer analyst with DealNews.com. "Every thrift store has a different selection, so you may be able to find old albums you've been wanting at a great price by hitting up the right store at the right time. Before you buy, check the condition of the record — look out for scratches. And do a price comparison online. That way you can see what the going price is for the album online, to make sure you're getting a good deal."
Make Your Money Work for You
Various Collectible Items  
One of the most wonderful aspects of thrift stores is that you can find pretty much anything you want in some corner of the store. Let your inspiration be your guide and leave no nook unexplored. 
"Whatever your passion — whether it's fashion, home décor, books, records — you can strike gold at thrift stores," Bodge said. "Items will be significantly less expensive than an antique store or on an online auction site."
More From GOBankingRates