The Top 7 Money-Saving Strategies When Shopping for a Family at Costco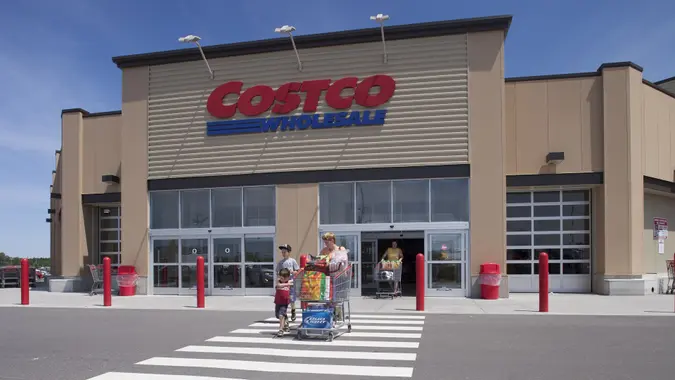 YvanDube / iStock.com
When you think about cruising the aisles of Costco, you likely envision stocking up on everything from household staples to family favorites and saving big. While it is true that shopping at Costco can save you money, it's important to have some strategies in place before you go. Otherwise, you could end up leaving the store spending way more than you intended or worse, taking home food items in bulk that no one wants to eat and wasting your money. To help, here are the expert strategies you need to make your next Costco shopping trip a savings success. 
More Tips: 4 Costco Items That Have Remained Cheap for Years
Check Out: 21 Items That Are Always Cheaper at Costco
Shop the Kirkland Brand
Be open to the possibility that the name brands you're used to aren't the only option. 
"This, of course, is Costco's brand, and the label gets good reviews for a reason — it offers solid quality and good value across the board," said Lisa Thompson, savings expert for Coupons.com. "If you're squeamish about shopping store or generic brands, this may be one that will change your mind."
Make Your Money Work for You
Look Back: 10 Popular Products That Costco Doesn't Sell Anymore
Be Realistic About What Your Family Will Eat
The savings are everywhere, but it's important to stay grounded while shopping. 
"Yes, you can buy a ton of produce at Costco, but if your kids are picky, then saving on four pounds of broccoli when they won't eat it isn't going to help you save money in the long run," said consumer analyst Julie Ramhold with DealNews. "Further, if your family's tastes change a lot (and they don't like to eat the same thing over and over or finish leftovers), then you might want to avoid buying things like cereal in bulk as well. Your kids may love Lucky Charms one week, but if they're going to want something different the next, then it's not worth buying the cereal in bulk either."
Budget: 20 Ways To Pay Less at Costco
Split Huge Quantities With Another Family or Friend
If you just can't resist the bulk pricing on certain items, but there's a risk your family won't use it all, this clever strategy might help. 
"I live close to good friends who love Costco as much as I do, and we shop together about once every two weeks," Thompson said. "Not only is it fun, but we hold each other accountable ("Nope, you don't need a 6th pair of Kirkland leggings") and we split purchases of foods we know we won't eat before they expire. It really is a great way to take advantage of the lower prices, but not overbuy and end up throwing out food."
Make Your Money Work for You
Check Out: The Secrets Behind These 10 Popular Costco Products
Look For Prices That End in '97'
Keep your eyes open for this special price point, which can help you score some fantastic deals. 
"This means that item is on clearance — at least, right now," Thompson said. "So, if it's something you want, grab it! It might not stay on clearance, or it may not be on clearance at another store (these prices are set by the store manager). A few years ago, I bought matching floor and table lamps for my son's bedroom on clearance that cost less than $50 for the two of them, total. Later, I saw them for sale at regular price on Costco.com, which was twice what I'd paid for them."
Find Out: How Much Does a Costco Membership Really Save You?
Shop For Clothing
Clothing staples can really add up, especially if you have a growing family. 
"Costco is a great place to buy clothing staples like socks and underwear for the whole family, but also things like pajamas, shirts, pants, and more," Ramhold advised. "Often you can take advantage of buy more, save more promotions too, where you can save $25 total if you purchase five items or $60 total if you buy 10 items — and these promotions pop up all year long. There will also be festive apparel around the holidays, so you can find adorable outfits for the kids for less. Watch for items to come in multipacks online as well — you'll often pay the same price whether you buy in person or online, but you may be able to get a two-pack online rather than having to buy two separate items in-store."
Make Your Money Work for You
Good To Know: 25 Secret Money Traps at Target, Walmart and Other Big-Box Stores
Take Advantage of Free Samples
Keep yourself from making a costly mistake by using this strategy. 
"Many Costco stores are starting to offer free samples again and this is an excellent way to try before you buy something," Ramhold said. "Costco has a great return policy, but returning an item will take time, so trying a free sample is a great way to see if you immediately love something before you buy it. It's also a good way to give your kids a treat, even if you don't want to buy an entire pack of whatever they're trying."
Fuel Up
It's no secret that fuel is expensive and can put a big dent in your monthly budget, especially when you chauffeur your kids to school, lessons and social events. So consider fueling up your vehicle during your next trip to Costco to score even more savings. "Buy your gas at Costco," said Emma Williams, deals aggregator with Koopy. "It's usually the best price in the neighborhood!"
More From GOBankingRates
Make Your Money Work for You