Top 8 Summer Sales on Amazon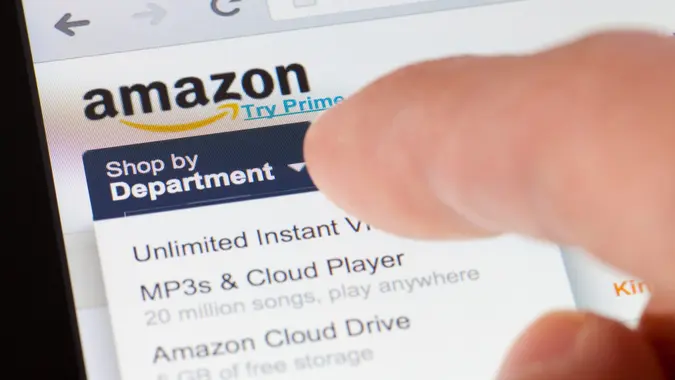 ymgerman / Getty Images
Amazon is a winner when it comes to convenience. You can search thousands of products, order the item in a couple of clicks with the "Buy Now" button and have it delivered in a couple of days (or sometimes less) if you're an Amazon Prime member. And when you find a great deal at the online retailer on top of the convenience, it's pretty much unbeatable.
Now that summer is here, even unofficially, it's time to stock up on the items you need to help carry you through the season. From water toys to camping accessories, here are some of the top summer sales on Amazon. Prices are subject to change.
Pool Ride-On Toy
Sale Price: $17.49
You won't fear this gator — an alligator-shaped inflatable the kids can ride on in the pool. Right now, it's priced at 44% off. At 80 inches long and 45 inches wide, the gator is plenty large for one bigger kid or two smaller ones. (It's recommended for ages 3 and up.) No matter the age, the kids will have plenty of fun riding the gator.
Flying Insect Trap
Sale Price: $145.37
This extra-large bug trap by DynaTrap offers up to one acre of protection from mosquitos, flies, wasps, gnats and other flying insects, and at around $145, it's a great deal. Its normal Amazon price is $221 — a 34% savings.
The unit uses no pesticides or chemicals and requires a 110-volt outlet for operation. According to the product description, the unit will need to operate for three weeks to see an impact on mosquitoes and six weeks to break the insect's breeding cycle.
Make Your Money Work for You
20-Piece Stainless Steel Grill Set
Sale Price: $35.99
It's barbecue season, and summer also means Father's Day. A perfect gift for the dad who likes to grill is a durable stainless steel grill set. You can save 22% on this 20-piece stainless steel grill set that features an aluminum carrying case, which comes in handy for those who want to take it camping.
The set includes many useful items, including tongs, a spatula, a fork, skewers, a meat thermometer and a cleaning brush. You can save an additional $5 if you apply the available coupon.
2-Pack of Luxury Beach Towels
Sale Price: $29.99
Beach towels get left behind, misplaced or simply wear out. If it's time to replace yours, you can get a great deal on a two-pack of plush striped towels measuring 35 inches by 70 inches. Buy now, and you'll save $10 — a 25% price reduction — on the towels.
The towels are fluffy and lightweight at the same time. Plus, they are quick-drying, meaning you won't have to take sopping wet towels home from the beach. Choose the cabana-striped towels in light blue, khaki green, navy and grey. 
Golf Swing Trainer
Price: $48.31
Summer weather means more time on the golf course. Get ready for your round with the SKLZ Gold Flex Golf Swing Trainer Warm-Up Stick, currently 31% off its regular price. Use the stick to warm up before heading to the course. Swinging the weighted head will help you to generate muscle and power with your shots, and the repetitive practice will develop good habits along with strength, tempo and flexibility. It comes in 40-inch and 48-sticks, and the one you choose will depend on your height and experience level.
Make Your Money Work for You
Queen-Size Camping Air Mattress
Sale Price: $79.97
If you need a queen-size mattress for camping or to accommodate extra guests in your home this summer, you can save 27% off this OlarHike brand luxury model, which rises to 18 inches in height. No feeling like you're sleeping on the ground.
The mattress is both self-inflating and self-deflating. It's easy to fold and store in its accompanying bag when not in use. Another selling point: Amazon currently is offering a $10 off coupon to further reduce the $79.97 price. 
Oversized Folding Rocking Camping Chair
Sale Price: $91.99
Camping chairs that rock are some of the more expensive options. With this sale, however, you can save 23% off the retail price of $119.99. This chair, which can support up to 300 pounds, features a high, padded back, wider-than-average seat and sturdy armrests.
Plus, its folding design will allow you to pack it into its carry bag and easily tote it wherever you need a comfortable place to sit and rock.
Six-Person Tent
Sale Price: $118.99
Speaking of camping, you can save 30%, or $51, on this tent from CAMPROS that will sleep six. The best part is that the tent is designed for two people to be able to set it up within 10 minutes, so you can spend less time preparing your campsite and more time actually enjoying the great outdoors.
More From GOBankingRates
Make Your Money Work for You
Jami Farkas contributed to this article.