Walmart and Target Offer Hidden Clearance Items in Plain Sight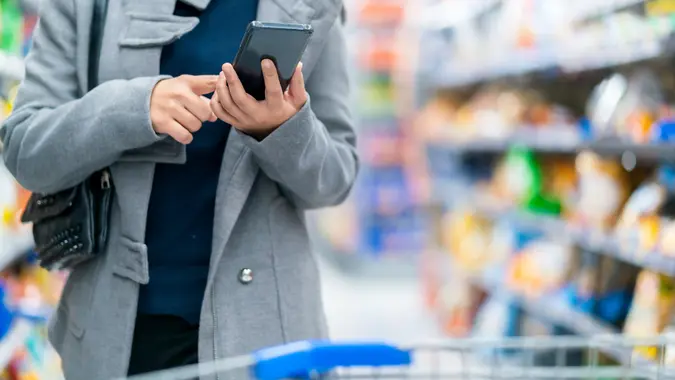 whyframestudio / iStock.com
Everyday Walmart and Target prices are great, but you may be able to score an even bigger discount if you know where to look.
Theft Measures: Will New Deterrents at Walmart Drive Consumers Away?
Explore: 37 Mistakes When Shopping at Target and Walmart and More
TikToker with the username SuperUnsexy posted a video in October saying that Walmart keeps some of the best deals on the top shelf of its stores, Best Life reported. While this area can be hard to reach for most, the TikTok shopper pointed out the Walmart scanner can make bargain hunting a breeze.
The store's app allows shoppers to scan barcodes with their phone and check prices to see if items are on hidden clearance. In a separate video, the same TikToker said shoppers can also use the Target app to scan the prices of hidden clearance items — also stored on the top shelf. However, Best Life pointed out that the information online might not match the store's prices and shoppers will have to scan each product's barcode (or take a picture of it) at the store's price check kiosks.
Make Your Money Work for You
In another video, SuperUnsexy added that clearance items can sometimes be found hidden behind other display boxes on shelves that are eye-level and lower. Also, make sure the item's name or image matches what's in your hand. If not, you could have a mismarked deal.
The Krazy Coupon Lady gave further insight, noting Walmart's clearance is also sprinkled throughout each department. She tends to find a lot of clearance items on endcaps or in the Home section or near the garden center. Most markdowns also happen within the first five days of the month. However, it can still happen throughout the rest of the month depending on seasonal items and inventory, so keep your eyes peeled.
More From GOBankingRates
Make Your Money Work for You