6 Ways Costco Can Help You Save Money on Your Summer Road Trip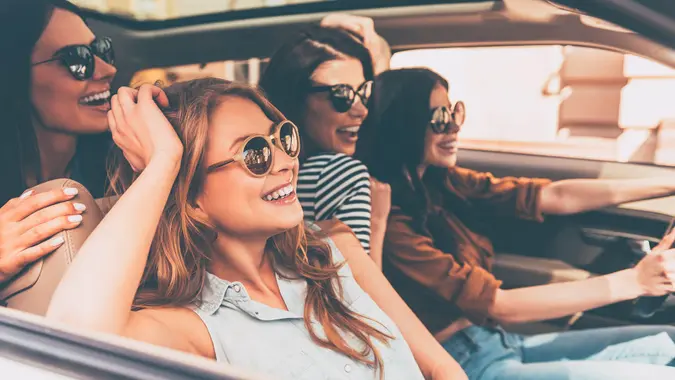 ©Shutterstock.com
Costco members can reap big rewards when it comes to summer travel. Not only does the big box retailer offer huge savings on items in the store and online, but the store's travel rewards program gives members deals on accommodations as well. 
If you don't have a Costco membership, the Gold Star membership costs $60 a year, and the Executive membership is $120. With the Executive level, you will receive a 2% annual reward on your purchases, up to $1,000. You'll also receive discounts on Costco services. 
With either membership, there are plenty of deals to be had this summer. Here are a few ways to apply your Costco membership to make the most out of your summer road trip. 
Gas
"I have found Costco gas prices are often lower than those of other stations in the area," said Mac Steer, owner and director at Simify. "This is especially helpful if you are traveling through an area with few gas stations and want to fill up before heading out on the highway again."
On June 6, Costco regular gas in Bakersfield, California, cost $4.25 and premium gas cost $4.55. This is a huge savings, as the average price of regular gas in Bakersfield was $4.86, and premium was $5.24. Nationwide, the average price was $4.71. 
Costco's Best Deals? Employee Reveals 10 Standout Buys for Your Money
Tires and Other Car Supplies 
It's important to keep your vehicle in good shape as you travel on the open road. Most Costcos have tire centers, and the retailer offers competitive pricing and revolving discounts on various brands. You typically can get a set of four new tires, including installation and warranty, for around $800.
Make Your Money Work for You
Costco also offers a lot of items that you can stock up on before you start your journey to make sure your car is prepared to make the trip.
"​​I have found that some of their car supplies, such as windshield wiper fluid or air fresheners, can be cheaper than other stores because they offer volume discounts on these items," Steer said.
You can get a pack of 36 microfiber towels for just $15.99. A pack of 12 on Amazon costs $29.74.
Snacks 
You never leave for a road trip without picking up some snacks, and Costco is the perfect place to do that.
"The snacks available at Costco are also very affordable compared to other grocery stores or restaurants," Steer said. "For example, if you buy a pack of gum at the grocery store, it will cost around $0.50 to $1 per piece. However, at Costco, there are packs of gum that are only $0.25 per piece. This can add up very quickly when you consider how much gum an average person eats over time." 
Is there a Costco on your road trip route? Andrea Woroch, consumer and money-saving expert, said stopping at a Costco for its food-court selection is also a great idea. "You can get a soda and hot dog for $1.50 or an affordable slice of pizza."
Hotels 
Costco's travel program gives members discounts on hotels that might come in handy on your road trip. Among the hotel brands Costco works with are IHG, Fairmont, Hyatt and Swissôtel.
"Not only will you save on the actual hotel rate," Woroch said, "but Costco deals typically offer other perks such as waived daily resort fees [and] free Wi-Fi. I have even received a free Costco shop card." 
Camping and Outdoor Gear 
Heading to the campground? Young Pham, a project manager at BizReport, said Costco is a great place to score deals on everything you'll need when you go camping.
Make Your Money Work for You
"In case you are considering spending some time outdoors and enjoying the clear summer skies, you may need to get quality camping gear," Pham said. "I know Costco has several deals on camping gear, and you can save a lot of money."
A 2-pack of Coleman camping chairs with built-in coolers will cost you $59.99. For just one on Amazon, you'll pay $44.98. 
Discounted Gift Cards
Woroch said you won't want to pass up the deals Costco offers on gift cards that could save you serious cash on your trip.
"Find out which restaurants are along your route or what type of activities you want to do and pick up a cheaper pack of gift cards for that," Woroch said. "For example, you can get 20% off $100 worth of gift cards to California Pizza Kitchen."
More From GOBankingRates