9 Ways To Cut Down Clothing Costs During Inflation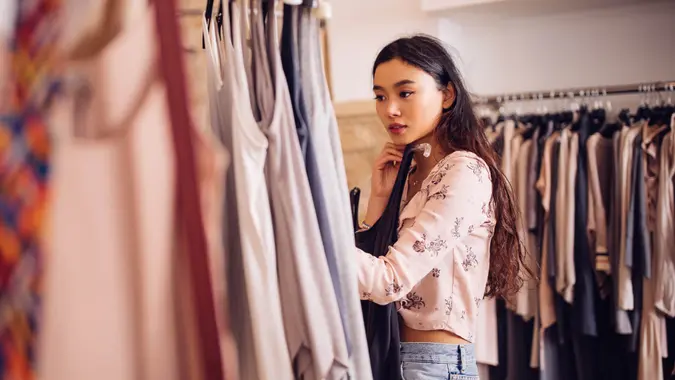 wundervisuals / iStock.com
The price of clothes is up 4.2% since last August. This is partially due to rising cotton prices, in addition to retail workers demanding they be paid more. Some articles of clothing like formalwear have increased even more in price. Dresses cost almost 12% more than last year, and suits are sport coats are up 4.7%.
Take a Look: 10 Things You Should Always Buy at Walmart
More: 15 Cheap, Beautiful Places To Retire
These increases in price might discourage you from refreshing your wardrobe, but there are ways to cut costs when it comes to clothes.
Buy Retail Gift Cards at a Discount
Do you have a shop that you always go to when you need new clothes? Check sites like CardCash where you can search for a retailer and buy a gift card for less than the card's value. Typically, you can score gift cards for 13%-25% more than you pay for them. 
Make Your Money Work for You
Check the Cash-Back Options on Your Credit Card
Some credit cards will offer you the option to use the cash back you earn for gift cards.
One of the cards that offers this is Chase Freedom Unlimited, which offers 6.5% cash back on travel purchased through Chase Ultimate Rewards, which lets you redeem rewards for gift cards to shop with.
Additionally, the Discover It Cash Back card offers 5% cash back at different places each quarter and 1% cash back on all other purchases. They also match your cash back accrued at the end of your first year using Discover It Cash Back. All of this can be used to purchase retailer gift cards through their rewards program. 
Take Our Poll: Are You Concerned That Social Security Benefits Will Be Reduced During Your Lifetime?
Sell Clothes at Consignment Stores
When you bring your gently worn clothes to a consignment store, an associate will examine them to see if they can sell them at their store. In exchange, you'll usually have the option of receiving cash for your clothes, or store credit. Typically, the store credit amount is higher than the cash amount. If you're looking to score clothes on a budget, you can use your store credit to add some new pieces to your closet.
Make Your Money Work for You
Shop at Thrift Stores
Pre-worn clothes are your friend when you're on a budget. Head to secondhand stores to peruse gently used clothes for maybe a quarter of the price they originally sold for. This also gives you the opportunity to find one-of-a-kind and vintage pieces.
Look for Coupons
Never go shopping for clothes without searching for coupons first. One great site to use is RetailMeNot.com. You can search for the retailer you want to shop from and they'll let you know about sales or discount codes you can use.
You can also install a Chrome extension like Honey, which searches for discount codes and coupons and applies them to the items in your shopping cart. 
Shop Out of Season
The sale sections are full of clothes that are out of season. Don't pass these deals up simply because you can't wear them tomorrow. You'll find some of the lowest prices on items stores are trying to sell because they're not in demand. Think about shopping for bathing suits in the winter time and winter coats in the dead of summer. There's also bound to be end of season sales, so always keep an eye out for those from your favorite retailers. 
Make Your Money Work for You
Shop in the Boy's or Men's Department
If you're not already, consider browsing clothing made for boys and men. Often, basics will cost much less than they do in the girl's or women's department. You can pay to have the clothes altered if you need, and it probably will still cost you less than it would have from the women's department. 
Rent or Borrow Clothes for Special Occasions
It might be tempting to splurge on a new dress for a wedding or party, but that can cost hundreds of dollars. Instead, consider asking a stylish friend if you can wear something of theirs, so it still feels new to you, but won't cost you anything.
You can also look into sites like Rent the Runway, where you can rent designer clothes for a fraction of what it would cost to buy them. 
Host a Clothing Swap
It seems like we always have clothes we wouldn't mind parting with. Put those to good use with a clothing swap. Invite friends to bring clothes over that they don't want anymore and take a look at everyone else's items. You'll have cleaned your closet and you'll walk away with a few new items without it costing you anything.
More From GOBankingRates
Make Your Money Work for You