5 Ways You're Throwing Money Away on Clothes — and What To Do Instead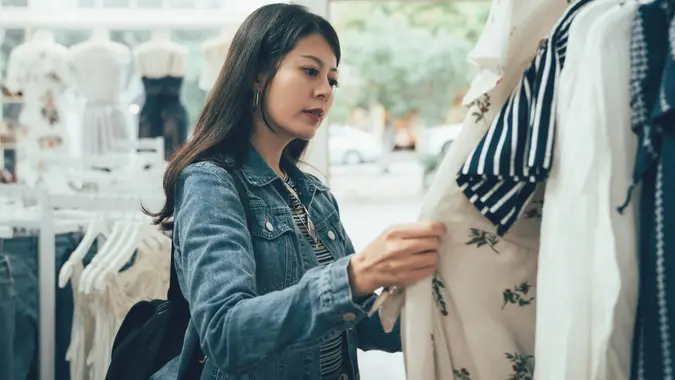 PRImageFactory / Getty Images/iStockphoto
While not everyone loves shopping, most enjoy the look and feel of new clothes, whether it's comfy and casual or a nice dressy piece for work. Clothing's not always cheap, though — especially the kind that really stands the test of time, along with wear and tear.
See Our List: 100 Most Influential Money Experts
Be Aware: 9 Bills You Should Never Put on Autopay
Furthermore, you may be engaging in some bad habits that are essentially the same as throwing money away on clothes. Here are five wasteful ways to toss out — and five you should adopt instead.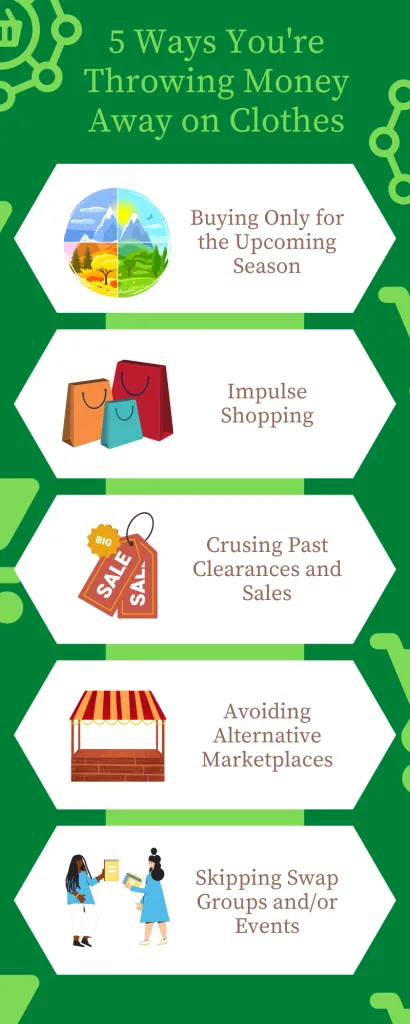 Don't: Buy Only for the Upcoming Season or the Latest Trend
Rather than buying clothes only for the current season or moment, consider buying good, quality clothes that you like for any season — whenever you happen to find them at a good price. If you put your focus on quality over season or trend, you'll end up with a closet full of great pieces that you can pull out when the time is right.
According to Lifehack, out-of-season clothes are often cheaper than when you buy them for the appropriate season. Additionally, try not to fall for the current trend, says Caitlyn Parish, chief digital officer for the fashion company Cicinia.
Make Your Money Work for You
"Trends come and go, making it such a waste to buy everything you see on social media as soon as they come out. Although it feels good to be in with the crowd, your wallet won't feel as good when these stylish trends are thrown to the back of your closet in a month's time."
Take Our Poll: Do You Have a Side Gig or Other Hustle?
Don't: Impulse Shop
Have you ever been in a store and seen a piece of appealing clothing that may not match anything in your closet, yet you buy it anyway? This, and other kinds of impulse shopping, wastes money, says personal stylist, Joseph Rosenfeld.
"It might seem harmless to do this. But most people who shop for clothes this way do it repeatedly. And so what appears to be a little thing turns into the big thing, and leads people to wear only 20% of the clothing they own." 
Additionally, Dominic Harper, founder of Debt Bombshell, says, "Treating shopping as a recreational activity is one of the biggest money mistakes that some people can make when looking for new clothes. Since they tend to purchase things impulsively instead of being driven by intent, they often end up buying mere ornaments to their rack. Affording clothes that they don't even see as wearable resembles throwing money at the trash."
Make Your Money Work for You
Don't: Cruise Past Clearances and Sales
Perhaps the biggest mistake when buying clothes, according to Kristen MacKenzie, founder of @prettycheapthings and @prettycheapnordstrom on Instagram, is "simply not waiting for a sale. She says, "Almost everything goes on sale at some point — and most stores have a sale schedule that you can easily find and follow."
However, on the other end of the sale issue, according to Nazy Rafaeil, SEO and marketing director for Jovani, an internationally recognized fashion brand, "The number one way people throw away money is buying them in excess at a sale. This is like playing into the hand of the retailer as they want you to overspend by instigating a fear of missing out if you do not purchase the clothes."
Don't: Avoid Alternate Marketplaces
Lots of people get rid of clothing that is in incredible condition, often even still new at online marketplaces. "Not considering thrift stores and online sites like Poshmark is a mistake," says MacKenzie. "A lot of times other people buy expensive clothes and never even wear the items. You can get like-new items or even new-with-tag items at these stores at a fraction of the cost."
Don't: Skip Swap Groups or Events
People are always getting rid of great clothing, but not everyone needs to get paid for it. Check out sites where you can swap clothing, such as SwapStyle.com, ClothingSwap.com or look for a local swap through Meetup where you can give as well as get for little to nothing spent.
Make Your Money Work for You
Do: Buy Quality Pieces
Cesar Cruz, an American fashion designer, entrepreneur, and co-founder of Sebastian Cruz Couture, says that purchasing the same clothing item every season costs more money over time than investing in quality pieces. For example, after a few months, most people head back to the store when they begin to see signs of wear on their new clothes.
"For the price of two or three button-down shirts that don't pass the test of time, buy one quality piece that will last you far beyond a few months. The secret about quality clothing is that it saves you money over time if you do it right." 
Do: Invest in a Mix of Staples
According to Parish, investing in quality fashion is a good idea, but that doesn't mean your entire closet needs to be filled with expensive items. "There should always be a good mix of quality staples in your stash. It doesn't matter if they're from an outlet store or designer places, as long as they are of quality material and are sustainable, get it and keep it."
Do: Focus on Durability Over Brand
One mistake that many people make when buying clothes is that they only consider the brand name rather than how durable the item of clothing actually is, according to Matthew Robbs, founder of Smart Saving Advice.
"To get the best bang for your buck when buying clothing only buy expensive brands if the quality is good and the item won't go out of style. Never buy an item of clothing just because of the brand. Either buy your clothing because of quality, or because the item will stay in style for many years but never just because a popular brand sells it." 
Do: Resell Your Old Clothes To Buy New
Those same alternate marketplaces where you can buy used, quality clothing will also take your good quality clothing for sale. From PoshMark to ThredUp and even Facebook Marketplace, you can create a little clothing slush fund for yourself that both recycles your old clothing and allows you to afford new ones.
Do: Buy Generic Basics
Undershirts, sports bras, underwear, pajamas — these are all basics of your closet that most people never see, so don't bother buying brand name when you can get these items more affordably in generic form, according to Lifehack. Whether that's buying from Costco, or simply finding the best deal on these items, your wallet will thank you.
More From GOBankingRates
Make Your Money Work for You