10 Weird Walmart Items You Can Buy Online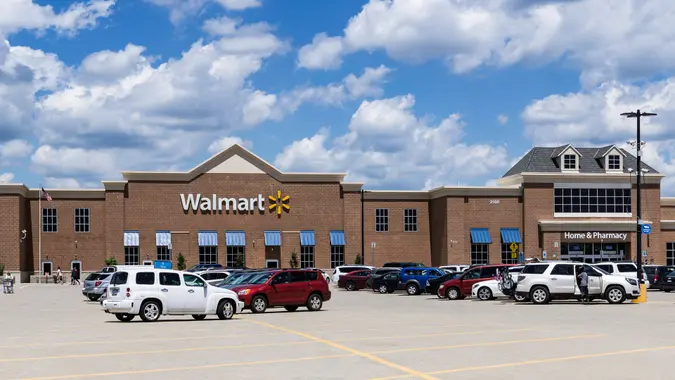 RiverNorthPhotography / Getty Images
Walmart is well known for being a reliable place to get numerous household, personal and grocery items at affordable prices. Its website tries to replicate the in-store experience, offering all the same items shoppers count on finding at their store.
Explore: Your Biggest Money Etiquette Questions Answered
Find Out: This Credit Score Mistake Could Be Costing Millions of Americans
However, in addition, Walmart also sells a variety of frankly weird items online that you probably won't find in a store. We picked out 10 of the silliest or just plain strangest items you can buy at Walmart online. Check them out.
Bob's Pickle Pops
If you're a pickle lover who also wants to beat the heat, you can find Bob's Pickle Pops online at Walmart. That's right, think classic Otter Pops … but with pickle juice. According to DealNews.com consumer analyst Julie Ramhold, "Some reviewers note that they're good for preventing heat cramps as well as just generally good for hydration and those who like pickle juice a lot."
Make Your Money Work for You
You can freeze them or refrigerate them to just drink them cold, Ramhold pointed out, "but either way they have a very specific taste that probably only appeals to very particular palates." A pack of 6 will run you $2.92.
Pickle Bath and Grooming Sampler Gift Pack
You thought pickle pops were weird? Try out the pickle bath and grooming sampler gift pack, Ramhold suggested. "You have to really love pickles to enjoy this set as it goes far beyond drinking pickle juice. The set comes with dill pickle flavored lip balm, dill pickle scented soap, and bandages that look like pickles. Another great gag gift, I guess, or perfect for someone who has a pickle obsession, but that's about it."
You'll pay almost $30 for this strange ensemble, but hey, maybe it's worth it.
Orbeez Foot Spa
If you've ever interacted with Orbeez water beads, which start out hard and expand in water to become approximately pea-sized slimy balls, you might already be groaning at the thought of putting your feet into a bath of them. Not exactly a day at the spa, but to each their own.
Even if you enjoy the slippery, slimy experience, don't let them dry up or you'll just have a spa full of crusty, hard little balls. You can have this unusual tactile experience for $28.99.
Make Your Money Work for You
Take Our Poll: Do You Think Student Loan Debt Should Be Forgiven?
Bacon Scented Mustache
If a regular novelty mustache isn't quite far enough for you, Ramhold shared that you can purchase a bacon scented one, something she said, "appeals to people with very specific senses of humor and/or tastes, so I guess it would make a good gag gift." She added, "Alternatively it could be good for a Ron Swanson costume on a couple of levels."
You'll pay $10.79 for this breakfast-themed hair piece.
Bacon Scented Lip Balm
"From the same company that brought you the bacon scented mustache comes yet another bacon product," Ramhold said — bacon scented lip balm. "This one is definitely for people who really and truly love faux bacon products, because there's no way this is going to taste like real bacon. Maybe those crunchy bacon bits, but that's about it. I also have to imagine it probably has a very strange smell that may not be appealing to those around you, so yet another novelty product that should be used in select company and/or sparingly."
Make Your Money Work for You
You'll fork out a meaty $6.07 for this unusual lip care item.
Uncle Si (From 'Duck Dynasty') Chia Planter
If your idea of "gardening" extends to growing chia seeds on a clay model made to look like an animal or a person, well you're in luck. You can get your very own Uncle Si, one of the people featured on the reality show "Duck Dynasty."
You'll pay almost $28 for this quirky planter, too, so you must really be a fan.
Draft Beer Jelly Beans
For many people there's nothing more refreshing than an ice cold beer, frothy and bubbling in a tall glass. It doesn't seem like a flavor experience that translates to candy form, but hey — maybe you love beer that much. However, these Jelly Belly beer beans are non-alcoholic, so you might be setting a bad example for your kids by introducing them to beer-flavored candy.
You can purchase this odd candy combo for $4.17 for a 3.5 oz bag.
Camouflage Cake Mix
For the hunter you just can't find the right gift for, why not try this unusual Duff Goldman cake mix? It might take some special dexterity to get those camo colors not to run, but baking is a creative experience. You can make someone's patriotic birthday or holiday for just $20.99.
Instant Audience Noisemaker
Is your life too quiet or dull? Do you need to feel appreciated but there's no one around to do it? Walmart has you covered with this instant audience noisemaker. If the "applause" option goes to your head, you can bring yourself back down to reality with the "crickets," "rimshot" and "boo" options instead.
All this fun for just $10.69.
Bathe & Brew
Many people rely upon that first cup of coffee to get going in the morning. Now, you don't have to wait until you're showered and shaved. With the Bathe & Brew in-shower coffee making set, you can use your shower water to make your coffee at the same time — it might just have a little fragrance of shampoo.
This is actually just a fake prank box for gift-giving, but you'll enjoy seeing your loved one's confused looks when they open this up. This gag gift will run you $10.99.
More From GOBankingRates
Make Your Money Work for You