Where To Find Electric Bike Sales and the Best Rebates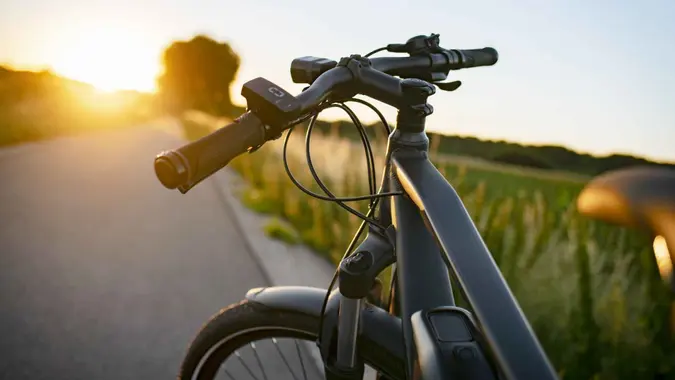 deepblue4you / Getty Images/iStockphoto
Electric bike popularity started to zoom during the pandemic and in the months after as gas prices skyrocketed. While an e-bike may seem like a significant investment, it can save you money in gas when you run local errands and, best of all, get you out into the great outdoors with the warmer weather approaching.
Many states offer rebates and incentives for electric bike purchases. You should ask your local retailer where you purchase your bike. If you are shopping online, consider visiting REI.com for up to 20% off this Memorial Day weekend. Here are some of the bikes available. Co-op Cycles is REI's house brand, for consumers wondering.
Take Our Poll: Are You Concerned About the Safety of Your Money in Your Bank Accounts?
Co-op Cycles Generation e1.1 Electric Bike ($1,198, originally $1,499)
Available in your choice of blue, yellow, black or white, the Co-op Cycles Generation e1.1 electric bike earns 4.2 stars from REI customer reviewers for its competitive pricing, comfort, and adjustability. The bike travels up to 20 mph with pedal-assisted riding, and has a range of 30 to 40 miles on one charge.
Co-op Cycles Generation e1.2 Electric Bike ($1,518, originally $1,899)
Available in small, medium and large sizes to fit adults of any height, the Co-Op Cycles CTY e1.1 electric bike earned 4.5 stars for the price, weight, and comfort. Expect it to need six hours of charging time for a range of 40 miles.
Make Your Money Work for You
Co-op Cycles CTY e1.1 Electric Bike ($1,038, originally $1299)
You might think it's hard to find a high-quality eBike for just over $1,000. But the CTY e1.1 will check all the boxes for comfort, durability, and a light weight for easy peddling, even with the motor off. REI reviewers gave it 4.5 stars.
Co-op Cycles CTY e2.2 Electric Bike ($2,158, originally $2,699)
This e-bike is being phased out, but you can snag it this weekend for 20% off its retail price. With a range of 50 miles on one charge in pedal-assist mode, and a top speed of 20 mph, this e-bike earned a 4.5-star rating from REI reviewers.
More From GOBankingRates
Make Your Money Work for You