Why a Costco Membership Is a Must-Have for Millennials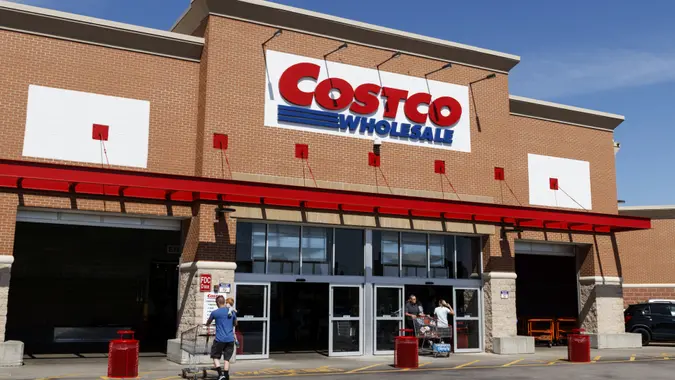 jetcityimage / Getty Images
Costco leads the way in both fame and popularity amongst all adults in YouGov ratings (department stores category) for the second quarter of 2023. Adults in the U.S. give Costco a 97% rating for fame and 68% for popularity, which represents people who have a positive opinion of the store. Costco is also a favorite among baby boomers, ranking second behind Dollar Tree.
But other generations have not yet embraced the beauty of the $4.99 rotisserie chicken or the $1.50 hot dog and soda combo en masse. Millennials ranked Costco third, with a 93% rating for fame and just 71% for popularity. It fell behind Target and Dollar Tree.
What are millennials missing? And why should they jump on that Costco membership today?
Costco is known for deals on everything from meats and produce to over-the-counter medicines, paper goods, and electronics. But savvy shopping means resisting the temptation to buy what you don't need — or in quantities larger than you need.
TikToker Honest Personal Finance offered tips for smart shopping at Costco in a video that yielded 172.5K views over the past year. His first tip? Keep your eyes down as you pass the electronics items at the front of the store, and the clothing, toys, and random items that you don't really need in the center. In fact, just like at any grocery store, if you shop the perimeter, you'll find the healthier foods and the most savings.
Make Your Money Work for You
Here are three reasons millennials should splurge for that Costco membership now.
Kirkland Signature Brand Offers Tremendous Value To Stock Up on Non-Perishables
TikToker Honest Personal Finance backed the Kirkland Signature brand for everything from storage bags and paper towels to bottled water. He recommended stocking up on anything that doesn't go bad or need refrigeration — especially as people in various parts of the country prepare for storm and hurricane season.
You may be surprised to learn that Costco's No. 1 selling item, even after the pandemic, continues to be its brand of toilet paper. Reader's Digest reported that the wholesale club sells more than one billion rolls yearly.
Find Grocery Items Under $10
It's easy to go to Costco and rack up a four-digit receipt, especially if you are buying big-ticket items like appliances or electronics. But you can also fill your cart with your choice of hundreds of items that are less than $10 each — and pay less than at Walmart or Target. That makes it easy to not just stock up on essentials, but complete your weekly grocery shopping.
Costco Offers Same-Day Delivery Through Instacart for Even More Savings
Millennials are often all about convenience and saving time. Costco offers online shopping and same-day delivery through Instacart. Take advantage of Costco deals, including the savings featured in Costco's monthly coupon books, and enjoy convenient home delivery. There may be some pricing differential, keep in mind, depending on market.
Make Your Money Work for You
Plus, shopping online makes it easier to avoid the temptation of electronics, seasonal items, and clothing. Just be sure to select only the departments you need for grocery shopping and avoid the "Trending" and "What's New" sections (if you want to keep the receipt lighter, at least).
More From GOBankingRates