Why I Stopped Shopping at Dollar Tree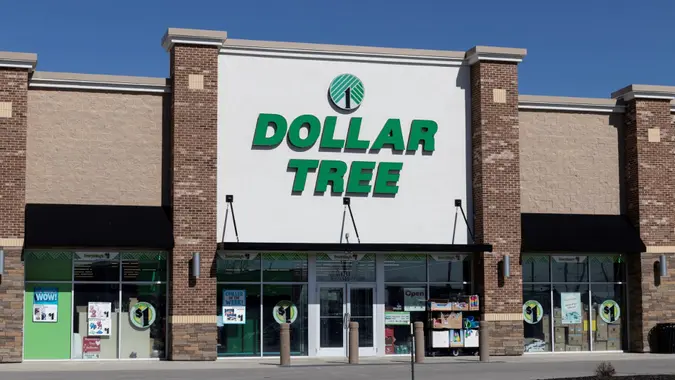 The first Dollar Tree opened in 1994, and since then, many consumers have flocked to their more than 8,000 stores to score a good deal. However, over time, some shoppers have found those deals might not be worth it.
Whether it be because of the quality or safety of the items or the working conditions, some people have decided Dollar Tree is not for them anymore. Here's why some consumers have stopped shopping at Dollar Tree — including a surprising revelation about the prices.
Some Products Contain Chemicals
Scott Lieberman, founder of Touchdown Money, used to shop at Dollar Tree all the time. Now, he's a little worried about the safety of the products the store is selling. "I love savings! But I stopped shopping at Dollar Tree. I'm concerned about the chemicals in their products," Lieberman said.
What Lieberman is referring to is a test that found cookware sold at Dollar Tree was coated with PTFE (a PFAS coating) and BPA-based epoxy. Another test found that Dollar Tree — along with Family Dollar, Dollar General, Five Below and 99 Cents Only Stores — sold products that contained lead and plasticizers, which can harm the environment. It should be worth noting that in response, Dollar Tree and Family Dollar say they will stop using PVC in all store-brand children's products by 2024.
The Prices Aren't Actually That Low
The whole draw of Dollar Tree would seem to be the affordable prices, but even dollar store prices aren't awesome across the board. Some shoppers have found that when you compare Dollar Tree's prices to Walmart, you're not actually getting that great of a deal.
Make Your Money Work for You
"The thought is, 'Oh wow, instead of going to Walmart or somewhere else with more expensive items, I can get cheaper stuff at Dollar Tree.' One day, I decided to go to Walmart instead, because I had a sneaking suspicion that Dollar Tree's prices were actually higher for less food. [At Dollar Tree they're] much smaller portions, so they seem cheap, but [they] actually charge you more for the same amount than a store like Walmart," Reddit user Marijuweeda posted.
One example of this is that a 3-ounce container of Sun-Maid California Sundried Raisins costs $1.25 at Dollar Tree, but 20-ounce container of the same exact same brand of raisins costs just $4.72 at Walmart. Even if you bought six packages of the Dollar Tree packs, you still wouldn't have 20 ounces, and you'd have paid $7.50.
No Air Conditioning
Whether a store is too hot or too cold, if it's physically uncomfortable to be inside, then no one is going to want to shop there. Reddit user MsSeraphim commented on the Dollar Tree subreddit, saying, "I went to the local Dollar Tree and melted. Why don't any of these stores seem to have working air conditioning? This week is going to be in the 90s in my area with extremely high humidity and the store just props the door open for a breeze."
Poor Treatment of Employees
It's hard to shop at a store if you know the people working there aren't treated with respect. Lieberman said this is one of the reasons why he's stopped shopping at Dollar Tree.
Make Your Money Work for You
"My other issue with Dollar Tree is that they've repeatedly violated OSHA laws that are meant to protect employees. Dollar Tree is facing $770,136 in penalties from the Department of Labor for flagrantly disregarding employee safety protocols such as not blocking exits and having fire extinguishers. You'd think a billion-dollar company would care about the safety of its employees, but their actions prove otherwise."
Odd-Tasting Products
One customer, who goes by Complete_Entry on Reddit, posed a question on r/DollarTree asking why the store's sodas always seem to taste off. "Whenever a new brand of soda comes through Dollar Tree, I buy it and try it, and regardless of brand, it all has the same dry, stale note to it. Doesn't matter if it's RC Cola, Cotton Candy soda, Pepsi, Coke or Sprite. They all have that same unpleasant note," the user wrote.
Obviously, if your products aren't delivering a great taste, customers are going to opt for other options when they're out shopping.
More From GOBankingRates