Which Costco Products Will Be More Expensive in 2023?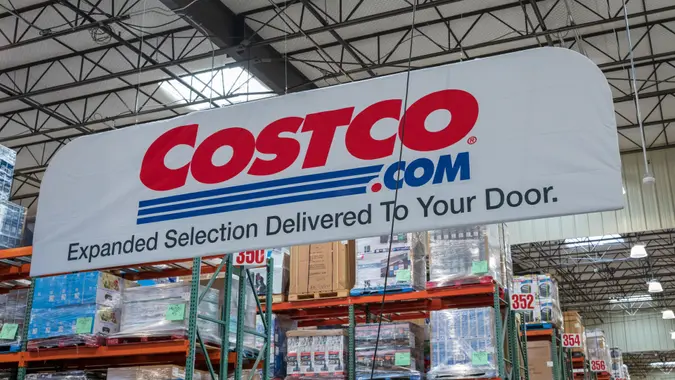 artran / Getty Images
Costco has long been popular with its warehouse club members for its affordable offerings on everything from pantry staples to household essentials. After a year marked by soaring inflation like 2022, can Costco shoppers anticipate prices going up? 
Read More: 10 Things To Stop Buying in 2023
Find Out: 3 Easy Tips to Turn Your Credit Woes into Wows
The answer to this question might surprise you. Here's what you need to know about whether Costco products will get more expensive, or not, in 2023.
Which Costco Products Likely Will Increase in Price?
Anecdotally, Julie Ramhold, consumer analyst with DealNews.com, has already seen higher price tags on a few grocery items at Costco. Some of these items may be expected, but others may come as a surprise to shoppers.
Eggs
This protein staple is already expensive largely due to the avian flu outbreak. Despite the cost of eggs going up nearly everywhere, Ramhold said Costco still has better egg prices than other grocery stores. 
Make Your Money Work for You
"Costco still has better prices on eggs than other grocery stores; two dozen cage-free eggs at Costco is around $7 in my area, but a dozen standard eggs at other grocery stores may cost $6 and change, or even more," said Ramhold.
Butter
The cost of butter going up may be attributed to a shift in focus for the manufacturers. Ramhold said manufacturers during the fourth quarter of 2022 were focused on other dairy products. This is why some predicted a butter shortage ahead of the holiday season.
While there wasn't much of a shortage during the season, Ramhold said shoppers have seen higher butter prices.
Live Richer Podcast: You May Be Losing Your Credit Card Reward Points: Here's What You Should Do
Maple Syrup
This one may surprise Costco shoppers. While the price tag hasn't been too noticeable yet, it's not a bad idea to keep your eyes peeled for syrup deals.
"Maple syrup is another item we've already seen a slight increase in price for," said Ramhold. "Because of inflation, I wouldn't be surprised to see another increase at some point during the year."
Make Your Money Work for You
Breakfast Cereals
"Breakfast cereals have also increased in price due to inflation and raw ingredient cost, but even if the price of wheat drops this year, I doubt it'll cause cereal prices to drop," said Ramhold. "Rather they're likely to remain the same or increase slightly from where they are now."
Bacon
Unfortunately, Ramhold doesn't see any signs of a price decrease coming for bacon. Fortunately, Costco shoppers can exercise the bulk buy advantage in this department. 
"At Costco you can get four pounds of bacon for around $19, or $4.75 per pound, whereas at other stores you may be paying far more," said Ramhold. "A pound of Oscar Mayer bacon, for example, is nearly $11 at some grocery stores near me."
The Big Costco Increase To Watch Out For
The most significant Costco price increase to watch out for in 2023 isn't a specific food item. It's the cost of membership, which Ramhold said is expected to go up this year for both tiers.
Make Your Money Work for You
While there's no word on how much an increase may be, Ramhold predicts it may be similar to the previous membership increase. This was by $5 and $10 for the basic and premium tiers, respectively. 
"Costco has noted it's a matter of when and not if it'll raise its membership prices, but it also doesn't seem to be in a huge hurry to inflict those higher costs on members. Because of that, it's just something to keep an eye on for the future."
Is a Costco Membership Still Worth It?
Some budget-conscious households may consider scrapping their Costco membership in 2023. Making this decision ultimately depends on how valuable the Costco membership is in households.
If you're inclined to cancel just because of potential price increases, take a moment to reconsider. Ramhold said while it's likely some Costco items will increase in price, it's hard to pin down specific products. Price increases are likely to affect categories more than specific items.
"For the most part, Costco's prices will probably largely stay at what they are now, although minor increases may happen."
Those who find good deals from shopping at Costco on a regular basis are recommended to keep their membership and continue budgeting in the year at Costco.
"It may be prudent to adjust how you budget for Costco — that is, there might be certain items that aren't worth purchasing in bulk for your household anymore, but overall there's no denying the warehouse club still provides a ton of value for families of all sizes."
More From GOBankingRates
Make Your Money Work for You