6 Winter Items From Dollar Tree That You Can Use All Year Long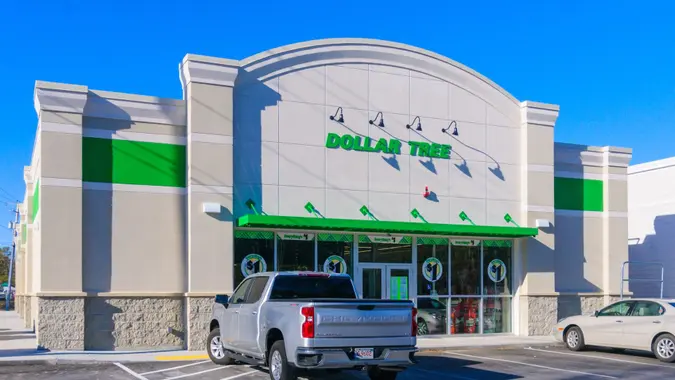 KenWiedemann / Getty Images
The wintertime means the holidays are approaching, so it's the season for shopping! While everyone loves to save a buck or two around this time of year, there's one place that stocks up on savings all year long: Dollar Tree.
It might surprise you to learn that the discount bargain retailer has some quality products you can purchase — as holiday gifts this winter or just general items to have around your household for every season — so you don't have to burn any extra money to stay warm.
Here's some of Dollar Tree's best stuff to throw in your cart this winter season that's worth having all year long.
Paper Goods
When we think of the holidays, we think of one type of paper: wrapping. Dollar Tree currently has deals on not just Christmas-themed covers, but Voila Solid & Patterned All Occasion Wrapping Paper good to use for every festive gift giving event, each for just $1.25.
You really can't stock up enough on other types of paper, though: paper towels, napkins and toilet paper for the whole family because these items are a 24/7 necessity. And the best place to save paper on those paper products is Dollar Tree.
Right now, the bargain store is offering two-count Ultra Harmony Double Paper Towel Rolls for just $3. If that's not enough to handle the messiest of messes in your household, snag a few six-packs of Harmony Giant Paper Towel Rolls for just $5. 
Make Your Money Work for You
Kitchen Stuff
As we go into hibernation mode, the urge to cook and bake grows stronger. Who doesn't love a hot meal or sweet treat fresh from the oven? Dollar Tree understands the culinary instinct in us all, which is why they pass the savings along on their kitchenware items.
While you let the oven warm up, you can whip up a delicious recipe in the Cooking Concepts Assorted Stainless-Steel Mini Mixing Bowls. These kitchen items are all reasonably priced around $1.25 each and are perfect for baking goodies year round.
Need to up your cooking game with some bigger dishes? Grab a Rectangular-Shaped Baking Pan with Covers for $5 each to help feed your largest party around the fire, the game or the weekday dinner table.
And while you might be bundling up from the freeze outside, it's always a good idea to have some extra ice on hand for drinks no matter what season. Luckily, Dollar Tree is offering up Home Store Stacking Ice Cube Trays, with two-count packs for $1.25 to keep your beverages nice and chilly way into the new year.
Toys and Crafts
Like many families, you might be on the hunt to find the best discounts on the latest and hottest toys of the season. Look no further than your local Dollar Tree, to find all sorts of toys, including Hot Wheels cars and tracks, Barbie accessories and Matchbox cars.
Perhaps the little ones you are buying for are more into making their own version of playtime a bit craftier. Dollar Tree has Active Play, Craft Kids and more to ignite imaginations of all ages.
Make Your Money Work for You
And if you need some extra assistance putting it all together or making it come to life, check out Dollar Tree's blog for some helpful hints and creative ideas, such as DIY Glittery Critter Craft for Kids by The Dollarista.
Soup
For many of us, the food of choice when the weather takes a turn and the sniffles drop by is the hearty standby of soup. Wintertime is synonymous with flu season, which only seems to get longer and longer every year.
If it's from a can, soup is usually easy to make, takes very little time to prepare and when you are at Dollar Tree, is priced very reasonably. A can of Healthy Choice Chicken with Rice Soup will run about $1.25, as do many other varieties. That same price can also be found on a Royal Norfolk Ceramic Soup Mug, ideal for eating your very own soup of choice. 
It's the perfect combo meal and deal!
And the best way to heat it up? A Non-Stick Metal Saucepans with Glass Lids for the thrifty price of $5 to keep the temperature of your favorite flavor of soup just right.
Kids' Clothing
If you have kids, you know that not only do they need to keep warm during the colder parts of the year, but they often (OK, very frequently) lose lots of the clothing items that are meant to shield them from the cold.
At Dollar Tree, you can stock up on Kids Bold Fashion Low Cut Socks with three-pair packs for just $1.25 so that when one sock or both go missing more than once, you'll be ready to keep those little feet warm. Same price goes for Junture's Kids' Fleece-Lined Knit Hats, which you can stock up on in a variety of colors to keep your family stylish and warm through spring.
Make Your Money Work for You
Storage
The old adage says it's better to give than to receive, but we all know how much we end up with by the time the holiday gift giving season is over. Where does all that stuff go?
The answer: boxes, bins and storage containers, which Dollar Tree has a huge selection to choose from to fit all shapes, sizes and amounts of stuff to be stuffed away. A standard Clear Plastic Storage Bins with Clip-Lock Lids is going for $3, but most of the other storage items offered at Dollar Tree can be found for the low cost of $1.25 each, meaning you get to keep some of that sweet green stuff in your wallet.
More From GOBankingRates