Gas & Grocery Prices Are Hurting Americans Most — Here Are 3 Ways To Save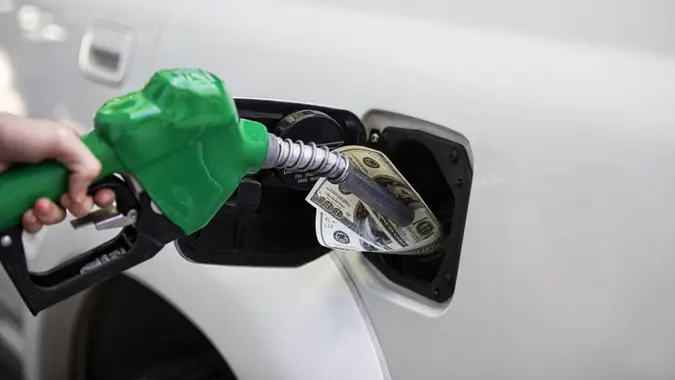 skodonnell / iStock.com
The ups and downs of the economy have been felt by all Americans. Inflation has reached heights not seen in decades, and prices for everyday items have drastically increased within the last year. If you find that your dollars don't stretch nearly as far as they used to, you're not alone.
See: 9 Dollar Tree Items To Stock Up On This Summer
Find Out: 10 Things You Should Always Buy at Walmart
The majority of Americans (97%) are worried about the economy, but who could blame them? In a recent GOBankingRates survey, 78% of people said that gas and grocery prices are what's currently hurting their wallets the most.
According to the Consumer Price Index, food prices from grocery stores and supermarkets are almost 12% higher than they were in 2021. Gas prices are up a whopping 48.7% from last year. In just one month, between May and June, gas prices increased 4.1%. Experts wonder whether inflation has reached its peak now that the price of gas has steadily declined since mid-June, but it's hard to be sure.
With so much uncertainty surrounding the economy, many are looking for ways to cut back on spending — even on essentials like gas and groceries. Follow these tips to see more cash in your pocket.
Make Your Money Work for You
1. Sign Up for Rewards Programs
Most grocery stores and gas stations have developed smartphone apps or rewards programs to help encourage repeat customers. The best way to score the most savings is to choose one chain — think Shell or Winn Dixie — and focus on earning those rewards. Be diligent. Scan your rewards card and take advantage of any bonuses the store offers. Some stores have deals specifically for their rewards members. It's easy to miss out on coupons or rewards simply because you aren't using them. You'll be surprised how much you can save by staying loyal to one chain.
Take Our Poll: Do You Think You Will Be Able To Retire at Age 65?
2. Use Cash-Back Cards
There are a number of credit and debit cards that will provide cash back on certain purchases. American Express offers the Blue Cash Preferred Card, allowing customers to get 6% cash back from shopping at U.S. supermarkets (on up to $6,000 in purchases a year, then 1%). This same card also provides cash back on select U.S. streaming services (6%) and at U.S. gas stations (3%). Terms Apply. When you have to spend money, spend it wisely. Research online to find out which cash-back card will work best for you.
Make Your Money Work for You
3. Download Rebate and Cash-Back Apps
Credit and debit cards aren't the only way to get cash back from regular purchases. Rebate apps like Ibotta, Trunow and GetUpside are available for download on smartphones. When you make a qualifying purchase, take a picture of the receipt and upload it to the app. Cha-ching — you've got cash back. Some rebate apps also have coupons you can download and use when you check out, making it that much easier to save.
More From GOBankingRates
All information about the Blue Cash Preferred Card has been collected independently by GOBankingRates.com. The Blue Cash Preferred Card is not available through GOBankingRates.com.
Make Your Money Work for You