The 15 Best States to Visit This Spring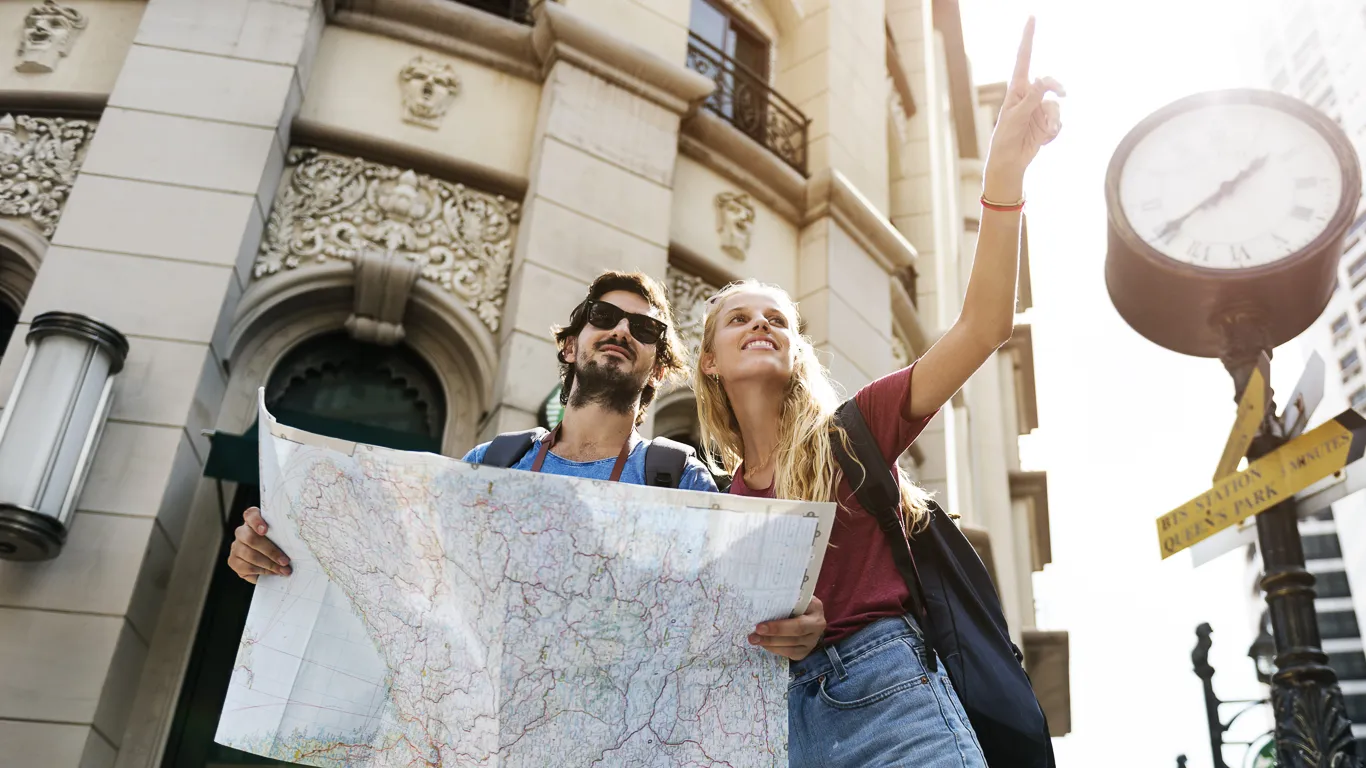 After a long winter, there's nothing like hitting the road and going where the weather is warm and the sun is shining. There are countless destinations in the U.S. you can go to take advantage of spring. But as much fun as it is to just follow the road wherever it takes you, it's wise to head out with a solid game plan.
The best states to visit in spring all have some things in common: great spring weather, attractions you can't experience any other time of year and travel deals that make it easy to vacation on a budget. Whether you want to experience the nightlife in an unfamiliar city or just relax on a beautiful beach, these are the best 15 states for spring travel.
1. Texas
The Lone Star State has a lot going for it in springtime, including an agreeable climate. Spring is a good time to visit the Texas Gulf Coast in particular, where you can catch the first prime beach weather of the year.
Galveston — one of the best spring break destinations of 2017 — offers miles of sandy beaches, excellent beachfront restaurants and trendy bars in its downtown. It's also an affordable city with an average daily hotel rate of $161, according to Booking.com. Don't miss some of the city's best spring events, like the Galveston Food & Wine Festival, which will be held from May 5 to 6, 2017.
2. Florida
When it comes to shaking off the winter blues, Florida is a great place to do it. Orlando makes a great home base for your springtime Florida vacation.
Two of America's top theme parks are right at your fingertips — Walt Disney World and Universal Orlando. Pay to get the Disney World VIP treatment, or take advantage of some of the year's best bass fishing at Lake Kissimmee and the Tsala Apopka chain of lakes. Airfare to Orlando is affordable from most places in America and averages just $141, according to Skyscanner.
Make Your Money Work for You
3. New York
New York City is a stunning place in any season, but spring is particularly lovely. Plus, it's when the Tribeca Film Festival and Brooklyn Folk Festival take place. You can also take advantage of lower hotel rates and smaller crowds during March and April, according to U.S. News & World Report.
If you're traveling on a budget, remember that there's a lot more to New York than the big city. Head upstate and camp in the Catskills, or take a tour of the Finger Lakes wine region.
4. Arizona
Springtime in Arizona brings clear skies and warm weather, which is perfect for visiting the state's outdoor attractions like the beautiful rock formations and rugged hiking trails around Sedona. If you're a baseball fan, catch at least one spring training game while you're in the neighborhood.
Fifteen major league teams from all over the country get ready for the upcoming season at ballparks in Phoenix and Scottsdale. Ticket prices are typically well below what you would pay for a regular-season game.
5. North Carolina
With beaches on one side and mountains on the other, you can't go wrong with a spring trip to North Carolina. The water temperature at the Outer Banks gradually warms up by then, and many of the shops and restaurants open their doors right after Easter.
The ocean might be a little chilly for swimming, but you can fish, bird watch and kayak. On the opposite side of the state, the Blue Ridge Mountains are waking up after winter, making spring a perfect time for a road trip along the Blue Ridge Parkway where you'll find some of the most scenic forests, waterfalls and mountain overlooks east of the Rockies.
6. Colorado
Spring weather in Colorado can vary depending on what part of the state you visit. But in Denver, the climate hits its stride by the time May rolls around. You might get a little rain, but daytime highs are usually in the 70s.
Denver's Cinco de Mayo festival draws more than 400,000 attendees every year, and the annual Colfax Marathon features not only the race but a three-day event that includes live music, food and drink. The average airfare to Denver at a reasonable $181, making it a great budget option for anyone looking for travel deals, according to Skyscanner.
Make Your Money Work for You
7. Virginia
Virginia is one of the best states in which to experience spring — particularly at Virginia Beach, where the summer tourist season is just ramping up. The water might still be a little chilly for swimming, but you'll find a lot to of other things to do, like kayaking among the dolphins and trying some of the city's world-class seafood restaurants. Virginia Beach is a very affordable city, with daily hotel rates averaging $115, according to Booking.com.
8. Alaska
Alaska comes to life in spring, and as brief as this season is here, it might be the best time to visit. Anchorage, Alaska's largest city, offers whale watching tours, glacier cruises and flightseeing adventures in springtime.
If you don't like the cold, aim for the month of May. There will still be snow on the mountaintops, but the daytime temperatures are typically in the 50s. Best of all, prices are low and the summer tourist crowds haven't arrived yet.
9. Tennessee
You'll find plenty of ways to keep yourself entertained in Tennessee during spring, from visiting the honky-tonks in Nashville to the barbecue joints in Memphis. One of the best cities to visit in spring is Gatlinburg, a cozy mountain town that serves as the gateway to the 522,427-acre Great Smoky Mountains National Park. Spring weather is perfect for exploring the park's hiking trails and taking in the view from its tallest peaks.
Gatlinburg makes an ideal home base for explorers with its countless bars, restaurants and shops. You'll also find lots of fun spring events in Gatlinburg, including its Annual Spring Wildflower Pilgrimage — April is peak wildflower season in the Smokies — and the Smoky Mountain Wine Fest.
Make Your Money Work for You
10. Nevada
Las Vegas might seem like the type of place where seasons have no meaning: The neon signs glow, and the blackjack tables are open for business no matter what the calendar says. However, timing your visit does make a big difference.
Spring is one of the best times to visit Vegas, according to U.S. News & World Report. That's when you'll find smaller crowds, more comfortable temperatures and a virtually nonexistent chance of rain. Spring in Vegas also boasts annual events like the Clark County Fair and Rodeo. In addition, average daily hotel rates hit a rock-bottom $102, according to Booking.com.
11. South Carolina
Warm weather arrives early on the beaches of South Carolina, making coastal cities like Myrtle Beach perfect for escaping the cold. Even though some of the summer attractions might not be open yet, spring in Myrtle Beach gives you a chance to take advantage of low hotel rates, great weather, the start of the golf season and uncrowded beaches.
In March, college students descend on Myrtle Beach for spring break. So unless you're one of them, you might want to plan your trip in April.
12. Oregon
Spring finds Oregon in full bloom, from the deep woods of Willamette National Forest to the rhododendron- and azalea-lined streets of Portland. In Portland, you can attend the annual Soul'd Out Music Festival in April and the weekly Portland Farmer's Market at Portland State University.
You can also enjoy the city's buzzing nightlife, great craft beer and thriving indie music scene. Take advantage of the city's bike share program to cut down on transportation costs and see the sites at a slower pace — and take a day trip to Forest Park for a hike in one of America's largest urban forests.
13. Washington, D.C.
It's most beautiful here when the cherry trees around the Tidal Basin come to life in late March and early April. The centerpiece of the spring season is the annual Cherry Blossom Festival — a three-week event that includes live music, fireworks and a parade — which attracts more than a million visitors every year.
If you're not big on crowds, plan your trip in late April or early May so you can visit all the monuments and rent a paddleboat on the Tidal Basin. Don't forget to check out all the trendy restaurants and bars on 14th Street during spring, when they're typically less crowded.
Make Your Money Work for You
14. Louisiana
Springtime in Louisiana is as welcoming as can be, with temperatures that would pass for summer elsewhere. In New Orleans, you can dive headfirst into festivities like April's French Quarter Festival and the New Orleans Jazz & Heritage Festival.
As much fun as New Orleans is, keep in mind that Louisiana is a big state. You can gamble aboard a riverboat in Baton Rouge, hold a baby alligator at Gator Chateau in Jennings and experience the Cajun way of life at the Vermillionville living history museum in Lafayette.
15. California
If you're looking for sun and sand, the beaches around San Diego heat up early in the season. If you're more of a night owl, the legendary clubs along the Sunset Strip in Los Angeles are hard to beat. If it's adventure you seek, head to Yosemite where you can hike through the wilderness and see waterfalls in full force from the spring runoff.
California is one of the best states to visit in spring because no matter where you go, you'll find something to make you want to stay.