10 Kid-Friendly Hotels That Cost Less Than $199 a Night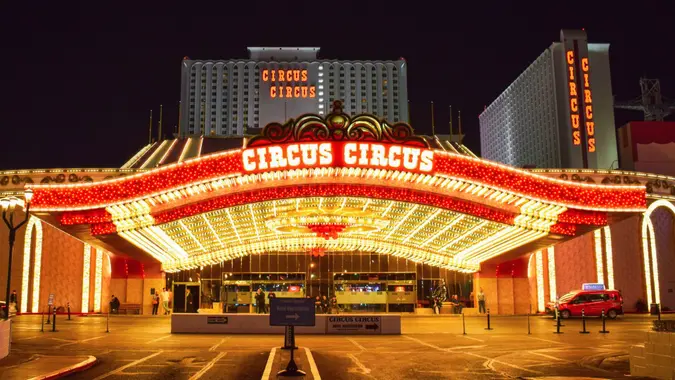 Mathieu LE MAUFF / Getty Images
If you are traveling as a family, the last thing you want is to pick a hotel that your kids won't enjoy. That's a sure-fire recipe for vacation disaster.
More Savings: 13 Insider Secrets From Travel Agents That Will Save You Money
Freebies: 35 Things Your Hotel Will Give You for Free
But no one wants to pay $2,200 per night for the kid-friendly perks, if you can avoid it, and GOBankingRates readers are financially savvy. We've compiled a list of some of the best values in kid-friendly hotels below.
First, let's define what we mean by "kid-friendly" or "family" hotels. What are some of the amenities you should want?
There are some basics you definitely need:
rooms that can accommodate two adults, plus kids or the ability to have adjoining rooms
kid-friendly menus, and high chairs (and breakfast-included places are great)
kitchenette
babysitting services
kids' activities, such as a swimming pool (or even better, a pool with a slide and a lazy river)
good location near restaurants and activities
Make Your Money Work for You
Tips: How To Plan a Last-Minute Holiday Vacation With Kids — Without Breaking the Bank
Here are some of the best kid-friendly hotels across the United States where you can stay for less than $199 per night (this is by no means a comprehensive list, but it's a good start for your search):
Price: $199-209 per night for family of four
Perks: indoor heated pool, on-site Tex-Mex restaurant, cots available
Nothing is really cheap in New York City, but the Skyline Hotel has a good location for easy access to other family entertainment.
Learn: Things You Can Get For Free in Every State
Price: $124 per night
Perks: good location, beach access, on-site parking
Seaside Inn is walking distance away from San Francisco's tourist areas, and it's also close to the beach.
Price: As low as $25 per night
Perks: amusement park, outdoor pools, good location
Many wouldn't think of Vegas as a family-friendly destination, but the hotel has plenty of kid-friendly activities.
Make Your Money Work for You
Important: Why You Should Consider a Travel Agent To Book Post-Pandemic Travel
Price: $111 per night
Perks: close to Disneyland (with shuttles to the park), outdoor pool, game room
This family-friendly hotel is a short shuttle ride to Disneyland, but far enough away that you won't get caught up in traffic (other than typical Southern California snarls).
Price: $141 per night
Perks: outdoor pool with lazy river, beach access
This resort comes with an added bonus of big-screen movie nights by the pool, Trivago.com reports.
Price: $145 for 2-room suite
Perks: good location, game room, salt water pool
This hotel is centrally located to many Portland amenities.
Find Out: Flying vs. Driving: Which Is More Cost Effective for Travel This Year?
Price: $169 per night (although there are plenty of special packages if you also go to the amusement park)
Perks: 5-minute walk to amusement park, good outdoor pools
Make Your Money Work for You
Let's be honest, nothing else matters when Snoopy comes to tuck your kids into bed, Trivago.com reports.
Price: $189 per night
Perks: great location, big suites with kitchenettes, outdoor pool
For a different trip, with hikes and horseback rides replacing amusement parks and rollercoasters, visit Moab.
Tips: How To Save Money on Rental Cars for Your Upcoming Trip
Price: $169 per night for family suite
Perks: indoor water park
We could have listed any of several Great Wolf Lodges. The water parks provide great entertainment.
Price: $89 per night on weekdays
Perks: lazy river, water park, game room
As a resort, Margaritaville has everything you need in terms of dining (ice cream shop, too!) and entertainment (arcade rooms, pools, live music).
More From GOBankingRates
Make Your Money Work for You