15 Charming Beach Towns You Can Visit on a Budget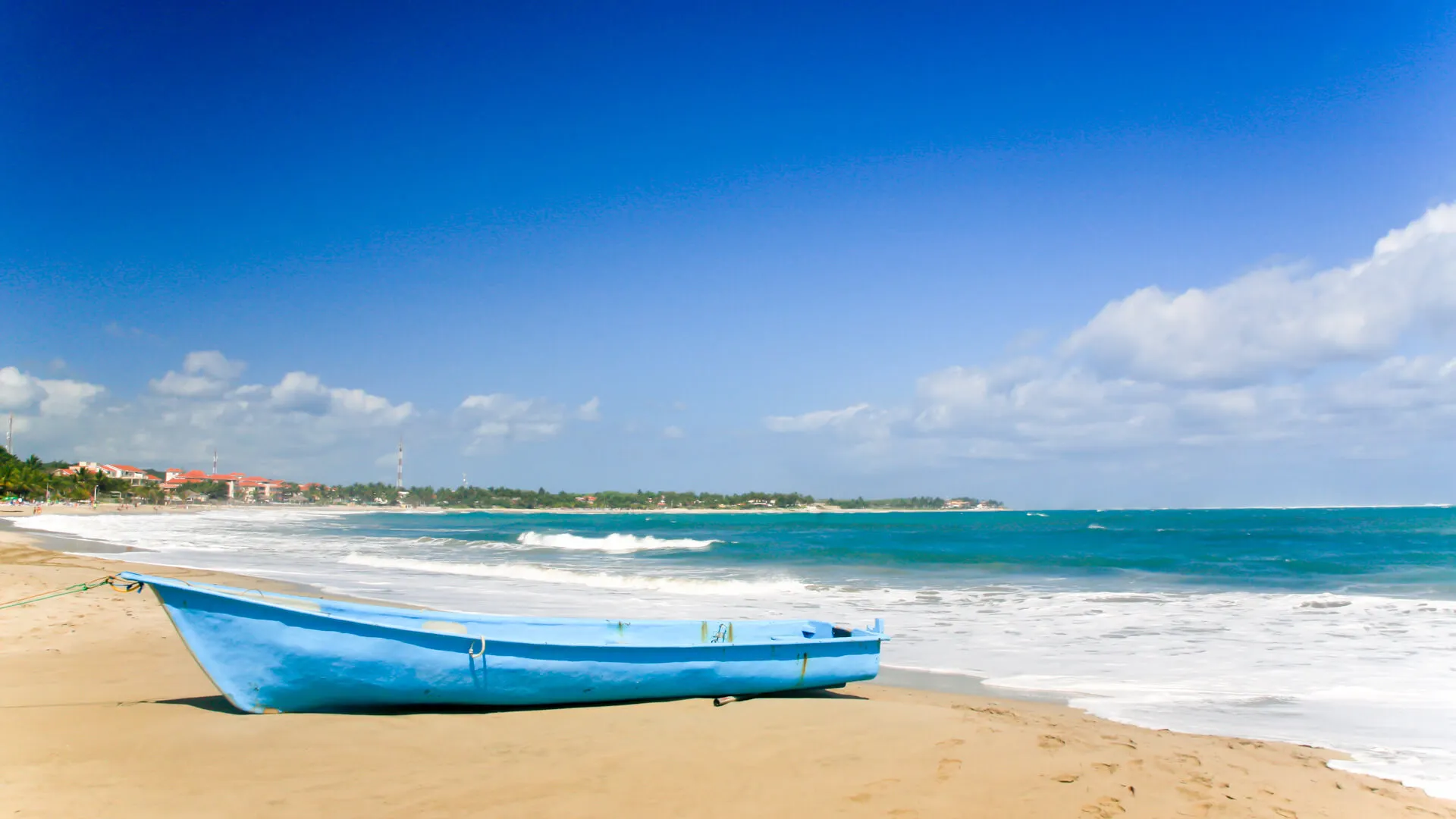 Everybody loves a day at the beach, but planning a cheap beach vacation is no easy task. With so many of the world's best beaches being overtaken by high-dollar resort hotels, a cozy little seaside getaway is becoming an increasingly rare find. Fortunately, some of the best beach towns are still affordable — at least for now.
Click through to discover the best-hidden beaches to satisfy all budgets — including those who want to save.
Data and pricing are accurate as of March, 27, 2018, and is subject to change.
Make Your Money Work for You
Utila, Honduras
The town of Utila, on the island of the same name off the coast of Honduras, is a quiet Caribbean town where you won't find a single chain restaurant or hotel. The shops and eateries along the main drag are all owned by locals, and the beach is steps from the heart of town. Utila is known for its incredible diving and snorkeling, and the offshore waters are home to the second-largest barrier reef system in the world.
Utila is a great place to find affordable accommodations — a room with two beds starts as low as $32 — within walking distance of the beach. The easiest way to get to the island is to take the Utila Dream Ferry from La Ceiba for about $25 each way. The most convenient airport is in San Pedro Sula, about three hours from La Ceiba, where you can get a round-trip flight from Los Angeles for as little as $406.
Yamba, Australia
This cozy oceanside town in New South Wales is a beach bum's paradise, with an ample stretch of beach near the mouth of the Clarence River that appeals to surfers, swimmers and fishermen. Yamba is small but vibrant. Located along a well-traveled backpacking route, it offers charming cafes, a historic lighthouse and bustling farmers markets.
Airfare is the biggest expense, with round-trip airfare from Los Angeles to Brisbane starting at $1,084. But you'll still be able to save in other ways. Yamba's popularity among the backpacking crowd lends itself affordable lodging, like the Yamba YHA hostel, where you can share a room for about $22. You'll also find some great budget eateries nearby, from seafood to vegetarian.
St. Marys, Ga.
Just north of the Florida state line, St. Marys is a quaint little port town at the mouth of the St. Marys River. With boats bobbing along the docks and quiet streets lined with shops, it's a great spot to relax without worrying about overspending.
But its main distinction is being the gateway to Cumberland Island National Seashore, which costs $7 for a one-week admission and encompasses a vast barrier island off the coast. Take the ferry from St. Marys to Cumberland Island, $28 round trip, where you can swim, hike, kayak, explore untouched beaches and see the wild horses that have inhabited the island since the 1500s.
Book a round-trip flight from New York to Brunswick, just 45 minutes from St. Marys, for as little as $295. Check Airbnb for great deals on accommodations, like a two-bedroom home that sleeps six for a nightly rate of $100. Of course, you can always camp on Cumberland Island, where the National Park Service campgrounds start at $9 per night.
Make Your Money Work for You
Ao Nang, Thailand
You'll find countless affordable places to visit in Asia, but few locations are more stunning than the beaches along Thailand's Andaman coast. With a backdrop of lush jungle and rugged cliffs, the town of Ao Nang is arguably the focal point of Thailand's Krabi region. A main beachfront road provides access to a lively and affordable cluster of shops, cafes and hotels on one side, and an unbroken stretch of white sand and turquoise water on the other.
Round-trip airfare to Krabi Airport, about 15 miles from Ao Nang, costs around $607 from Los Angeles, making it the biggest expense on this trip. Luckily, public transportation is cheap — options include buses, car rentals, motorcycle taxis and longtail boat — and you can find accommodations for two as low as $12 per night.
Perissa, Greece
Nestled on the coast of the island of Santorini, Perissa's whitewashed buildings perch on a steep hillside overlooking a long stretch of black sand beach. A rocky monolith known as Mesa Vouno rises dramatically from the surf just off the coast, and an inland hiking trail leads over the mountains from Perissa to the ruins of Ancient Thera. This beauty is one travel destination you might not be aware of, but it should be on your radar.
Perissa is just a short drive from the Santorini Airport, where round-trip flights from New York start at $1,637. They do drop lower if you vary your travel days. You'll find plenty of places to stay on a budget, including hotels and villas for $30 or less, making it a great alternative to some of the more touristy towns in the Cyclades islands. The local bus system provides affordable transportation all over the island for around $2 per ride, depending on your destination.
Make Your Money Work for You
Coos Bay, Ore.
On a stretch of oceanfront known as the Adventure Coast, Coos Bay provides access to Oregon's largely undeveloped beaches, which alternate between sweeping sand dunes and craggy bluffs topped with lofty pines. Several nearby state parks, including the gorgeous Sunset Bay State Park, provide great opportunities for fishing, beachcombing, bird watching and beach hiking in a wild setting. Campsites at Sunset Bay State Park start at $19.
You'll find great deals on Coos Bay accommodations through Airbnb, including rooms for under $40. The easiest way to get to Coos Bay is to fly into Southwest Oregon Regional Airport in North Bend — about 15 minutes from Coos Bay — for $662 round trip from Los Angeles. But you can save money by flying into Portland for $127 round trip from Los Angeles, and then catching a bus to Coos Bay for $30 each way.
Cabarete, Dominican Republic
Cradled between the wide-open waters of the Caribbean and a vast inland rainforest, the town of Cabarete is your gateway to both. The beaches at Cabarete are perfect for swimming, surfing, wakeboarding or sunbathing, and offshore reefs provide excellent diving opportunities. The wilderness of El Choco National Park is just down the road, with an entrance fee of less than $2. The town of Cabarete itself is known for its laid-back vibe and hopping nightlife.
Several hotel and apartment rentals are available in Cabarete with a nightly rate of as low as $14. Round-trip flights from New York to Cibao International Airport in Santiago are typically available for $356 and under, with taxi service to take you the remaining 42 miles to Cabarete.
Ustka, Poland
If beaches aren't the first thing that come to mind when you think about Poland, take another look. Poland is home to nearly 275 miles of coastline along the shimmering Baltic Sea, and you'll find some truly ravishing beaches around coastal towns like Ustka. One of Poland's better-known beach destinations, Ustka offers two great beaches — head to the western beach to beat the crowds — and a lovely 19th-century waterfront promenade.
A flight from New York City to Gdansk, Poland runs about $712 round trip. Gdansk is about two hours from Ustka, and car rentals are available at the airport for about $31 per day. You can get a room within walking distance of the beach for as low as $55, making it a great spot for a beach vacation.
Make Your Money Work for You
Fair Haven, New York
A small village on the shores of Lake Ontario and Little Sodus Bay, Fair Haven has some of the best freshwater beaches on the Great Lakes. Scenic cottages encircle the bay, and Fair Haven Beach State Park, with an $8 per vehicle entrance fee, offers 1,500 feet of sandy beach. In the park you'll also find waterfront picnic areas, fishing piers, boat launch facilities, kayak rentals for $32 per day and hiking trails that explore a long stretch of undeveloped beach beneath towering lakeside bluffs, providing everything necessary for a fun family vacation.
Your best bet for budget lodging is to stay at the state park, where camping is available for $18 per night, and cabins start at $210 for a full week. Fair Haven is driveable from just about anywhere in the Northeast. But you can also find inexpensive flights to the nearby Greater Rochester International Airport, which will cost you $237 round trip from Atlanta or $151 from New York City.
Koh Rong Samloem, Cambodia
Just off the coast of Sihanoukville, Cambodia, the island of Koh Rong Samloem — also spelled Sanloem or Saloem — offers a slice of paradise that remains largely unspoiled. On Saracen Bay, you'll find a smattering of restaurants, bars, cafes and even a resort or two, along with its picture-perfect white sand beach. Koh Rong Samloem also offers many more secluded beaches beyond the main village.
There's an abundance of cheap accommodations in Koh Rong Samloem, like a beach bungalow for just over $10 a night. You can travel between the island and Sihanoukville on the Cambodian mainland by ferry boats starting at about $10. Bus service connects Sihanoukville with Phnom Penh, where you'll find the nearest convenient airport. Round-trip airfare from Los Angeles starts at $451.
Make Your Money Work for You
Troncones, Mexico
The small village of Troncones on the Pacific coast is near some of the area's biggest resort destinations, including Zihuatanejo and Ixtapa, but is a far less touristy alternative. Easily walkable, Troncones offers a long stretch of unspoiled beach just footsteps away from its compact downtown, where you'll find several budget-friendly shops and cafes shaded by palms. If you surf, you'll find great places to catch a wave within walking distance of the village.
You can rent a bungalow near the beach in Troncones for as little as $50 per night, and airfare from Los Angeles to Ixtapa-Zihuatanejo International Airport, about 25 miles away, costs $408 round trip. Keep in mind that Mexico is one of the places where a very favorable exchange rate really lets you stretch your dollar further.
Pacifica, Calif.
The coast of California isn't exactly known for being cheap, but just outside San Francisco — one of the most expensive cities in the U.S. to visit — you'll find the surprisingly affordable town of Pacifica. Along with its agreeable Mediterranean climate and a rugged, mountainous coastline, Pacifica is convenient to several state parks and state beaches. Don't miss the wild Rancho Corral de Tierra district of the Golden Gate National Recreation Area, which is a perfect destination for outdoor adventure.
Pacifica is less than 15 miles from San Francisco International Airport, where a round-trip flight from New York costs as little as $214. Airbnb is a good bet to get a roof over your head on the cheap, with numerous options under $75. You'll also find plenty of low-cost eats in Pacifica, including several places where a meal for two will cost you $20 or less, according to Zomato.
Paihia, New Zealand
At the north end of New Zealand's North Island, the town of Paihia is an ideal base to explore the Bay of Islands region, which includes more than 140 smaller subtropical islands just off the coast. Paihia offers a picturesque waterfront, tons of dining options and plenty of elbow room to explore. The Paihia Town Beach is a great place to hit the water right in town — there are also several other beaches nearby — and sightseeing tours of the Bay of Islands start as low as $21.
Flying to New Zealand can be costly, with round-trip airfare to Auckland from Los Angeles starting at $993. However, Paihia more than makes up for it in cheap lodging, with accommodations starting at $23.
Make Your Money Work for You
Matagorda, Texas
The tiny township of Matagorda has truly great sportfishing in the bay, unmatched bird watching on the island and seemingly endless sand and surf along the Texas Gulf Coast. It's a short drive from town to Matagorda Bay Nature Park — a $5 entrance fee, with campsites starting at around $20 — which serves as the gateway to the area's best beaches.
You can catch a round-trip flight from Los Angeles to Houston, a little under two hours from Matagorda, for just $149. Rental homes with up to four beds are available for $75, making this a perfect spot for families looking for a budget vacation.
Faro, Portugal
Nestled on the coast of southern Portugal's Algarve region, Faro is a study in contrasts. You'll find high-end resorts and hotels here, but you can also wander down cobblestone streets lined with ancient buildings in the walled Old Town district, which dates back to the 1500s. Nearby beaches are some of the least developed in the region, with white sand, sweeping views of the coast and pristine saltwater lagoons that harbor an abundance of seabirds and marine life.
Faro offers a variety of low-cost digs, including dozens of rental rooms under $19. Plus, an airport is located right in Faro, with round-trip flights from New York starting at $736, which makes transportation simple as can be.
All flights were priced via Google Flights and hotels via Booking.com for the dates of May 3-8, 2018 and are subject to change.
About the Author