25% of Americans Book Travel With Credit Cards — Why This May Be a Good Thing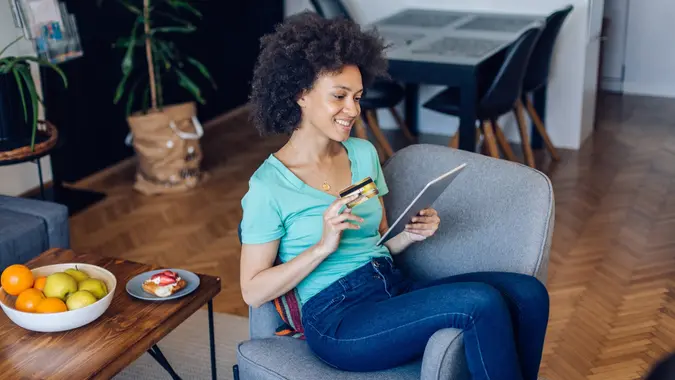 MixMedia / iStock.com
Age-old wisdom says that you should build up your vacation fund before you decide to travel rather than putting your vacation on a credit card and going into debt. But for one-quarter of Americans, that's now how they operate, according to an early-April survey of 1,037 Americans conducted by GOBankingRates. While taking on debt to fund your vacation is indeed imprudent, for those who can properly manage their credit cards, using plastic instead of cash can actually provide a wide range of benefits. Here's a look at why booking travel with credit cards can actually be a good thing — along with a caveat about going overboard.
See: 9 Bills You Should Never Put on Autopay
Find Out: Here's How Much Cash You Need Stashed if a National Emergency Happens
Earning Points
The most tangible benefit of using credit cards for most travelers is the acquisition of points or miles. Rewards cards dedicated to travel typically provide bonus kickers for expenses like airfare or hotel stays, such as 3x miles on airfare or 5x points on hotels. If you put a $3,000 vacation on a travel rewards credit card, for example, you could potentially earn thousands of points or miles. Those can then be used for free flights or hotel stays in the future. Since you'll be spending that money on your vacation anyway, you might as well put those charges on your credit card and reap the rewards.
Make Your Money Work for You
Travel Protections
Booking a trip using your credit card can be invaluable in terms of protecting your travel. Most travel-oriented credit cards offer a host of extra services, from insurance in the case your trip is delayed or canceled to lost baggage protection, primary or secondary rental car insurance and even coverage for your accidental death or dismemberment, as unpleasant as it may be to consider. The bottom line is that a good travel rewards credit card has got your back in the event of many major travel mishaps.
POLL: How Much Do You Expect To Spend on Travel This Summer?
Ancillary Benefits
On top of the headline features of most travel rewards cards, a host of ancillary benefits are also typically available. Booking a trip with your credit card may provide you with access to features like room upgrades, late checkout, free luggage, airport lounge access and more. Some cards even offer you airline or hotel status merely by holding them, which can provide benefits ranging from seat upgrades and priority boarding to club level access at hotels. Although you may be able to earn these privileges on your own, they typically require extensive flying or hotel stays to acquire. 
Make Your Money Work for You
Purchase Protection
Most credit cards come with some type of purchase protection, which will refund you if the merchandise you bought is substandard. In most cases, purchase protection will also refund you for loss, damage or theft for a certain period of time, typically 60 to 90 days. But in addition to this formal type of purchase protection, credit card companies allow you to dispute certain charges on your card. If you are overseas and get fleeced by a merchant that won't refund your money, for example, you can file a claim with your credit card company to get that money back, often without having to provide any documentation. 
Don't Have To Carry Cash or Debit Cards
One of the often-overlooked benefits of using a credit card on your vacation is that you won't have to carry lots of cash. You may also choose to leave your debit card at home, or at least in the hotel safe. This helps protect you from either losing your money or being a victim of theft, both of which can be catastrophic if you are relying on cash to fund your vacation. In a worst-case scenario, most credit cards even allow you to take out a cash advance, although this should be an option of last resort. 
Make Your Money Work for You
Grace Period on Purchases
When you put your vacation expenses on a credit card, you won't have to pay them off during your grace period, which typically lasts from 20 to 25 days after your statement is issued. If you time your trip correctly, you might have as much as 50 days or more to pay off your trip expenses. This is a window that you can take advantage of if you're waiting for a year-end bonus, for example, or even if you just want your vacation fund to earn an extra month or two of interest before you pay off your card. With cash or a debit card, that money is gone immediately. Just remember that the balance that appears on your credit card statement will also appear on your credit report, which may ding your score by a few points until you pay it off.
More From GOBankingRates
Methodology: GOBankingRates surveyed 1,037 Americans aged 18 and older from across the country between April 8 and April 9, 2022, asking seven different questions: (1) How much did you spend on your last vacation?; (2) If money were no object where would you choose to go on vacation?; (3) What was your biggest incentive to travel?; (4) How did you pay for your last vacation?; (5) Did you stay in your budget for your last vacation?; (6) What part of the trip cost more than you thought it would? (Select all that apply); and (7) What cost cutting measures did you use on your last vacation? (Select all that apply). GOBankingRates used PureSpectrum's survey platform to conduct the poll.
Make Your Money Work for You