6 Awe-Inspiring Spots for Stargazers — and Your Cost to Get There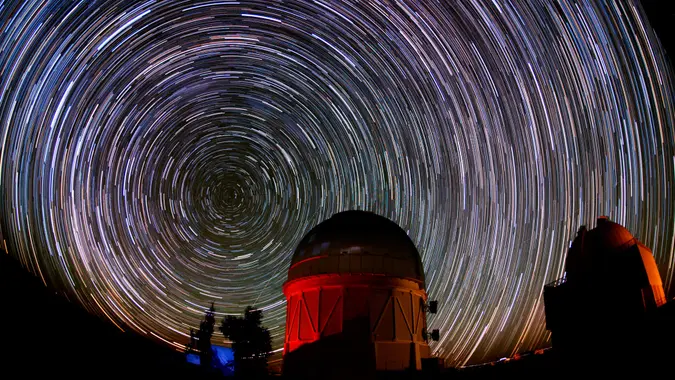 U.S. Department of Energy / Wikimedia Commons
If you're anything like me, the last time you saw the Milky Way, it was on a computer screensaver. It isn't that we aren't gazing up at the magic and mystery of space. Rather, the night sky is diminished by light pollution from all those street lights, billboards and blinking towers blotting out the stars in major cosmopolitan centers and modest cities alike.
But in some places, seeing the constellations isn't just easy: It's gorgeous beyond belief. With International Space Day approaching on May 3rd — followed by International Nerd Day on May the 4th (just kidding, "Star Wars" fans) — wannabe stargazers can thank International Dark Sky Reserves for protecting and preserving our views of the twinkling little stars above us. From Flagstaff, Arizona to South Africa, GoBankingRates has compiled a list of some starry, affordable bucket-list experiences.
Learn More: The 17 Least-Visited National Parks That Should Be on Your Summer Bucket List
1. Warrumbungle National Park, Australia
Warrumbungle is located in New South Wales area of Australia and is designated as the only Dark Sky Park in Australia. The Burbie Camp in Warrumbungle offers remote bush camping perfect for stargazing. During the day, you can hike the rugged mountains and introduce yourself to the local swamp wallaby, red-necked wallaby or wallaroo. At night, return to be amazed by the sheer amount of stars above your head. If you'd like an even closer look at space, visit the Warrumbungle observatory.
Make Your Money Work for You
For $26, the observatory staff will show you 15 different objects through their telescopes — and you can have a photo taken of a nebula with your personal SLR camera.
Keep Exploring: Spend a Night You'll Never Forget at 20 Gloriously Odd Vacation Spots
2. !Ae!Hai Kalahari Heritage Park, South Africa
The !Ae!Hai Kalahari Heritage Park is a formally registered Dark Sky Sanctuary. According to the International Dark-Sky Association, sanctuaries are defined as a "public or private land that has an exceptional or distinguished quality of starry nights and a nocturnal environment that is protected for its scientific, natural, or educational value, its cultural heritage and/or public enjoyment."
On a scale of darkness, !Ae!Hai Kalahari averages 21.6, with 22 being the absolute darkest. According to the IDA, this South African sanctuary offers the best views of pristine night skies, making it well worth the price to visit.
3. Gabriela Mistral, Chile

Make Your Money Work for You
Named after the Chilean Nobel Prize-winning poet Gabriela Mistral, this International Dark Sky Sanctuary was the world's first. Located in Northern Chile atop the Andes, Gabriela Mistral is home to four major astronomical research facilities. Mistral described the Chilean night sky in her poem, Carro Del Cielo (Sky Car):
"Lift up your face, child, and receive the stars. When you first look, they all pierce and freeze you, And then the sky begins to sway like a cradle they're rocking, and you give yourself up wholly to be carried away, away."
Not all dark sky parks are located below the Earth's equator — many can be found right here in the U.S. and Europe.
Visit: The Best Places to See This Dazzling and Colorful Natural Wonder
4. Winklmoosalm, Germany
Located in between the Austrian and German Alps, this sky park has a 360-degree panorama of the impressive night sky. The close proximity to Salzburg, Austria, makes this area another great spot for stargazers to enjoy the nightlife in the city as well as the forested mountain tops. Visitors can participate in weekly astronomy events provided by multiple astrotourism companies. Just make sure to bring a jacket, as it's cold here throughout the summer and freezing in the winter.
5. Waterton-Glacier International Peace Park, U.S./Canada border

Besides being designated by the IDA as an International Dark Sky Park, Glacier National Park is also an International Peace Park, Biosphere Reserve and a UNESCO World Heritage Site. All of these official pronouncements work together to keep Glacier one of the most "ecologically intact areas remaining in the temperate regions of the world," according to the National Parks Service. In other words, you're sure to experience some of North America's most beautiful skies.
6. Flagstaff Area National Monuments, Arizona

This place holds a special place in my heart, because it was where I first experienced the magic of the Milky Way. As a child, I remember looking up into the night sky and never wanting to leave. A family friend pointed out moving satellites, shooting stars and galaxies far, far away. Almost 20 years later, I still remember its vivid beauty.
If you're headed to the Grand Canyon, it's worth your time to take the hour to drive to Flagstaff for stargazing. The designation of this dark sky park even led to a change in the outdoor lighting codes in the city and surrounding county area — making it a great place for astrotourists who want to remain in the states.
America the Beautiful: The Most Gorgeous Natural Hot Springs in America and Your Cost to Visit
When you do make it to your next stargazing destination, be prepared. The best time to view a large number of stars is the days before and after a new moon. Also, do some research to make sure you're visiting during what astronomers refer to as an 'observing season,' when views are the best. Have fun searching for stars and suns that existed a long time ago in a galaxy far, far away — and may the force be with you.
More on Travel
All prices accurate as of April 26, 2019.