6 Affordable Snowy Getaways You Can Still Book This Winter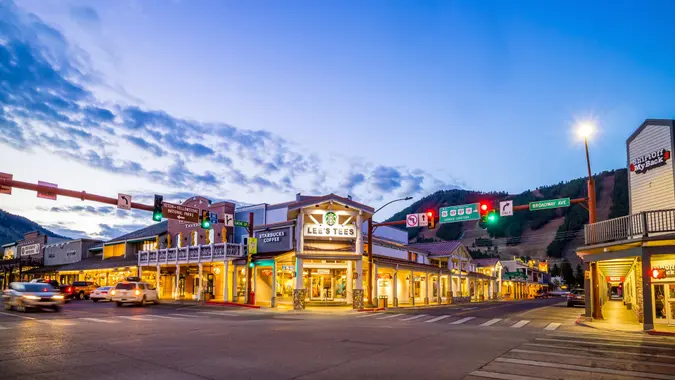 f11photo / Shutterstock.com
While many people see winter as a time to hole up at home and avoid going out, for those who love the cold and snow, it's a time to live it up outside. Of course, with holidays bringing extra costs, winter travel needs to be affordable.
Take a Look Back: 2022 Year in Review
Find Out: 3 Easy Tips To Turn Your Credit Woes Into Wows
One of the bonuses of traveling in the winter months is that tourism is often much slower, giving you a more mellow experience with smaller crowds and less traffic. Fortunately, there are some wonderful places to visit where you can bask in the glory of the season without paying through the nose for accommodations. Here are six affordable snowy getaways you can still book this winter.
Santa Fe, New Mexico
If you thought the Southwest was beautiful in the summer, you should really experience it in the winter, when snow blankets the desert and trees. Santa Fe is known to be especially magical this time of year, and remarkably, pretty affordable too.
Book a weekend (or a mid-week getaway) at the Hotel Santa Fe, in a room for two with a king bed, for just a little bit more than $250 per night. Hotel Santa Fe is a Native-owned hotel with wonderful amenities like a spa, restaurant and a gallery of Native American art. Nearby you can enjoy such fun activities as ice skating, ice hockey, snow hiking, sledding and much more.
Make Your Money Work for You
Truckee, California
For people who love the snow and want access to skiing and snowboarding without paying a huge price, the ski town of Truckee is a lovely option not far from Tahoe with a much slower speed, smaller crowds and better prices.
Stay at the Inn at Truckee, and be within 1 to 16 miles of such ski resorts as Soda Springs and Sugar Bowl for around $144 per night. Downtown Truckee boasts a number of charming shops and restaurants, and if you're feeling ambitious, you can drive across the border into Nevada for all Tahoe has to offer.
Take Our Poll: How Has Inflation Impacted Your Holiday Shopping Plans?
Salt Lake City, Utah
Salt Lake City is the place to be for snow lovers, according to Trivago, which states the town has "the greatest snow on Earth." Salt Lake City is rich in ski resorts and other lodging at affordable rates in its quaint downtown.
Stay at the adorable Kimpton Hotel Monaco, a boutique, that puts you in walking distance of dining, drinking and historic locales for around $199 per night. Salt Lake is especially lovely this time of year, with many parts of town festooned in holiday lights and dusted in snow.
Make Your Money Work for You
Lakeville, Pennsylvania
While the Pocono Mountains are famous for their summer allure, they're also a great place to go in winter. In fact, according to Trivago, the Poconos are known as "the honeymoon capital of the world."
Aside from skiing and other snow sports, enjoy ice skating at Lake Wallenpaupack, eat dinner at the Silver Birches Resort, hit the slopes at Ski Big Bear or just enjoy the quaint area. You can stay at the Hotel Wayne for about $125 per night.
Jackson Hole, Wyoming
Wyoming is a coveted place to visit any time of year, due to its incredible nature and national parks. However, it's just as charming and awe-inspiring in winter — but a lot less traveled by tourists.
You can enjoy winter tours through such iconic parks as Yellowstone National Park, Grand Teton National Park or the National Elk Refuge. You can also take advantage of its famed hot springs, or do something really wild — like an Iditarod dog sledding tour. Stay at the revamped Mountain Modern Motel for less than $400 total for two nights.
Make Your Money Work for You
Roanoke, Virginia
In Virginia's Blue Ridge mountains, you can immerse yourself in winter splendor and lots of fun cold weather activities, from ice skating and sledding to hiking the Appalachian Trail.
Stay at the Tudor-style Hotel Roanoke, built in 1892, a nationally registered historic place that comes with fabulous amenities such as a spa and an outdoor adventure center. Two adults can catch a wintry two-night stay here for under $400.
More From GOBankingRates
Make Your Money Work for You