3 Airlines That Aren't Always Worth It for First-Class Flights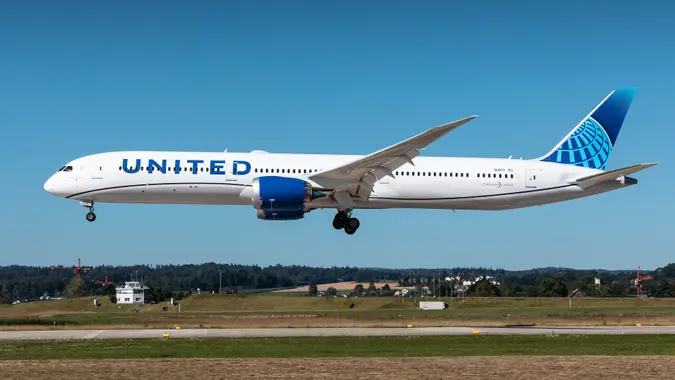 Fabian Gysel / iStock.com
For a frequent traveler, a first-class flight can make all the difference. First class often offers extra comfort, relaxing lounges at the airport, better in-flight meals and an all-around easier experience. But is it worth it?
That depends on the airline you choose. This review covers three airlines that simply aren't worth the first-class upgrade, especially if you want to save money while traveling. 
United Airlines
Combined business and first class for many flights
Uncomfortable seats
Experience varies based on the plane type
United is one of the most popular U.S.-based airlines for domestic and international flights. It offers premier, business and first-class upgrades, but for most domestic flights, business and first class are the same. 
Upgrading to first class with United comes with a steep price hike. For example, we compared seats for a one-way flight from San Francisco to New York on a weekend. The lowest price for a standard economy ticket was $365, while a business/first-class ticket for the same flight was $2,444. According to customers, you won't get much for that price increase — reviewers have reported narrow, uncomfortable seats that lie back but have no partition, plus a small screen and limited storage space. 
Make Your Money Work for You
United's first-class seats also vary dramatically depending on the type of plane you're in. A 737 aircraft, used for most domestic flights, offers slightly larger seats and more leg room, but no lie-flat seats. Meal service depends on the length of your flight, but according to United, may include snacks, drinks and an entrée for longer flights.
All things considered, it seems like United's business/first-class upgrade doesn't offer much more than the economy ticket but comes with a pretty extravagant price hike. If you're flying within the U.S., it's probably better to save your money. 
Alitalia
Business-class only
Limited in-flight space and entertainment for the price
Outdated airport lounge
Italy is one of the most popular destinations for Americans traveling abroad. If you're booking a ticket to Rome, you might be tempted to fly with Italy's national airline, Alitalia. But you might want to think twice before you upgrade to first class with this airline. 
Alitalia offers economy, premium and business-class tickets — there is no technical "first-class" upgrade. A business-class ticket is significantly more expensive than an economy ticket. We compared costs for a non-stop flight from New York to Rome and found economy seats for $788, while a business-class seat on the same flight was $7,047.
Make Your Money Work for You
So, what do you get for that upgrade? According to customer reviews, Alitalia's business class offers reclining seats and a sub-par entertainment system. Most customer complaints online refer to Alitalia's business-class lounge at JFK airport. Compared to other first-class lounges, it offers cafeteria-grade food and drinks, a cramped seating area and limited customer service. 
Considering the high rate of negative reviews, you'll be better off flying economy with Alitalia. 
British Airways
Overpriced first-class tickets
Luxurious perks might not be worth it
Business class is a better value
British Airways, based out of the U.K., offers first-class upgrades on its medium- and long-haul flights. This is one of the most luxurious first-class experiences you can get on an international flight — but it isn't necessarily a good value. 
Our search for a flight from New York to London showed economy tickets for around $700. A first-class ticket for the same flight ranged up to $12,000. That upgrade comes with private lie-back seats, extra storage space (including a small closet to hang your coat), and an extensive in-flight menu. However, most customer reviews report that the first-class perks aren't worth the price tag. Business-class tickets offered by British Airways are relatively luxurious for half the cost.
Make Your Money Work for You
The first-class upgrade with British Airways might be worth it if you really want to travel like the royal family, but for a normal trip, you'll get a better value with a business-class ticket. 
The Takeaway: Shop Around Before You Upgrade
A first-class ticket can make your flight more comfortable and enjoyable. However, those tickets can be far more expensive than an economy flight, so it's important to know what you're getting.
If you want to treat yourself to a first-class upgrade, make sure you shop around and find the best value. Some airlines charge thousands of dollars just for the "first-class" status — for that much money, you should get what you pay for. Read the reviews and find out exactly what's included with an airline's first-class ticket before you buy.  
More From GOBankingRates