7 Amazing Destinations That Cost Less Than $60 a Day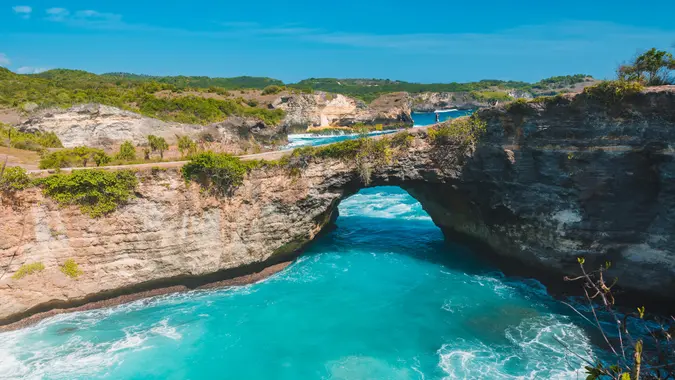 Nuture / Getty Images/iStockphoto
Being a world traveler doesn't require deep pockets. There are exotic destinations around the world to be had on the cheap. A recent GOBankingRates study identified seven destinations around the globe where you can spend less than $60 per day, exclusive of your airfare.
Click to See the Full List: 20 Hot Destinations You Can Visit on Less Than $100 a Day
Bali, Indonesia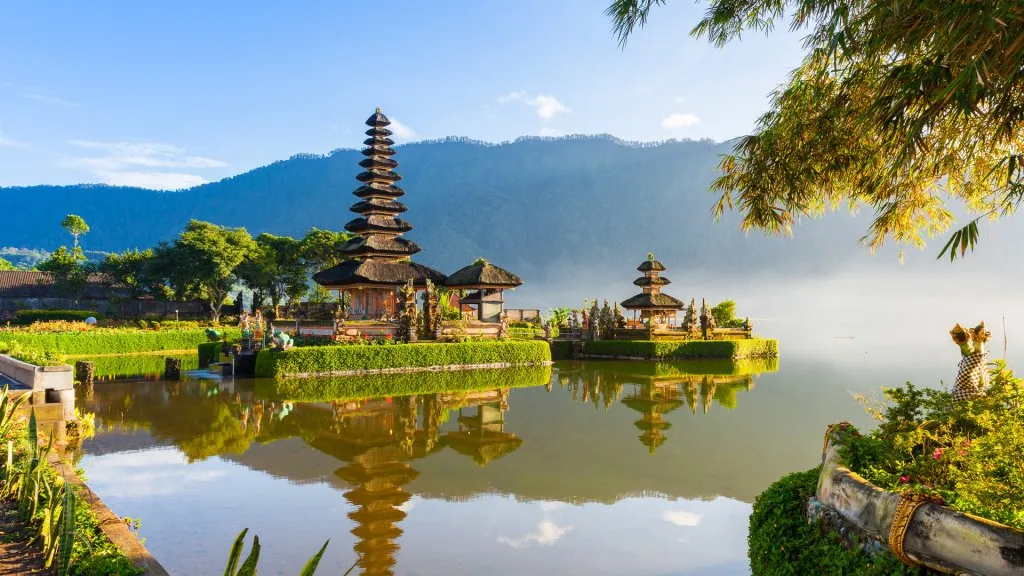 It doesn't get cheaper or more exotic than Bali. The Island of the Gods topped a recent GOBankingRates list of hot destinations to visit on less than $100 a day.
Basking on one of the sparkling beaches beside azure waters or exploring the island's many temples make Bali one of best vacation spots for relaxing and sightseeing. Getting around averages 25 cents for a one-way ticket when you choose the least expensive local transportation.
When you need to eat, you can grab a bite at an inexpensive restaurant for an average of $2.14 per meal and enjoy Indonesian cuisine such as satay – seasoned meat on a stick – or rice bowls with meat and veggies known as Nasi Ayam and Nasi Campur.
Head out for a special dinner of Babi Guling – spit-roasted pig. If you're not a pork eater, try a whole duck or chicken stuffed with spices, wrapped in banana leaves and buried with hot coals to simmer for 6 or 7 hours. The succulent dish is called Bebek or Ayam Betutu. Average three-course meals at mid-range restaurants will cost you just $8.90 on average, the second least expensive dining option in the GOBankingRates study list.
Make Your Money Work for You
Also See: 9 Cheap Island Getaways
Ho Chi Minh City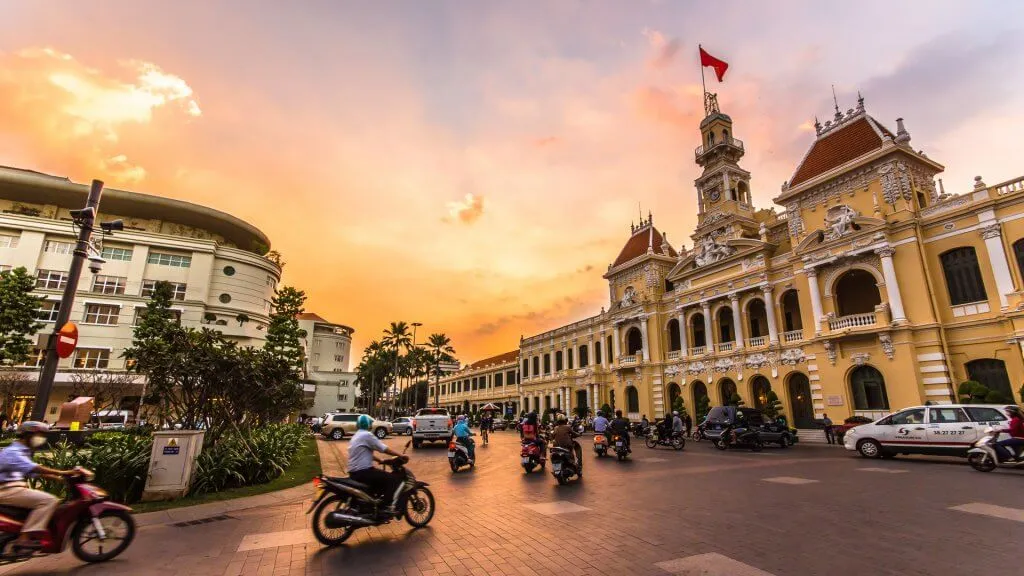 Formerly known as Saigon, Ho Chi Minh City, Vietnam, serves up multicultural influence ranging from French colonial architecture to a bustling Chinatown known as Cholon. It's also one of the best vacation spots for less than $60 per day.
Grab an inexpensive meal for an average of $2.17 in this city that came in second on the list of GBR cheap travel destinations. The best bet for the money is the Cho Ben Thanh Market where you'll find local eateries, street food and oodles of textiles, handicrafts and other souvenirs. The market takes place in one of the oldest surviving structures in the city.
GOBankingRates data showed that you can stay in the city for an average of $13.33 per night. December through April is the dry season and the most popular for travel to the city. However, timing a visit in September or October to coincide with the Full Moon Festival introduces you to a world filled with festive dancing, colorful lanterns and tasty ornate mooncakes.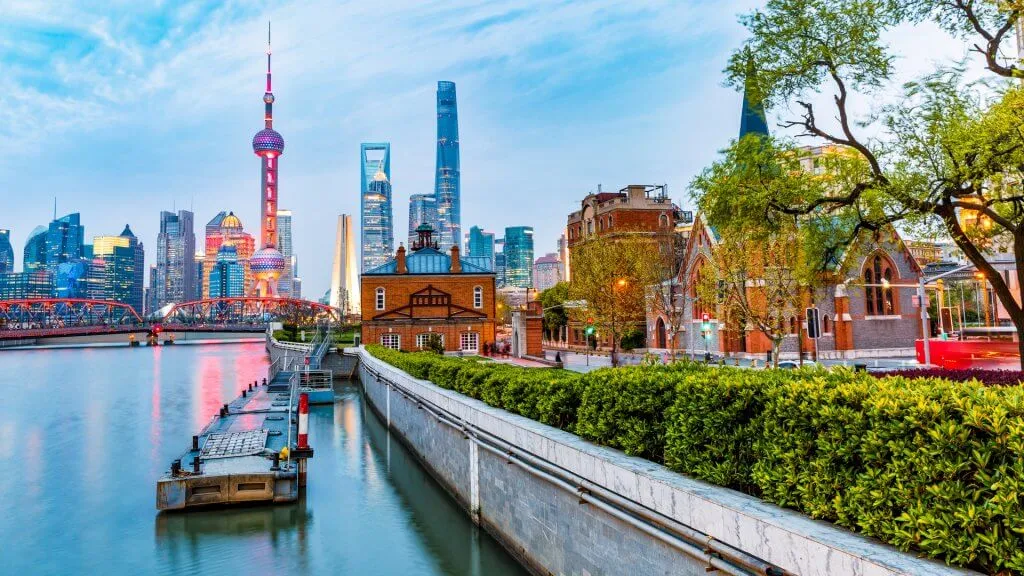 Live like a king in China's biggest city when you journey to Shanghai. Stroll along the Bund, a waterfront promenade skirting the west bank of the Huangpu River. Monikered "The Museum of International Architecture," the Bund's centuries-old collage of 26 western architectural styles provide plenty of photo ops. Stick around to watch the sunset from Waibaidu Bridge as it glows with golden tones.
Make Your Money Work for You
Although it's a renowned financial capital, you won't have to break the bank to take a vacation in Shanghai. The GBR study determined an average cost of $26.67, but you can find clean, modern rooms in the bustling city for under $20.
You can eat a meal in a nice restaurant for under $20, too. GBR determined the average sit-down restaurant would run $16.37 per person. The menu isn't limited to Asian cuisine by any means. Many restaurants serve up international fare with cuisine ranging from Mexican to Italian to vegetarian and more.
Buenos Aires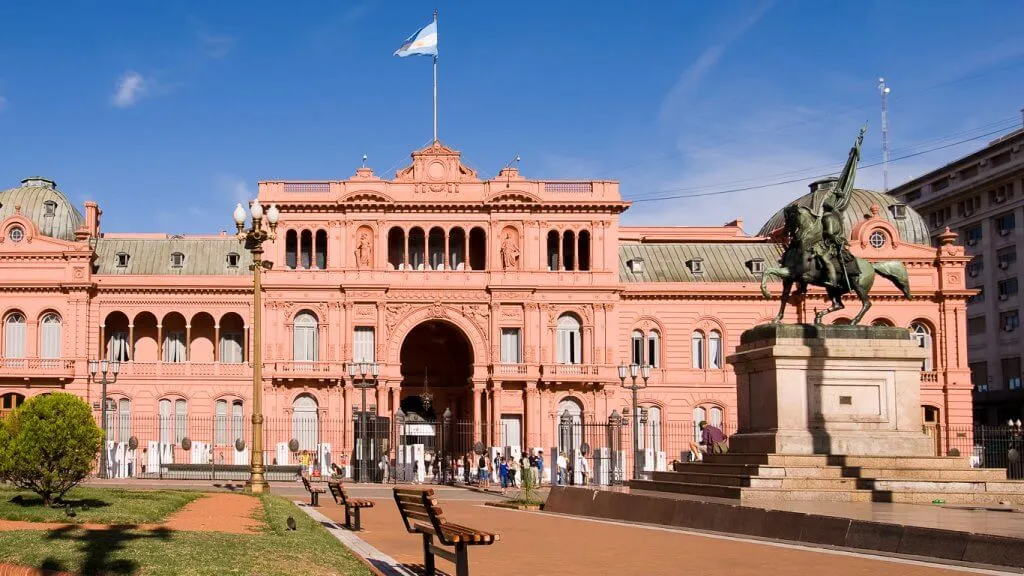 Take a warm winter getaway to the capital of Argentina when you travel during the months of January and February to enjoy the South American summer and 80-degree temperatures. Conversely, leave the U.S. during the summer to escape the heat and enjoy mild, 60- to 70-degree weather.
Stay in a hotel looking out over the Plaza del Mayo, home to graceful 19th-century buildings which include the presidential palace. GBR's study priced the average hotel room in the city at $32.33. You'll find some of the cheapest rates during mid-January – as low as $10 around the plaza – when locals go away on vacation to escape the hot weather.
The average flight to Buenos Aires costs $1,024 from JFK airport, according to GBR's data, but you can save a little more by avoiding peak travel times such as during festivals and holidays.
Save on domestic flights in Argentina by booking with a carrier like Flybondi that includes taxes in their fare and flies into smaller, less-expensive airports. Fly away to Iguazu Falls for just $61, all taxes included with the airline.
Make Your Money Work for You
Johannesburg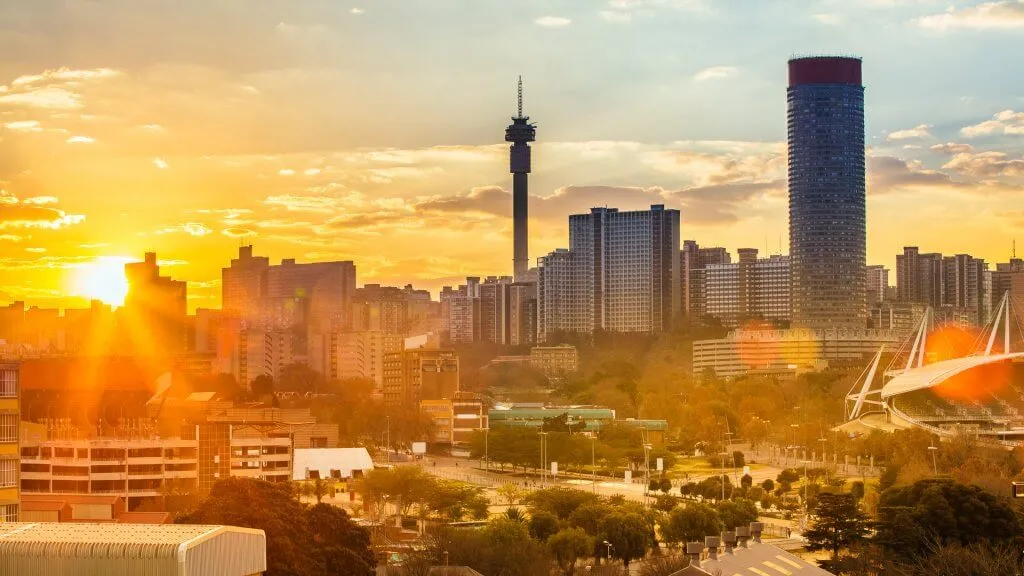 There are plenty of historic treasures to be found in Johannesburg, South Africa. Once home to Nelson Mandela and Desmond Tutu, tourists can spend time delving into the history of the Apartheid and segregation in the city.
But there's even more to do: Boat calm waters at Herman Eckstein Park or get your thrills at the Gold Reef City theme park. It's easy to get around town with local transport that costs an average of $1.74 for a one-way ticket. Or grab a hop-on-hop-off bus ticket for R180- that's just $12.80 in USD – to see all the sights with no traffic worries.
When you get hungry, hop off and grab a quick meal at an inexpensive restaurant for under $10 per person. Should you need more time to rest your feet, dip into a sit-down restaurant and enjoy three courses of South African fare infused with French, Dutch, Indian and Malaysian influences for an average cost of $17.80.
Cancun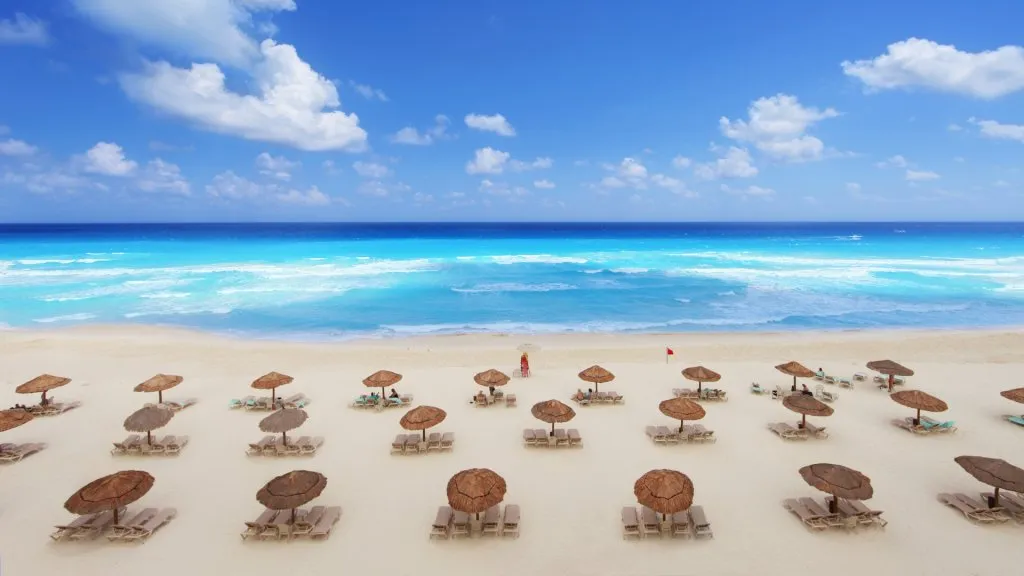 The party never stops in sunny Cancun, Mexico, a well-known spring break getaway. In fact, the period just after spring break and before summer is the best time to travel to save money on a flight. Although the average flight from JFK is $346 according to our study, you could pay as little as $108 by booking your trip during April or May.
Hotels average $32.67 citywide, according to the GBR results. However, if you want to step out of your hotel and wiggle your toes in the sand, you could pay more than $100 for a room. Book through Hotels.com and you can pick up a beachside room for as little as $40 during the off-season.
Make Your Money Work for You
Keep costs down to under $60 by picking up some street food or a meal at an inexpensive restaurant for an average of $5.22. Or opt for a hotel further from the beach and take local transport for $0.57 each way.
Don't Miss: 15 Cheap, Adrenaline-Filled Trips for Adventurous People
Prague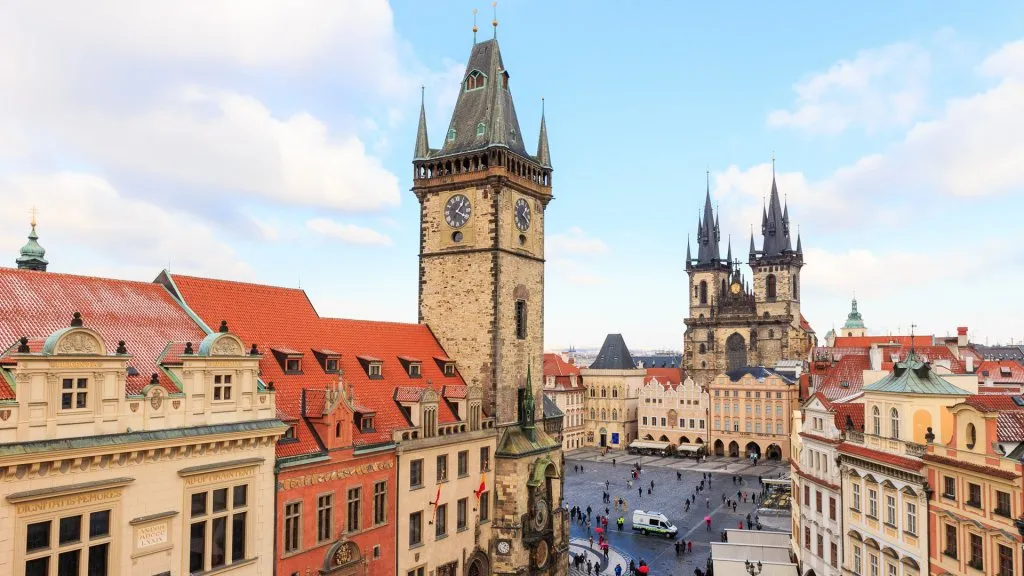 Check out the Czech Republic's capital for just under $60 a day, excluding airfare. A hotel in the city runs just $31.33 on average making it one of the best cheap vacation spots.
Known as the City of 100 Spires, Prague rolls out colorful and historic baroque buildings, ancient churches, an expansive palace and a clock dating back to medieval times. Explore the many places to travel and sights to see: Local transport runs an average of $1.06 for a one-way ticket.
You won't miss out on good food when you plan a cheap trip to Prague. Pick up street food or traditional open-faced sandwiches at a local farmers market or a meal at an inexpensive restaurant for an average price of $6.29. Make sure to try sugar-and-spice coated chimney cakes for dessert — known as trdelník, these stands are common throughout the city.
Keep reading to see surprisingly safe and affordable cities to visit around the world.
More on Travel
We make money easy. Get weekly email updates, including expert advice to help you Live Richer™.
Make Your Money Work for You