American Vacationers Can Expect To Pay Higher Prices This Summer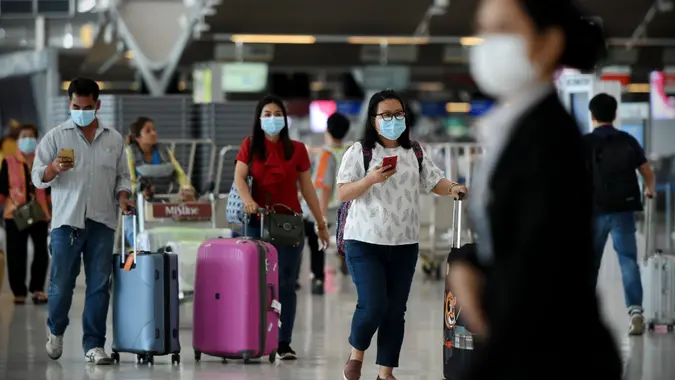 Akabei / Getty Images
Lifted restrictions are encouraging more Americans to get out and travel, but it may come with a higher price. CNN reported that prices for hotel rooms were up 44% at the end of June compared to the previous year, based on data from hotel research firm STR. According to the Consumer Price Index, they were 24% higher in May than the same month last year. 
Visit: Cheap Places To Travel On $100 a Day Or Less
Living Richer: How To Save a Little Each Month (It Goes a Long Way)
However, prices are still lower than they were during the summer of 2019 before travel demand came to a near stop during the onset of the pandemic.
"Most of what people are seeing in price inflation is due to how cheap things were last year," said Adam Sacks, president of Tourism Economics, as reported by CNN.
Citing data from STR, CNN noted that the national average for U.S. hotel rates in the week ending June 26 was back to 99.5% of what they were the same week in 2019. Two weeks before that, they were only at 93%. In locations that depend on business travel such as New York, Chicago and Washington, prices are still below 2019 levels. 
Make Your Money Work for You
When it comes to popular vacation destinations such as Orlando and Miami, prices are up 6% and 48%, respectively, during the week ending June 26 compared to the same period two years ago, added CNN.
For Americans traveling by car, it doesn't get any better. Gas prices are also going up. The average price for a gallon of gas has risen to $3.13, up from $3.05 a month ago, reports The New York Times. AAA announced on Tuesday that consumers can expect another price increase between 10 to 20 cents per gallon through the end of August. 
Airport Tips: 40 Pandemic Airport Secrets Only Insiders Know
Stick to the Budget: How To Budget and Plan for a Vacation in 2021
According to the May Consumer Price Index and noted by CNN, the price for rental cars has also increased by 110% from a year ago and is still 70% higher than pre-pandemic levels. Rental car companies sold about a third of their vehicles to survive the economic downturn. Buying replacement vehicles has been a challenge due to the global chip shortage. CNN added that airlines are also cutting back on flights to keep up amidst staffing shortages, which doesn't help cut back on prices. 
Make Your Money Work for You
More From GOBankingRates
Make Your Money Work for You