The Best Cruise Deal of 2019? Go on a Polar Adventure, Bring a Friend for Free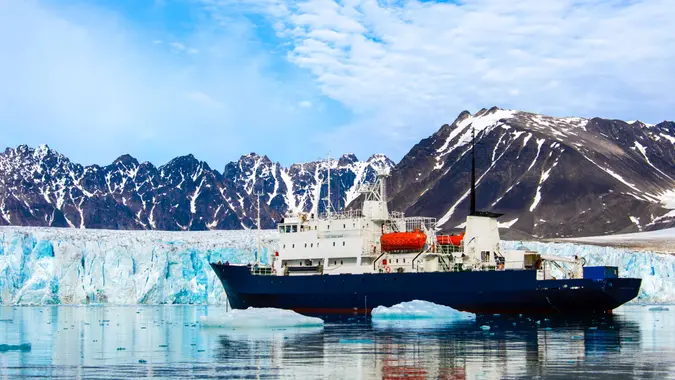 Alexey_Seafarer / Getty Images/iStockphoto
If you've ever imagined cruising through the Arctic surrounded by glistening glaciers and stunning seascapes with daily opportunities to view native wildlife — including the majestic polar bear — you're in luck. And you're not the only one. People who book an Arctic Unveiled trip through the travel company Intrepid, which partnered with sister site Peregrine Adventures, by March 31 can bring a friend along at no extra charge, making this one of the best cruise deals in 2019.
Find Out: The Best Travel Deal I Ever Got
How Much This Arctic Cruise Deal Costs
If you're up for an Arctic adventure, the cruise departs on June 23 and prices start at $4,590. The fact that this is essentially a BOGO cruise deal means that you can enjoy this eight-day excursion for $2,295 per person, with most meals — six breakfasts, five lunches, and six dinners — and accommodations included. Considering a comparable eight-day Arctic cruise via Swoop Travel is $4,277 per person, Intrepid is offering a great deal.
Other Adventures: Book These 'Wave Season' Cruise Deals Now

Where Your Adventure Will Take You
This cruise takes travelers on a tour of Spitsbergen — the largest island of the Svalbard Archipelago, located between Norway and the North Pole — and its surrounding areas. While cruising, you'll enjoy 24 hours of daylight, which offers unlimited opportunities for sightseeing and spotting wildlife.
See: Where to Travel on $750, $1,500 and $2,000
Although you can choose to rest at any time, flexibility is key: The crew might wake you to participate in thrilling animal sighting experiences. Here's a quick rundown of the eight-day itinerary to give you an idea of what you'll experience:
Day 1 — Longyearbyen: Enjoy the town's museums and art galleries before you set sail in the late afternoon.
Make Your Money Work for You
Day 2 — Ny Alesund: Highlights include boarding a Zodiac boat to view the iconic 14th of July Glacier while keeping an eye out for Arctic fox and bearded seals.
Day 3 — Liefdefjorden: Possible polar bear sightings await on the impressive Monacobreen glacier.
Day 4 — Hinlopen Strait: Prepare for a wildlife extravaganza filled with sightings of seals, polar bears, ivory gulls, walruses, reindeer, and pink-footed geese.
Day 5 — Seven Islands: On these northernmost islands of Svalbard, sightings of walruses, polar bear and Ross' Gull are possible.
Day 6 — Sailing Westward: Essentially a retracing of the previous route, this journey offers a stop at a 17th-century Dutch whaling site and viewing access to some of the most prolific bird colonies.
Day 7 — Prins Karls Forland: Another day of exciting wildlife viewing is in store, including walruses and reindeer. As your journey comes to a close, you'll cruise along a sparkling glacier face.
Day 8 — Longyearbyen: The cruise comes full-circle and ends where it began.
Splurge: Thrilling Cruise Activities That Are Worth the Cash
Other Details to Know About This Cruise
Even though travel takes place during a time of never-ending daylight, weather conditions are still well within freezing and packing plenty of warm clothing is a must. A high fitness level isn't required, but you should be able to safely negotiate potentially slippery ship decks, gangways, stairs and stay upright during conditions involving rough seas or high winds.
Make Your Money Work for You
Although you might want to keep in close communication with friends and family back home, you can save money while cruising if you don't opt to pay extra for internet connectivity. At the time of this writing, an Intrepid live chat agent wasn't able to offer internet pricing. According to Cruise Critic, however, Norwegian cruise line offers a daily unlimited usage rate of $29.99. On an eight-day cruise, you'd pay almost $240 for seamless connectivity.
Click through to read more about cruise secrets only insiders know.
More on Travel