The Beginner's Guide To Booking Travel and Saving Money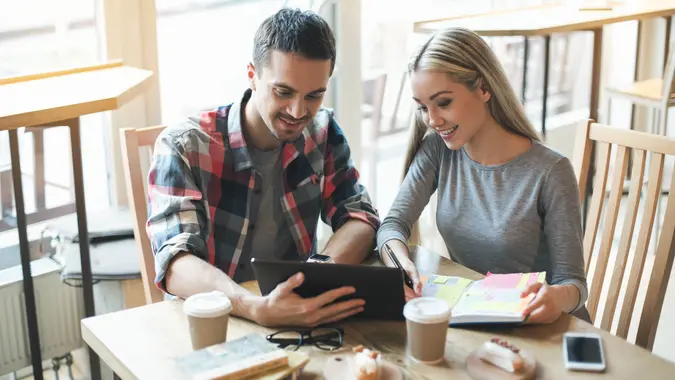 Dima Sidelnikov / Shutterstock.com
Traveling can be expensive. Perhaps, that's why 81% of Gen Zers strongly focus on their budget when making travel decisions, according to Luggage Hero. But even by choosing the cheapest flights and accommodations you can find, you still can end up paying more than you need to. To get the best deals on airline tickets and hotel stays as a novice traveler, it helps to have some insider advice. From knowing what to look for when making reservations to avoiding losing money or paying hidden fees, here's the beginner's guide you need to help you save the most money on travel.
Find Out: Here's How Much You Need To Earn To Be 'Rich' in Every StateSee: 25 Things You Should Never Do With Your Money
How To Save Money When Booking Flights
Becca and Dan of Half Half Travel traveled by air for the first time since 2020 and were shocked when they discovered how much standard air carriers charge for baggage these days. "Assume that you will be paying for your luggage when booking a flight (domestic or international), so factor this into your trip budget at the get-go," Becca said. "It may be $35, and it may be $55." Unfortunately, most airlines do charge for baggage and prices are per bag, which can really add up if you don't travel light. However, Southwest Airlines is one airline that does not charge for your first or second checked bag.
While choosing the right airline is important, sometimes what you think is the cheapest airline isn't, according to Alex Miller, founder and CEO of UpgradedPoints. "Don't always assume low-cost carriers, such as Southwest, have the lowest fares — often times legacy carriers, like United and Delta and American, will have lower fares," he said.
Make Your Money Work for You
See: The Best and Worst Airlines for Cheap Flights
And when it comes to the average price you can expect to pay for an international airline ticket versus a domestic one, you might be surprised. "Nowadays, some of the international flights turn out to be cheaper than some domestic flights," said Shondra Cheris, owner of travel company Black Will Travel. "In July, flights to Las Vegas cost upwards of $700 from Washington D.C. For that price, you could fly to the Caribbean or even to Europe."
If you're wondering if the day of the week matters when booking flights, Miller said that fares aren't necessarily cheaper on a certain day. "Search for your flights when you're ready to book," he said. "An ideal 'sweet spot' time is around two to three months prior to departure for the lowest fares."
However, Cheris offered up an insider's tip that can help you save when choosing flight departure and return dates, "When booking flights … flights departing on Friday and returning on Monday, tend to be higher in cost," she said.
Learn More: Cheap Places To Travel On $100 a Day Or Less
Travel Prep: 10 Financial To-Dos Before Going on a Trip
How To Save Money When Booking Accommodations
Cheris also had a tip for saving money when making hotel reservations: "When booking a hotel, weekend stays typically cost more," she said. "Same on AirBnB. The only time this may not be the case is when booking all-inclusive resorts."
If you're interested in saving even more on accommodations, you may want to book a hostel. According to Statista, the average daily rate for hotels in the U.S. is approximately $91, as of November 2020. Hostels cost a fraction of the price. According to tripsavvy, you can expect to pay $10-$30 for a dorm room in a hostel and around double that for a private room.
Make Your Money Work for You
But beware: "Hostel prices are usually much less than hotels, though they come with far fewer amenities, so be prepared for a 'no-frills' experience," Miller said. Another drawback is that you may not be able to book a hostel with your flight, unless you use services like Priceline or Expedia, according to Charis.
Miller offered another helpful tip, if staying at a hostel isn't your thing, "Many hotels have rates where you can pre-pay for a stay for substantial savings."
Important: 40 Pandemic Airport Secrets Only Insiders Know
How To Avoid Hidden Fees and Losing Money
"Read the fine print," Cheris said. "When people book with active and true agents, we provide the fine print for them, because people don't like to read. So when you are booking yourself, read the fine print. If you have questions, email or call the travel provider to get the answers you need."
Find Out: 13 Insider Secrets From Travel Agents That Will Save You Money
Miller said, "Most airlines are offering travel credits or vouchers for the full value of your trip if you need to cancel, though out of principle, don't book any basic economy fare, as these will sometimes exclude the ability to convert the ticket into cash for later use."
Miller also advised to be careful when booking hotels. "They often charge resort or destination fees that can quickly add up," he said. "Sometimes you can ask for these to be waived if not all the services or amenities are being offered due to COVID."
Big Rewards: 10 Credit Cards To Consider for Travel Rewards
What To Remember About Pandemic Restrictions
"The most important thing for travelers to keep in mind at the moment is how quickly travel restrictions can change," said Steve Oliverez, CEO of Insanely Cheap Flights. "It's important to stay up to date on the entry requirements at your destination, whether that's vaccinations, negative tests or quarantines. Don't assume the rules are the same as when you booked your trip."
More From GOBankingRates
Last updated: Sept. 22, 2021