5 Best Fishing Trips for Travelers on a Budget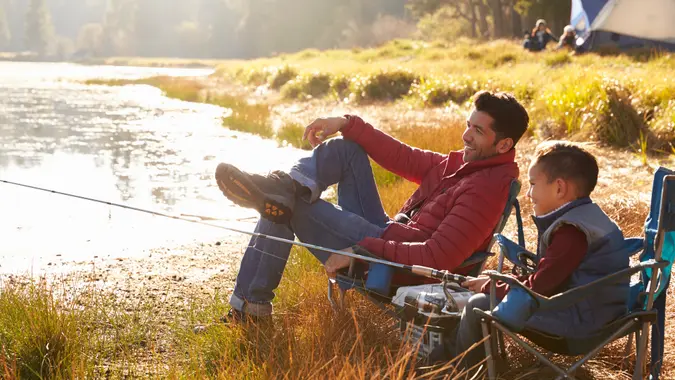 monkeybusinessimages / Getty Images/iStockphoto
A spring fishing trip sounds pretty delightful after a long winter, and it doesn't have to hinder your budget, either.
As it turns out, there are a number of places across the country where you can set up shop along the shore or on a pier — no rental boat required, and in a few spots, no fishing license either — for a day of low- or no-cost fishing, except for parking or park admission fees. And places to stay nearby don't cost an exorbitant amount either.
Check Out: 7 Best Scenic Train Trips for Travelers on Budgets
Cut Costs: Gas Apps Could Save You Money as Oil Prices Continue to Surge
GOBankingRates has identified five spots for budget fishing, each in an area that also has options for the most expensive fishing should you want to splurge. Read on for inspiration for your spring outing at a river, lake or ocean.
Make Your Money Work for You
Pulaski, New York
The Salmon River runs from the Adirondacks into Lake Ontario. Just a few miles east of the Great Lake is the village of Pulaski in Oswego County, and it draws anglers from throughout the Northeast each salmon season to take advantage of 12 miles of public fishing. Two major fishing records have been set in the Salmon River, according to the state's Department of Environmental Conservation: the Great Lakes record Chinook salmon (47 pounds, 13 ounces) and the world record Coho salmon (33 pounds, 4 ounces.).
"Because the majority of tourism in that area swirls around outdoor sports, there's a ton of lodging options ranging from roadside motels you can snag for $50 a night, to entire lodges that a group can rent out," said Chris Clements, who runs the Exploring Upstate website. "The majority of the salmon fishing season is done right in the river, so anglers can save money by not needing to rent a boat."
A New York state fishing license costs $25 for a year for a resident. A non-resident can buy a one-day pass for $10 a seven-day pass for $28 or an annual license for $50.
Make Your Money Work for You
Find: The 10 Best Places to Travel on a Budget This Spring
Laredo, Texas
In South Texas, along the Rio Grande River, is Laredo, which has plenty of low-cost fishing opportunities. Start your fishing trip at Lake Casa Blanca International State Park in the city, which is a spot for both family outings and fishing within the 371 acres of land and 1,650 acres of lake water. The park has a fishing pier from which to catch catfish, crappie, or largemouth or hybrid striped bass. If you forget something, the park has fishing gear to lend on site.
Southeast of Laredo is Falcon State Park, which is among the best freshwater fishing lakes in South Texas. It has more than 84,000 acres for fishing, where you can catch largemouth bass and channel catfish. No license is needed to fish from the shore in a state park. ESPN's Bassmaster Elite Series featured the park in 2008.
Both parks sites have a minimal entrance fee and offer camping, making this the ultimate low-cost fishing trip.
Make Your Money Work for You
Redding, California
The Sacramento River runs through Redding, which is south of the Oregon border in the shadow of Mount Shasta. The lower Sacramento River has a temperature-control device that takes colder water from Shasta Lake, sending it downstream to allow for year-round trout fishing. Forbes once named it one of North America's Top 10 Trout-Fishing Towns. Nearby is the Trinity River, where you'll find Coho and Chinook Salmon, as well as steelhead and big brown trout.
At both places, you can fish from the banks; no boat is necessary. A California sport fishing license is $17.54 for one day, $27 for two. A steelhead report card also is required at Trinity River for $8.38. The Redding area has campgrounds, or you can find a hotel room for about $125 a night.
Also Find: 6 of the Best Cruise Itineraries for Travelers on a Budget
Lake Fork, Texas
"If you're looking for a great fishing destination on a budget, Lake Fork, Texas is hard to beat," said Steve Morrow, founder of the kayak fishing blog Paddle About. "With its world-class bass fishing and abundance of fish, the lake offers something for everyone. And with plenty of camping and lodging options in the area, it's easy to keep your costs down while enjoying some of the best fishing in North America."
Lake Fork is stocked with largemouth bass, white and black crappie, channel catfish, white bass and sunfish. Bassmaster Magazine named Fork the No. 1 lake in the nation for 2021, and fishing from the banks is possible. The cost of a freshwater fishing license in Texas is $30 for state residents ($12 for seniors) and $58 for non-residents.
Fort Myers Beach, Florida
At the Fort Myers Beach Fishing Pier, you can catch snook, redfish, sea trout, Spanish mackerel, snappers and grouper. Extending 560 feet into the Gulf of Mexico, the pier has plenty of restaurants and bars nearby after your fishing day is done. The best selling points? No license is needed, and some local restaurants will cook your catch. If you're a casual angler, you can rent a fishing pole for about $10 a day at Rudy's Treasure Chest on the pier.
Lodging at Fort Myers Beach is very pricey, but hotel rooms in the city of Fort Myers are more reasonable, starting at about $100 per night.
More From GOBankingRates
Make Your Money Work for You