5 Best Flight and Hotel Deals for Mardi Gras 2023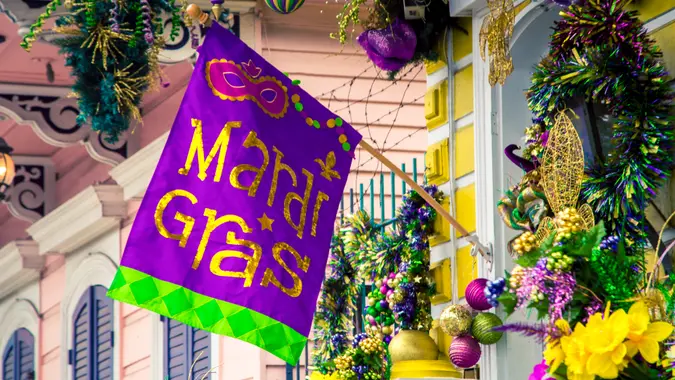 rustyl3599 / Getty Images/iStockphoto
February is here, and for the country's most hardcore revelers, that means a pilgrimage for beads, booze and beignets on Bourbon Street.
Mardis Gras — billed as "The Greatest Free Show on Earth" — is on Feb. 21, known worldwide as Fat Tuesday, which is the day before Ash Wednesday and the start of Lent. 
Learn: How To Stay Safe When Using Mobile Banking Apps
Discover: 3 Ways Smart People Save Money When Filing Their Taxes
$2,000 Quarter? Check Your Pockets Before You Use This 2004 Coin
With its most celebrated celebration just weeks away, flights to and hotels in New Orleans are filling up fast — but there's still room in the French Quarter for a few more partiers.
If you want to secure a spot, you'd better get your plans in order now — and you still have time. Here's a look at some of the best Mardis Gras deals from around the country for about $1,000.
Make Your Money Work for You
All packages assume two guests are staying in one room with round-trip economy airfare and hotel included from Sunday, Feb. 19, through Thursday, Feb. 23.
From Newark, N.J.
Travelocity is advertising an "Unreal Deal" package that includes one free night at the Maison Dupuy, a highly rated French Quarter hotel with a pool and other amenities located just 0.24 mile from Mardis Gras. The trip costs just $883 per person for all four nights, down from the original price of $1,126.
Take Our Poll: What Are Your Financial Priorities in 2023?
From Los Angeles
If you're departing from the other side of the country, Orbitz has a package for four nights at the Holiday Inn New Orleans-Downtown Superdome. One of the top hotels in the city, it earned an excellent rating of 8.2 out of 10 and it's located just 0.76 mile from the festivities — it's only a four-minute walk to Canal Street. The package is currently 20% off — just $880 per person, down from $1,111.
From Chicago
Anyone flying out of O'Hare should consider a stay in the Higgins Hotel New Orleans, Curio Collection by Hilton in the Arts/Warehouse District. One of the top hotels in the city, it boasts an exceptional 9.4 rating — and if you book through Expedia, you'll enjoy a 100% discount on your flight. The package costs $991 per person, down from $1,297, which buys you access to all of the hotel's many amenities, including a pool, gym, business services and breakfast.
Make Your Money Work for You
From Charlotte
Expedia is offering a package with accommodations at the Waldorf Astoria Roosevelt New Orleans. Not only does the pet-friendly hotel have an exemplary 9.0 rating and amenities like a pool and in-house spa, but it's located in the Central Business District just a four-minute walk from the heart of the action on Bourbon Street. The deal was $1,209 per person, but if you book now, each traveler pays just $998 for all four nights.
From Denver
Travelocity has another "Unreal Deal" departing from Denver with accommodations at the DoubleTree Hilton. Just a one-minute walk to Canal Street, it boasts a very good 8.4 rating and offers a pool, gym, restaurant and breakfast. The package includes one free night, which lowers the price to $1,093 per person from its original cost of $1,343 each.
Editor's note: All rates are as of Feb. 1, 2023.
More From GOBankingRates
Make Your Money Work for You