Best Time To Travel in 2019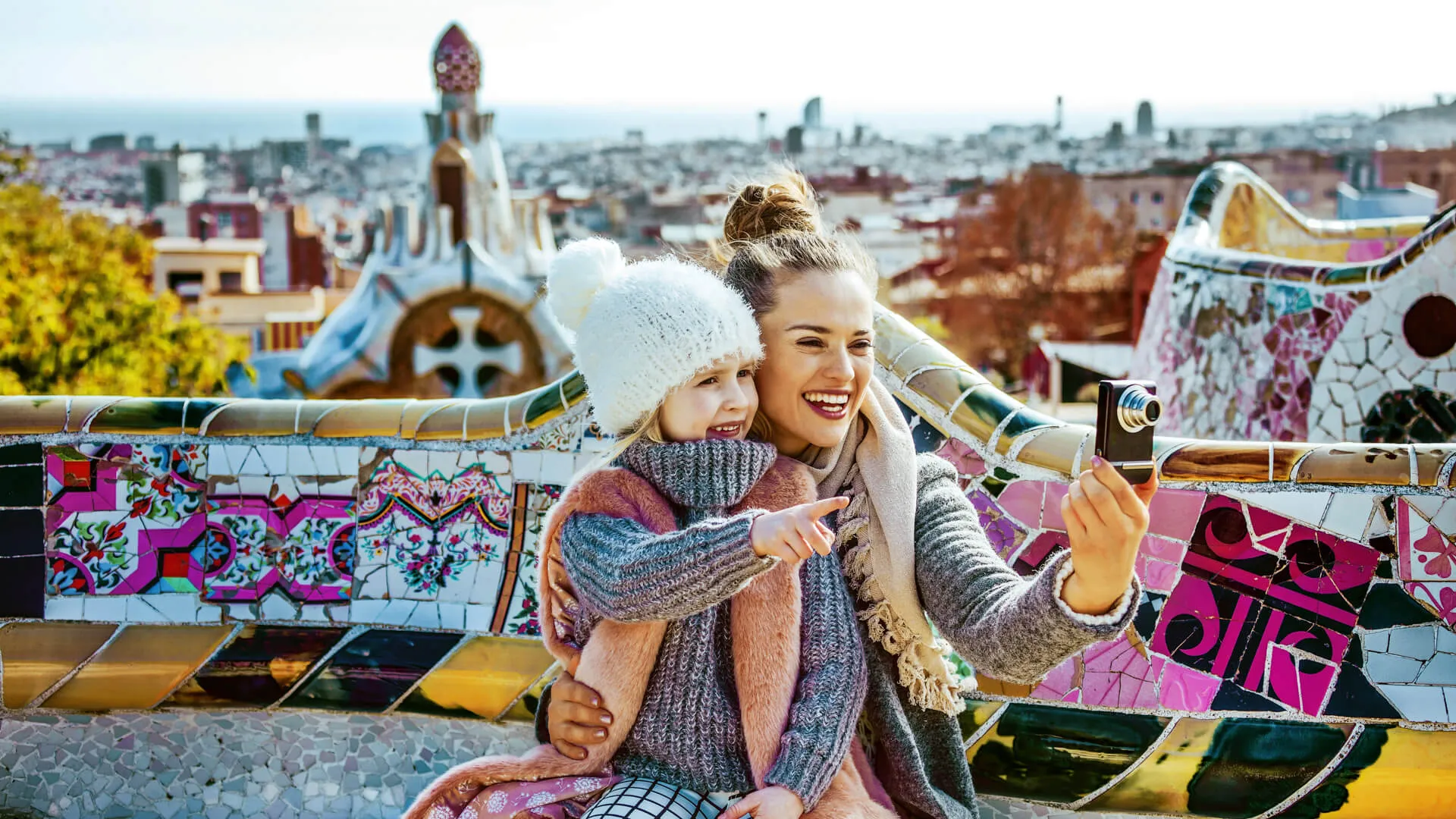 As any travel lover can attest, there's no bad time to fly off to experience new places. But depending on your destination, some months might be better suited for your trip than others due to factors like weather, local holidays, events and of course, cost. Prices can also vary greatly between peak months and offseason months.
Every month of 2019 can be the best time to travel — it all just depends on where it is you want to go. Stretch your dollar further — and maybe even stay for a few extras days — by planning your trip early, traveling in the offseason, and using your travel rewards credit card to book your travel and earn more points while you're there. Incorporating all these considerations into your plans can allow you to have a vacation experience you'll cherish without breaking the bank.
January
January brings mild weather and a full roster of cultural events, including the Three Kings Parade, to Barcelona, Spain. Offseason airline prices can save you about 60 percent compared to a peak season visit, according to CheapAir.com price quotes.
Melbourne, Australia is another best pick for January. The weather is still summer-like, but you can find bargain rates if you book for early January, after the holiday rush but before the Australian Open. Rates quoted on CheapAir.com show price reductions of over 20 percent on airfare and a hotel stay between Dec. 22 and Jan. 5 compared with peak season prices. Then, your biggest problem will be figuring out what to do with all the money you saved.
February
Warm temperatures and events like the National Theater Festival make February a great time to visit Havana, Cuba. And although hotel prices are relatively steady between February and March, you can save almost 30 percent on airfare by booking your vacation for February ahead of time.
Romantic as it might be to ring in the New Year in Honolulu, Hawaii, celebrating Valentine's Day there instead can save you a bundle. Save even more by traveling earlier in the month. Airfare and hotel rates both drop by more than 40 percent when booking for Feb. 9 compared with Dec. 29.
March
Argentina's autumn begins in March, bringing with it relief from Buenos Aires' sweltering summer temperatures and a wider choice of accommodations. March is also the city's rainiest month, but if you don't mind vacationing with the chance of drizzle, you can save nearly $300 per person on airfare compared to April.
A March trip to Lima, Peru offers the best of both worlds: warm, dry weather and thinning crowds as peak tourist season winds down. Hotel and airfare prices aren't at their absolute lowest, but you can still find a four-star hotel for about $150 per night.
April
Visit Copenhagen, Denmark during shoulder season to avoid the heaviest crowds and coldest, darkest weather. You can save about 50 percent on a flight from New York and more than 60 percent on hotels compared to June rates.
Once rainy season ends, shoulder season in Livingstone, Zambia begins. Travel there in April to save over 10 percent on airfare compared to June and avoid the peak season crowds.
May
Warm weather and lower hotel rates and airfare make May an excellent time to visit Kyoto, Japan. You'll miss Kyoto's famous cherry blossoms, but you can rent a car to travel north and, perhaps, still catch some blossoms in bloom. Use a travel credit card to maximize your road trip.
The months between London's busy holiday and summer seasons bring significant savings compared to mid-summer rates. Plan to travel early in the month, as rates ramp up quickly. For a weeklong stay beginning May 4, for example, you can save over 50 percent compared to the cost of July airfare and a little more than 15 percent on a hotel.
June
Bangkok, Thailand's average high-temperature ranges from 91 to 97 degrees, so "cool" is a relative term there. Although you're likely to experience more rain in June than in the winter months, you'll also have an easier time getting around due to thinner crowds, and you could save money on hotels and airfare.
June temperatures are hot in Beijing, China, and although it's not much worse than you'll experience at home in some parts of the U.S., it does affect tourism. Avoid June holidays and major events like Children's Day and the Dragon Boat Festival to get the best rates.
Find Out: The Most and Least Affordable Places to Spend Your Holiday Vacation
July
July travelers to Cologne, Germany paid significantly less than peak season visitors in 2017, according to Booking.com. In fact, you can save just over half on your hotel stay by choosing July over October.
July is right in the middle of shoulder season on Jeju Island, South Korea, making this destination — a longtime favorite for South Koreans — a budget-friendly vacation destination. Free national park access and an abundance of hiking trails and volcanic sites stretch your dollar even further.
August
If you can handle the humidity, free events like New York Philharmonic concerts and Shakespeare in the Park make New York City an especially good value this time of year, and you'll save money on your hotel, to boot. Whereas a stay at the Row NYC, for example, is just $176 per night Aug. 24 to Aug. 31, you'll pay around $220 for late December.
Nestled between the peak travel months of July and September, August is one the slowest travel months for Zanzibar, Tanzania, according to Champion Traveler, and it falls right in the middle of the city's nicest weather. This might be an especially good time to save on last-minute hotel and airline bookings.
September
August is the traditional vacation month for Europeans, leaving Rome, Italy open for September travelers from abroad. Even booking a mid-September trip far in advance can save you about 30 percent compared with August airfare prices, and you can get a decent rate on a hotel that's already booked up for mid-August.
September is still beach season in Rhodes, Greece, and you can enjoy your trip with fewer crowds and save over 15 percent on hotels compared to traveling in busy July.
October
New Zealand's — and the entire Southern Hemisphere's — spring starts in late September, making October a beautiful time to visit. Traveling at this time of the year also lets you beat the crowds and take advantage of the city's spectacular landscapes and culture while saving over 15 percent on hotels compared to peak season.
A spring vacation in Cape Town, South Africa has essentially the same benefits as traveling to Auckland: pleasant temperatures, less-crowded attractions and shoulder season pricing that saves you money. A stay at high-end Table Bay Hotel, for example, is around $360 per night in October but shoots up to over $400 per night during summer's peak season.
See: 25 Destinations You Should Travel to Before They Get Too Expensive
November
If you don't have your heart set on spending your California vacation at the beach, San Francisco is a wonderful destination for November, especially if you arrive after the grape-crushing season ends in wine country. Rates are some of the lowest of the year, and you can expect decent weather for walking around, although chilly fog is a given in the Bay Area.
Budapest, Hungary can be cold and snowy in November, but travelers willing to brave the weather saved 30 percent over the county's most expensive travel time in 2017, according to Booking.com. Although most of the fall shoulder season special events take place in September and October, you can get a nice dose of holiday spirit in the city's Christmas markets.
December
Attractions like Disney and Epcot typically experience a rush of visitors over the winter holidays, which can be among the most expensive times to stay in Orlando, Fla. You can enjoy the festive spirit and holiday decorations without breaking your budget by visiting in early December instead. A last-minute booking for the first week in December can save you almost 20 percent on a hotel and nearly 60 percent on airfare compared to a Thanksgiving-week stay.
If skiing is your thing, consider hitting the slopes in Halifax, Nova Scotia where offseason pricing makes for bargain-basement hotel rates. The Lord Nelson Hotel & Suites, for example, charges around $190 per night for a stay in mid-July and just over $100 for a December stay — even during Christmas week.
How to Make Any Month the Best Time to Travel in 2019
Knowing when to buy your plane tickets can be just as important as knowing when to travel. Data collected and analyzed by CheapAir.com suggests that the best time to book your North American flight, for example, is 70 days out. Traveling elsewhere, you'll need to book anywhere from about three-and-a-half months to over six months in advance to get the lowest rates. If you use a travel rewards credit card, you can earn points for your next trip by charging your expenses to your card. Plus, if you use a credit card that offers travel protections like lost luggage reimbursement, cell phone protection and 24/7 emergency assistance, you can enjoy your trip with some peace of mind.
Up Next: How I Travel the World Year-Round Without Going Broke
More on Travel: 
 We make money easy. Get weekly email updates, including expert advice to help you Live Richer™.
Methodology: To find out how much travelers can save by traveling at different times, GOBankingRates compared airfares and hotel prices from the peak- and offseason travel periods, using quotes from CheapAir.com and Expedia to determine when travelers can save the most for various destinations. All pricing information was sourced from CheapAir.com unless noted otherwise. Note that prices and rates for airfare and hotels are subject to change depending on the season, availability and time of purchase.

BEFORE YOU GO
See Today's Best
Banking Offers