Going on Spring Break? Here Are the Best and Worst US Destinations
Here are the best and worst places for spring break.
For students who are dealing with high college costs, saving money on spring break is important. And picking the right locale to spend your week off could save you hundreds, if not thousands, of dollars.
However, depending on where you decide to go, you could wind up spending significantly more or less than your classmates, according to a new GOBankingRates study that identified the most and least affordable U.S. spring break destinations.
The study analyzed 40 of the most popular spring break cities, looking at airfare and hotel costs to ultimately find the best and worst spring break destinations in the U.S.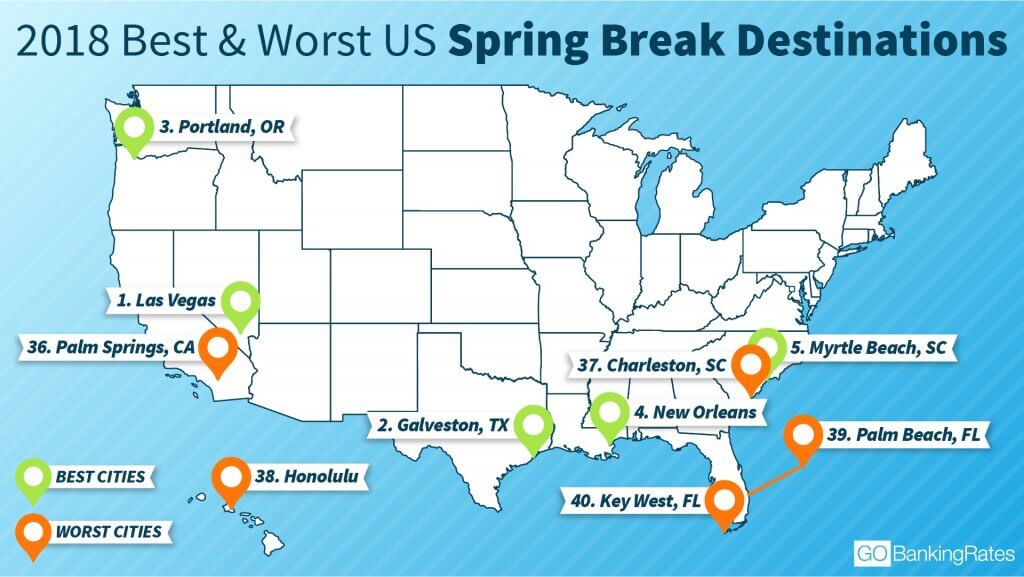 The average cost of hotels played a big role in where each city ranked. In fact, four cities — Portland, Ore.; New Orleans; Las Vegas; and Myrtle Beach, S.C. — ranked in the top five both overall and for having the cheapest average hotel costs.
Florida had the most cities appear among the 40 most popular spring break destinations, with 11 different locations making the list. Two Florida cities ranked as the No. 1 and No. 2 most expensive U.S. spring break destinations: Palm Beach and Key West. Daytona Beach and Fort Myers Beach also ranked among the 10 most expensive cities.
However, if you're thinking that Florida is only a stop for those students lucky enough to have money to burn, you'd be wrong. Fort Lauderdale and Orlando ranked as the sixth and seventh most affordable, respectively. Florida also featured some solid mid-range cities with Miami Beach (17), Tampa (24) and Destin (25). So, if you're still shopping around, odds are good that Florida has something for you regardless of your budget.
Here is the complete ranking of the best and worst U.S. spring break destinations, with No. 1 being the best and No. 40 being the worst:
1. Las Vegas
2. Galveston, Texas
3. Portland, Ore.
4. New Orleans
5. Myrtle Beach, S.C.
6. Fort Lauderdale, Fla.
7. Orlando, Fla.
8. San Diego
9. San Francisco
10. Austin, Texas
11. Virginia Beach, Va.
12. Phoenix
13. Asheville, N.C.
14. Nashville, Tenn.
15. San Juan, Puerto Rico
16. Lake Havasu City, Nev.
17. Miami Beach, Fla.
18. Hamptons, N.Y.
19. Reno-Tahoe, Nev.
20. New York
21. Savannah, Ga.
22. Gulf Shores, Ala.
23. Corpus Christi, Texas
24. Tampa, Fla.
25. Destin, Fla.
26. Los Angeles
27. Newport Beach, Calif.
28. Panama City Beach, Fla.
29. Clearwater, Fla.
30. Washington, D.C.
31. Hilton Head Island, S.C.
32. Fort Myers Beach, Fla.
33. Point Pleasant, N.J.
34. Daytona Beach, Fla.
35. South Padre Island, Texas
36. Palm Springs, Calif.
37. Charleston, S.C.
38. Honolulu
39. Palm Beach, Fla.
40. Key West, Fla.
Up Next: These Are the 15 Best Countries to Travel to This Spring
Methodology: GOBankingRates ranked 40 popular U.S. spring break destinations based on (1) average hotel rate calculated using the average of three- and four-star hotels for stays during March 10 to 17, 2018, using data from Hotels.com, and (2) average airfare based on the average of the three lowest round-trip flights from Los Angeles and Atlanta using data from Google Flights. The week of March 10 to March 17, 2018, was chosen because those are the most popular spring break dates, according to information from StudentCity.com.