The Best and Worst Times to Book Your Disney Trip

5 min Read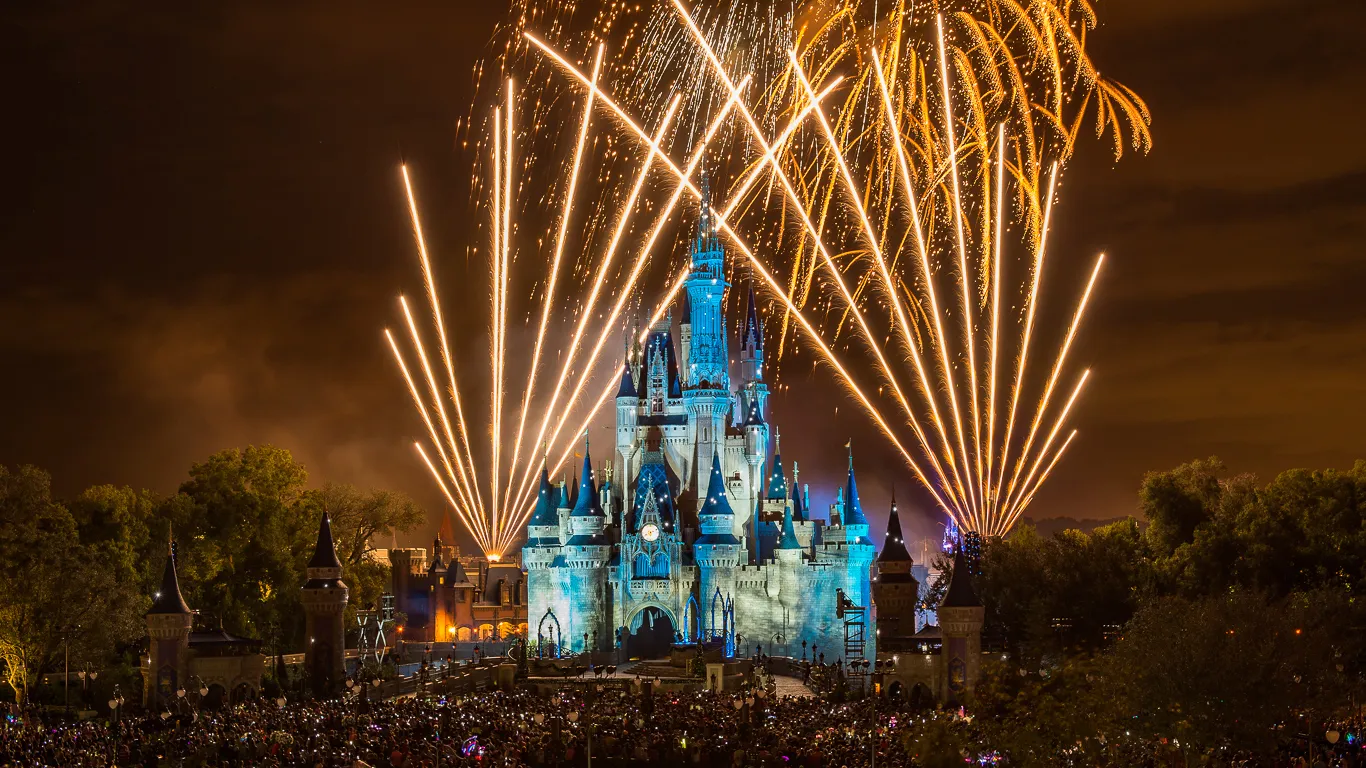 Whether you're California dreamin' or Orlando bound, you'll want to tweak your vacation to make sure you get the most from your Disney trip. That means researching ticket prices, beating crowds and more. Read on to learn some valuable Disney hacks for your upcoming trip, whether you're looking to save money or get the VIP Disney experience.
Make Your Money Work for You
Best for Crowds: During the Week
If you have a little control over what time of year you take a trip to Disney, plan to visit during the week. Even during busy months like July and August, you'll get the cheapest park tickets by heading to the Magic Kingdom Monday through Thursday.
Worst for Crowds: Holiday Weekends
Not only are weekends the most packed, holiday weekends are some of the busiest times of the year according to the Disney crowd calendar. If you don't like crowds, you'll want to plan something else to do on President's Day, Easter, Memorial Day, Fourth of July and Thanksgiving.
Best Disney World Weather: Springtime
Weather in the high 50s to low 80s makes the months of March through May the best times to visit Disney World in Orlando. Plan to go after Easter when crowds thin out and the Epcot International Flower and Garden Festival is in full swing through the end of May.
Disney Live Action Movies vs. the Animated Originals: Find Out Which Are More Successful
Worst Disney World Weather: Hurricane Season
Hurricane season runs from June 1 to November 30, bringing high winds and heavy rains. But that doesn't mean you should avoid a trip to Disney World for half the year. The most likely time for hurricane weather affecting inland Orlando is from late August through early October. The park has closed only four times since it opened in 1971 for hurricanes.
Best Disneyland Weather: Late Winter
Much of the U.S. calls late January and early February "winter." In Southern California, springtime starts as early as the last week of January. Temperatures in the low 70s make it enjoyable to get outside, and you'll see the park dressed up in azaleas, tulips and pansies in shades of pink, red and yellow. Valentine hearts offset the displays.
Make Your Money Work for You
Worst Disneyland Weather: Summer Heat
July, August and September might bring Disney hotel deals in Orlando, but they're the most uncomfortable times to go to the California park unless you're planning on dividing your time between the Casey Jr. Splash 'n Soak Station at Magic Kingdom and Grizzly Run at California Adventure. Not to mention all the other sweaty people in the park you'll have to dodge.
Best Prices: Value Prices Between New Year's and Spring Break
Head to Disney parks after the winter holiday crowd leaves and before March spring break revelers arrive, according to the Disney crowd calendar. Some rides close or undergo maintenance during this time, but there will still be plenty to do in the Magic Kingdom. Get the lowest park and hotel rates between the third week in January through the first week in February.
Worst Crowds and Prices: Spring Break Through Easter
From the second week in March through the Tuesday after Easter, Disney parks become a hotspot for spring breakers. The lightest days are anything but — expect to wait in lines for 30 minutes or more during the earliest days of the month and 1 to 3 hours during peak visitation at month's end.
From Disney to Universal Studios: The Priciest Theme Park Tickets Around the Globe
Best Springtime Weeks to Beat Kiddie Crowds: Mid-April to Mid-May
It might seem elementary, but plan your Disneyland trip when most kiddos are in school and park demand is down. April through May is one of the best periods to enjoy adult time at the park. Spring testing and finals means that kids will be home studying and parents are less likely to let them miss school. So go ahead and release your inner child. The park's all yours.
Make Your Money Work for You
Worst Time for a Patriotic Weekend: Fourth of July
Let's face it, Disney parks are a madhouse from Memorial Day weekend until most kids head back to school in early August. Fourth of July weekend goes beyond the norm with peak summer crowds and premium hotel prices.
Best Time for an Autumn Getaway: After Labor Day
There's not much to see in the way of autumn colors at California's Disneyland, but the crowds aren't bad either. Take a break from peak ticket prices at the park after Labor Day until just before Thanksgiving. Local hotel rates are cheaper too.
Worst Time for an Autumn Getaway: Thanksgiving
School kids aren't the only ones who get a four-day weekend for Thanksgiving. Many businesses close down for the weekend, making it an optimal time to take that Disney vacation. Unless you don't like high prices and crowds, in which case you'll want to pass.
Best Winter Holiday Time: First Three Weeks After Thanksgiving
Get into the holiday spirit by kicking off winter festivities with a trip to a Disney park. Seasonal splendor begins during November, coinciding with the fewest crowds and the most savings you'll see anytime during the holiday season.
Worst Winter Holiday Time: The Last Week of December
Disneyland is a fun, festive way to celebrate your winter break and beat the winter blues. However, Disneyland stops letting guests in once it reaches capacity, typically on Christmas Day and New Year's Eve. These are the days when early admission upgrades like Extra Magic Hour and Magic Morning really pay off.
More Hacks: 17 Secrets to Saving Money at Disneyland
About the Author