15 Bucket-List Safaris Worth the Splurge

7 min Read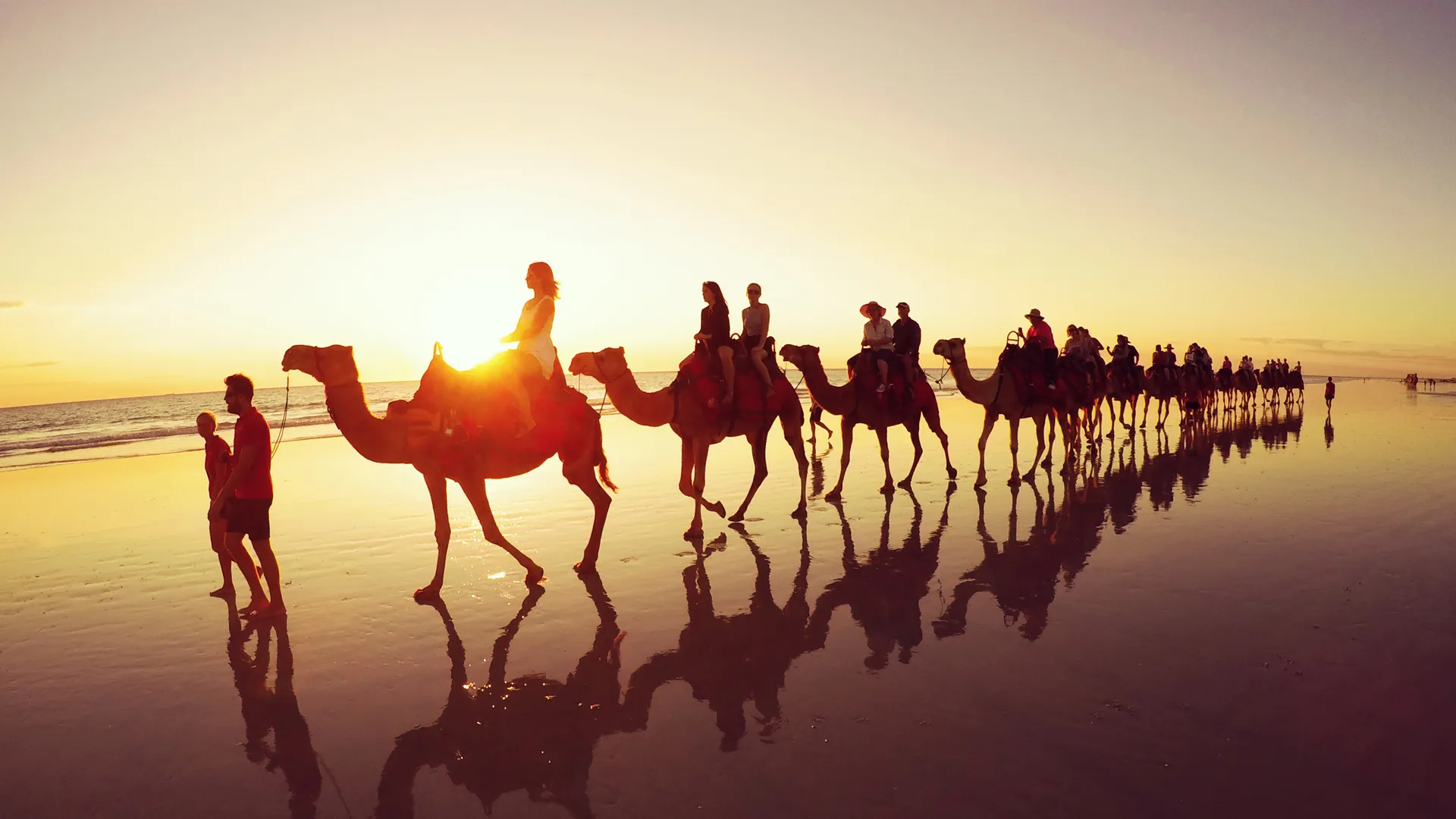 For the boldest travelers, Safari holidays offer a chance to get up close and personal with some of the most exotic wildlife and majestic landscapes on the planet. They're generally not cheap, but some safaris are incredibly affordable compared to standard travel.
Either way, if you're a citizen of the world and value the experience of global travel or even an adventure here in the U.S., your bucket list must include a safari. Click through to see the tours worthy of your bucket-list travels.
Make Your Money Work for You
Karisia Walking Safaris: Kenya
When you take a Karisia Walking Safari, you'll trek on foot with a group supported by a caravan of camels. You can explore the ancient land of Kenya and see its legendary wildlife. You can customize an unforgettable luxury experience or a scaled-back classic tour for three nights or longer.
Options include pinnacles, rivers and plains, bushland and the Mt. Kenya 10-4 challenge. When you find the package you like, contact the tour operator for pricing.
Leopard Hills: South Africa
Located in the western portion of the Sabi Sands Game Reserve, Leopard Hills is on the border of famed Kruger National Park, which is one of the ultimate settings for a safari. The African safari lodge is perched on a rocky vantage point that offers spectacular views of the 65,000-hectare park, its extraordinary wildlife and the watering hole where rhinos, lions, buffalos, elephants and leopards gather. It'll cost you about $975 per night.
Pumba Private Game Reserve: South Africa
The Eastern Cape region of South Africa that is home to the Pumba Private Game Reserve is famous for being malaria-free. It's also famous for its rare white lions and is known as one of the only places in the world where visitors can spot the "big five" — African elephants, rhinos, African lions, Cape buffalo and African leopards — in the wild. Birding and bush walks are also part of the package. Contact the reserve for pricing and availability.
San Diego Zoo Safari Park: San Diego
If you're looking for a thrilling adventure in the states, the San Diego Zoo Safari Park offers a broad range of customized tours. And the Ultimate Safari is, well, the ultimate. You'll get your own private safari tour through off-exhibit attractions that no one else gets to experience.
Totally customizable, your adventure will be led by a private tour guide, and you can walk among the beasts for up to five hours. Tours start at $690 per person ages 3 and up.
Make Your Money Work for You
Yellowstone Safari: Wyoming
Yellowstone Park is home to majestic wildlife and an alien landscape — half of the geysers on Earth are located there — and you can see it all up close with any of a half-dozen private, personalized tours. Rates vary depending on the size of your group.
For example, the bear and wolf full-day safari starts at $690 for one or two people and goes up to $1,320 for seven visitors. The geysers and hot springs tour ranges from $690 to $1,420.
Beware: Watch Out for These 15 Hidden Expenses When Vacationing in Yellowstone
Absolute Carpathian: Romania
Remote and steeped in legend, the Transylvanian Carpathians and Danube Delta are a UNESCO World Heritage Site that's teeming with wildlife, including more than 300 species of birds. The Absolute Carpathian 10-day tour includes bear watching, bird watching and guided tours through Romania's famed painted monasteries.
Full board is included throughout and accommodations include local guesthouses. Its costs about $1,160.
Australian Wildlife Tours: Australia
There are some unbelievably wild and majestic places on earth, and Australia is one of them. Eighty percent of the amphibians, reptiles and mammals who call the remote continent home can't be found anywhere else on the planet. From the terrifying to the bizarre, you can expect to encounter giant crocs, kangaroos, dingos, whale sharks, echidnas and Tasmanian devils.
There are a wide variety of packages available. The 10-day Perth to Broome West Coast Overland tour starts at about $1,170. The 12-day New Zealand North Island Explorer tour starts at about $2,970.
Udawalawe Safari Camp: Sri Lanka
One of the most exotic places in the world, Sri Lanka gives nature and wildlife enthusiasts the opportunity to see everything from rare birds to dolphins. Best of Sri Lanka tours offers numerous packages, including above-water tours, underwater tours, hot air balloon tours, trekking, hiking and traditional wildlife safaris.
Three nights at the classic safari camp costs $775 to $1,203. Everything is provided, including beer and wine, tea, all meals and tented accommodations.
Make Your Money Work for You
Churchill Polar Bear Tours: Canada
Polar bears are the undisputed kings of the arctic, and chances are you'll live your whole life and never see one in the wild — unless, that is, you take a Churchill tour. Expedition leaders will guide you through Canada's remote Churchill region on custom-built polar rovers. Churchill is also one of the best places to see the northern lights.
You can choose from a variety of options, including a photography tour of the mystical northern lights for $5,995, beluga whale tours for $6,495 and a half-dozen polar bear tours starting at $6,195 for six to seven days.
SeaLink Kangaroo Island: Australia
Isolated and teeming with wildlife, Kangaroo Island is a must-see attraction for any tour of South Australia. A one-day tour costs $167 per person. For $620 per person, you can take a wildlife discovery tour as part of a small group of four-wheel drive vehicles. There are also wine tours, self-drive tours and much longer tours up to six days that include wilderness trail adventures.
Brazil Pantanal and Amazon Wildlife Safari: Brazil
During an 11-day trek through the natural wonders that are Brazil's Pantanal and Amazon rainforest regions. You'll spot macaws and caimans, pink river dolphins and howler monkeys, as you pursue the elusive jaguar through some of the densest jungles and largest wetlands on the planet.
The tour promises participants a good chance of becoming one of the few people on earth to see a South American jaguar in the wild. Eleven-day tours start at $7,275.
Jungle Love: Nicaragua
You'll learn to love the jungle during a seven-day, six-night tour of several amazing natural preserves scattered around Nicaragua. Biologists and naturalists will be part of your group, and one of your stops will be at a biological research station on the river.
Everything is included when you embark on private boat trips and nature hikes, which will expose you to an array of wildlife that most human beings will never see in the wild. Prices vary depending on time of year.
Make Your Money Work for You
Osa Explorer: Costa Rica
One of the wildest places imaginable, Corcovado National Park represents the natural heart of Costa Rica. The six-day safari offers adventure during the day and luxury, relaxation and entertainment at night.
Beaches and wildlife reserves, ranger stations and bungalows are all part of the experience. Fully customizable tour packages range between $1,091 to $1,555, depending on a variety of factors, including season.
Nam Nern Night Safari: Laos
Mysterious and remote, Laos is the heart of Southeast Asia. The Nam Nern Night Safari is one of the most exotic in the world because the safaris take place on the river at night. You'll explore the Nam Et-Phou Louey National Protected Area, which is home to rare, majestic and often endangered wildlife, including tigers.
All the ecotours benefit not-for-profit organizations. Prices vary depending on factors like the size of your party, but tours start at about $156 per person for 24-hour safaris for groups of three or four, making it one of the most affordable safaris in the world.
Natural World Safaris: Antarctica
For the curious, adventurous, bold and brazen, there is simply no substitute for a safari to Antarctica. It's the only continent that is uninhabited by man, although about 1,000 researchers and scientists stay there for the winter. In fact, it's so inhospitable that it has no indigenous people. It is, however, home to incredible wildlife, including penguins, whales and about 100 million birds.
A small group photography safari starts at $8,482. The "off-the-beaten-track" tour costs $6,870. Want to go big? The South Georgia Photography Safari lasts for 15 days and starts at $45,675.
Up Next: Adventures Around the World That Cost $100 or Less
Prices and conversions to U.S. currency are accurate as of Nov. 8, 2017.
About the Author