Budget Deals for Your Trip to Chicago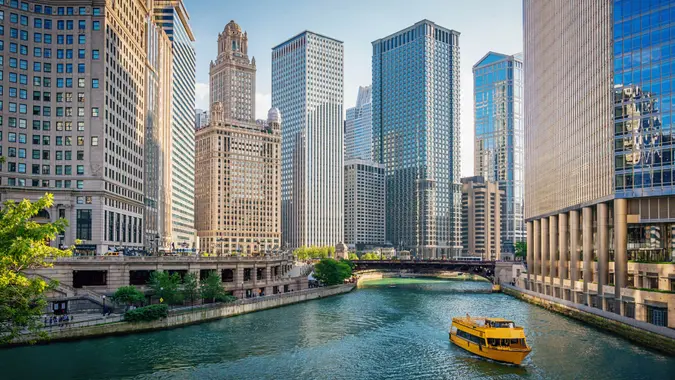 Mlenny / Getty Images
Chicago got one of its nicknames, "Second City," in 1890 when the census showed it had passed Philadelphia as the nation's second-largest city, the Chicago Reader once reported.
The nickname has stuck through the years; but, when it comes to world-class lodging and things to do, Chicago is second to no city. Stylish, high-end travel in Chicago tends to be pricey, however.
Discover: States Whose Economies Are Failing vs. States Whose Economies Are Thriving
Also: In Less Than a Decade, You Won't Be Able To Afford a Home in These Cities
Still, several top-flight Chicago hotels offer discounts to pare down the price of your stay. And some popular Chicago attractions either are pretty affordable to begin with, or they have some deals. Here's a look at some places to stay and experiences that you can access for less than full price.
Lodging
AAA has given 39 hotels in Chicago its prestigious four-diamond ranking. Many of these highly regarded hotels offer money off for AAA members or even deeper discounts — including ones geared toward special interests — through their websites. Some of the possibilities:
Make Your Money Work for You
POLL: How Much Do You Expect To Spend on Travel This Summer (in Total)?
At the Fairmont Chicago Millennium Park, take up to 20% off your room. Or, sign up for the weekend package and pay for two nights and stay a third night for free.
The Swissotel Chicago, which has held AAA's ranking since 1991, offers up to 25% off through its website. Or, sign up for a package that includes admission to some of Chicago's most noted attractions, including the Shedd Aquarium and Art Institute Chicago.
At the Waldorf Astoria Chicago, book the family offer. You'll get an upgraded room and free family-friendly activities in the hotel.
The Four Seasons Hotel Chicago on the Magnificent Mile will give you up to 20% off with an advance purchase. It also has other offers, including the limited-time "buy two nights, get one free" deal.
The Sofitel Chicago Magnificent Mile offers up to 25% off your booking on its website.
The Hyatt Regency Chicago offers 10% off for World of Hyatt members.
Make Your Money Work for You
If you're traveling with a big family and need two rooms, save 50% on your second room at The Langham Chicago. Or plan ahead, and you'll save up to 15% off an advanced purchase.
Sports
Have you looked at ticket prices at professional venues lately? Chicago has some deals.
Take the kids to watch the Chicago White Sox play by buying the Family Four Pack. Admission starts at $70, and that will get you four tickets, four hot dogs, four drinks and four bags of chips.
Or, check out StubHub to buy tickets for the Chicago Fire, who are celebrating their 25th season in Major League Soccer. They play at historic Soldier Field in Chicago. You'll likely find tickets for less than $20 each.
Attractions
Chicago has so many museums and other attractions that you'll have to pick and choose on your stay. And maybe you can save some money on your chosen attraction.
Larry Snider, the vice president of operations of Casago Vacation Rentals, has a recommendation.
Make Your Money Work for You
"The Morton Arboretum is a fun, beautiful place to spend a day," he said. "It's a massive area filled with trails and stunning scenery that you can explore at your own leisure."
Try exploring them on a Wednesday, when adults 18-64 pay an $11 admission fee — a $5 reduction off the regular price. Seniors ($10) and kids 2-17 ($8) also have discounted Wednesday rates.
Val Streif, the marketing manager for GetMyBoat, had another stylish suggestion: Rent a boat or even a captained yacht.
"In Chicago, one thing you can do that is not the typical tourist experience is charter a yacht," she said. "And the best part: It can be a lot cheaper than you think.
"Prices for boats range from $10 an hour to about $300 an hour for larger yachts that can accommodate bigger groups, including the captain. If you visit during the week, you can likely find even greater deals and discounts on boating since it's not as busy as the weekends."
Travel blogger Jenny Ly said big cities like Chicago have "little-known, back-alley, underground secrets." One of her recommendations in the city is The Neo-Futurists, where you can buy tickets to live performances for as little as $10.
"This low-cost theater celebrates Shakespeare's remark about the world being a stage," Ly said. "The plays are original, distinctive and delightfully unpredictable since the actors play themselves and tell their own experiences."
If you just can't decide how to spend your time — and your money — in the city, look into the Chicago CITYPASS, which bundles admission to select sites at a discount.
The five-attraction pass includes admission to Shedd Aquarium, Skydeck Chicago and Field Museum, plus two of your choice off a list. It costs $114 for ages 12 and older, $93 for ages 3-11. The company says you'll save 48% off individual admissions.
A three-attraction, you-pick pass is $81 for adults, $36 for kids.
More From GOBankingRates
Make Your Money Work for You