Budget Travel Tips: A Beginner's Guide to Cutting Costs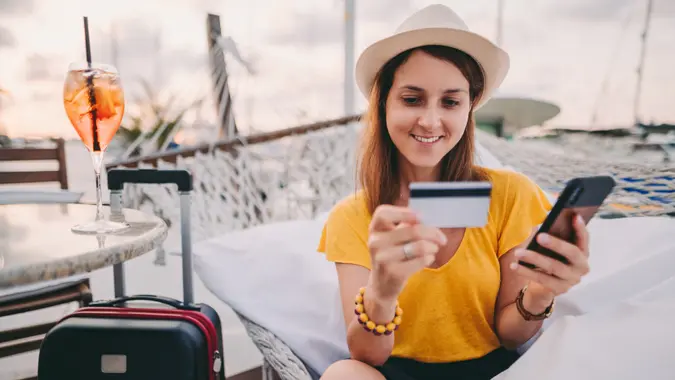 martin-dm / Getty Images/iStockphoto
Traveling is a great way to learn about other cultures and explore unique parts of the world — and it doesn't have to break the bank either. Whether for a short-term trip or a full year abroad, budget travel helps everyone see new things while saving on both the big and little costs.  
What Is Budget Travel?
Budget travel is a term used to describe when cost-conscious individuals want to pay less while traveling. It takes carefully researching where to find the best rates for trips and cheap things to do that make money last longer when on a trip.
How To Travel on a Budget
Here are some tips that can help you stretch your travel budget. 
Schedule a Trip With Travel Apps That Keep Costs Down
Price comparison platforms such as Skyscanner and Kayak are excellent tools for getting a rough guide on flight prices. Additionally, alerts will let users know when good deals crop up.
For accommodations, Airbnb, Booking.com and Hostelworld have a variety of options for finding somewhere to stay. Users can filter by price to find the best deals.
Carefully Choose a Destination
By selecting an area with low living costs, there's an opportunity to get more bang for each buck than back home. Some of the cheapest countries for stays, food and the odd tourist excursion include countries in Southeast Asia such as Cambodia, Vietnam, Laos and Indonesia, as noted by Worldpackers. Other cheap travel destinations include those in Eastern Europe such as Romania and Bulgaria and countries in South America like Bolivia, Colombia and Guatemala.
Make Your Money Work for You
Many of these countries have accommodation options for under $20 per night — and getting full meals out can be as little as $2.
Fly Midweek and Book in Advance
Monday, Tuesday and Wednesday are the cheapest days of the week for departures, according to an analysis from Google Flights. As compared to weekend departures, on average, the cost savings for departures on these days is 12% overall, including international flights, or 20% when only domestic flights are factored in. The analysis also notes that nonstop fares have cost travelers 20% more, on average, than flights with layovers.
Booking flights at least a month in advance leads to cheaper airfares. Longer time frames for international routes — between two and six months — are suggested.
Traveling during the off-season is another way to reduce costly flights and accommodations.
Surf Online Forums for Questions and Answers
Free online resources and social media sites can be a great way to understand what to consider and avoid when traveling. Subreddits such as r/SoloTravel are useful for finding out about tips, potential scams, tourist traps to avoid and the best things to do in certain areas when traveling on a budget.
Take Advantage of Free Activities
Around the world, there are parks, beaches, markets, gardens, cityscapes and monuments that cost nothing to visit. There's also the opportunity to visit low-cost or free museums, art galleries and festivals that still allow travelers to soak in the culture.
Make Your Money Work for You
Get a Travel Credit Card
There are several benefits to getting a travel credit card before departure. Travelers can take advantage of promotional cash bonuses, cash-back perks related to travel and dining purchases, and other services such as concierge and VIP lounge access while on vacation.
When you spend regularly with a travel credit card, you can accumulate points and redeem them for rewards to reduce your out-of-pocket trip costs.
Additionally, while consumers traveling abroad may unknowingly face foreign transaction fees with certain credit cards, many travel credit cards do not have such fees. Foreign transaction fees can be as much as 3% of the purchase price in certain instances.
Walk, Cycle, Rent a Car or Use Public Transportation
Many cities worldwide offer cheaper rates for increased usage of public transportation. Daily, weekly or monthly tickets are usually less expensive than purchasing a new travel ticket. Renting a bike, moped or other vehicle is another great way to explore cities rather than arranging endless Uber rides from point A to point B. Otherwise, walking is always a cost-free alternative for exploring.
Consider House Sitting or Pet Sitting
House and pet sitting can be great choices for those who don't mind doing a few odd jobs or looking after animals in return for accommodation. Platforms like Nomador operate internationally, giving travelers plenty of choices. The requirements are usually tending to gardens and doing routine cleaning for house sitters with the added tasks of walking and looking after pets for pet sitters. Besides a fee to access premium features of the platform, which comes out to $42 per quarter or $99 per year, there are generally no accommodation costs.
Cook Instead of Eating Out
Food price inflation has grown upward in the last 12 months and is at its highest rate in more than 40 years. This has affected both dine-out and dine-in options.
Make Your Money Work for You
By choosing to cook meals at their accommodation or a hostel, travelers can easily free up some spare cash for other activities.
Use an eSIM When Abroad
ESIMs are digital SIM cards that work with different mobile carriers worldwide. They are an excellent way to ensure mobile bills don't become too expensive while traveling. International roaming costs vary among providers, so eSIMs can sometimes save travelers money for long-term stays.
Final Take
Before booking a getaway, it's important to cover essential expenses and ensure a checklist is ready. Along with the travel tips above, travelers who bring everything they need before their trip will likely avoid unnecessary and unexpected expenses.  
FAQ
Here are some common questions people ask when traveling on a budget.
Where is the cheapest place to travel right now?

Countries in Southeast Asia, Eastern Europe and South America are among the cheapest travel destinations worldwide.

What is a good travel budget?

A good travel budget will depend on the location being visited. Locations such as Southeast Asia can require less than $30 daily once flights are paid for. On the other hand, somewhere like New York City could cost hundreds of dollars daily even on a tight budget.
Our in-house research team and on-site financial experts work together to create content that's accurate, impartial, and up to date. We fact-check every single statistic, quote and fact using trusted primary resources to make sure the information we provide is correct. You can learn more about GOBankingRates' processes and standards in our editorial policy.