Can't Miss, Affordable Alaskan Destinations for Your Next Vacation
Be sure to see the Northern Lights, explore glaciers, fish with bears and more.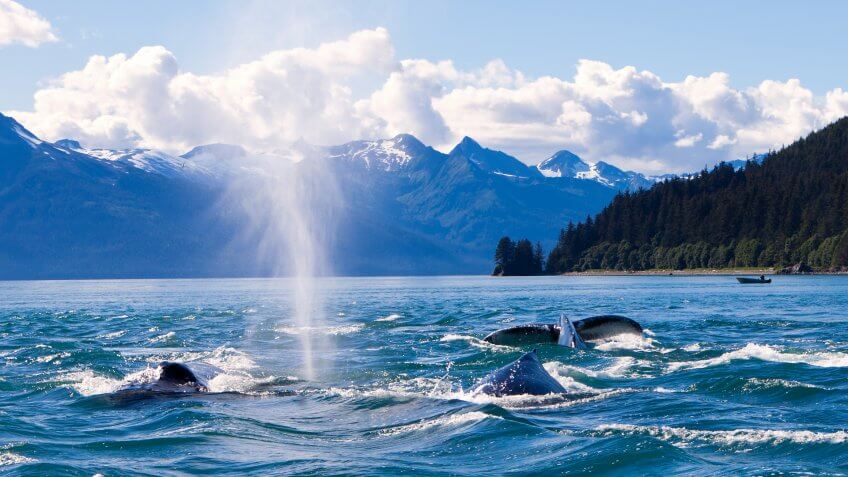 ©Shutterstock.com
Alaska is one of the wildest places in North America — with its rugged peaks, vast ice fields, dense forests and abundance of bears. It's also a very welcoming place, with big cities and small towns that offer modern accommodations along with backcountry experiences.
No matter what you're looking for, these Alaska destinations offer some of the most iconic attractions in our largest and most northern state. From the aurora borealis to the awesome power of glaciers, there are countless amazing things to see in Alaska. Here's how to make the trip for less.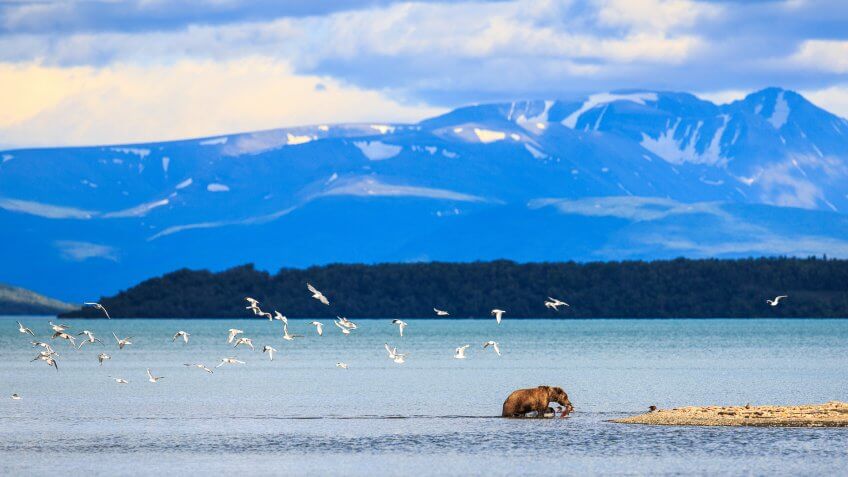 Gilles Baechler / Shutterstock.com
Katmai National Park and Preserve
Spanning more than 4 million acres on the Alaska Peninsula, Katmai National Park offers classic Alaska wilderness, complete with raging rivers, lofty pines and lots of wildlife. The park has no entrance fee, making it one of Alaska's great budget vacation options. It's also home to about 2,000 brown bears — the largest protected brown bear population in America — where you can view them in their natural habitat.
The park's most iconic viewing spot is Brooks Falls, where bears arrive every summer to gorge on sockeye salmon. Viewing platforms along the river in the adjacent Brooks Camp allow visitors to watch the bears from a safe distance. The area can get crowded during the peak summer months, but if you want to see bears during your Alaska vacation, this is the place to do it.
There's plenty to do here besides watching bears catch fish, though. With rivers across the park providing one of the world's great salmon runs, you can do some fishing, too — a seven-day nonresident fishing license costs $70. The park also offers rugged hiking trails in the Valley of Ten Thousand Smokes, and Savonoski Loop, an 80-mile canoe and kayak trail that takes you through some of Alaska's most stunning waterways.
If you want to save money on lodging, tent camping at Brooks Camp costs $12 per person, per night, from June 1 to Sept. 17, and $6 per person, per night, in May and from Sept. 18 to Oct. 31. During peak bear watching season, campground spots fill up fast, and the National Park Service recommends making reservations early.
For more luxurious accommodations, private company Katmailand operates two lodges within the park and offers vacation packages starting at $778, which include a flight into the park from Anchorage..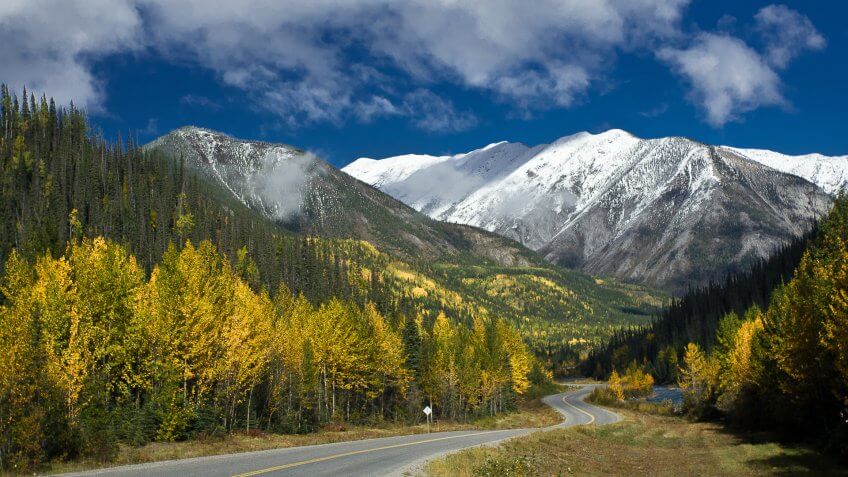 Danny Xu / Shutterstock.com
The Alaska Highway
Adventure awaits on the open road. The Alaska Highway — also known as the Alcan Highway — stretches from Dawson Creek, British Columbia, to Delta Junction, Alaska, over the course of about 1,400 miles. It's considered one of the most scenic drives in the region, passing stark mountains, rolling hills, dense forests and sparkling alpine lakes.
Tetlin National Wildlife Refuge is a major highlight of the Alaska portion of the highway, where you might spot moose, Dall's sheep and caribou, among many other critters. As wild as some of the scenery is, you can expect to pass through towns every few hours. However, travelers should plan for 100 to 150 miles between services on some stretches, according to Alaska guidebook TheMilepost.com.
In good-sized towns like Fort Nelson and Whitehorse, you can find a hotel, motel, bed and breakfast or cottage for $80 or less per night. Campgrounds are often the cheapest options, and traveling by RV might be the most fun way to experience the Alaska Highway. State and provincial parks, as well as privately owned campgrounds, provide places to park an RV overnight all along the route.
Driving the entire Alaska Highway requires crossing the Canada border, so have your passport handy. And be prepared to exchange your currency. The road is mostly paved, and driving conditions are best in summer. Once you get to Delta Junction, Alaska, it's only 95 miles to continue to Fairbanks, where you'll find great restaurants and attractions.
Don't Miss: 7 Money-Saving Tips for Your Summer Road Trip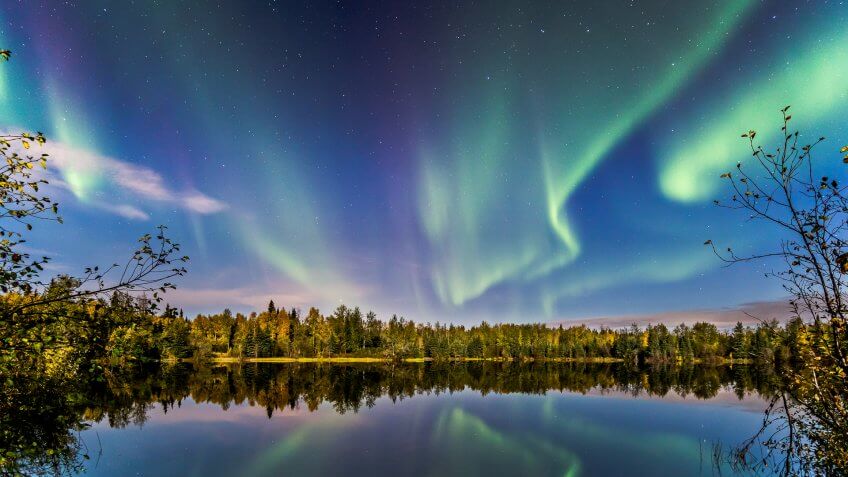 Sean Kurdziolek / Shutterstock.com
Fairbanks
Alaska's second-largest city is 140 miles south of the Arctic Circle, making it a great place to experience one of Alaska's most awe-inspiring sights: the Northern Lights.
The Fairbanks-based North Alaska Tour Company offers air tours of the aurora borealis above the Arctic Circle starting at $419 per person, but you don't have to get far from the city lights to see the aurora in full display. In fact, it might be one of the most spectacular sights you can see for free.
The Northern Lights are at their most vibrant during the cold, dark nights in September through April. Summer visitors don't have much chance to see the Northern Lights because of the long days. Fairbanks gets nearly 24 hours of continuous daylight around the summer solstice due to its extreme latitude.
There's no shortage of other things to do in Fairbanks during the sunny summer months. You can rent a kayak and explore the meandering Chena River for about $50 for eight hours, take a riverboat tour for $64.95 per person, or try your hand at panning for gold at $20 for a day. The city is also packed with restaurants, taprooms, museums and shops. It's a short drive from nearby wilderness attractions, like the Chena River State Recreation Area, which has a $5 parking fee.
Fairbanks boasts affordable accommodations, from hotels in the heart of downtown to remote cabins in the surrounding wilderness. Check out Airbnb for great deals in the Fairbanks area, like a treehouse in the woods that sleeps two for $100 per night, or a spacious log home that sleeps six for $179 per night.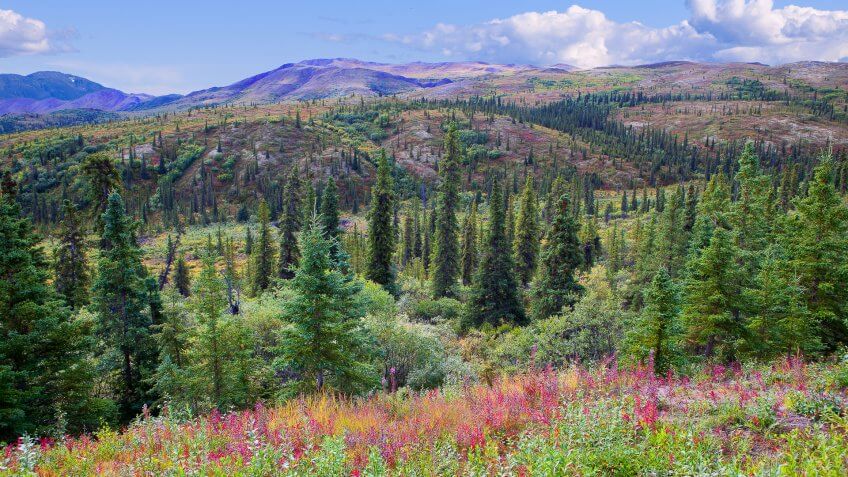 Ami Parikh / Shutterstock.com
Denali National Park
Denali National Park offers one of America's most mesmerizing landscapes, from frozen tundra and massive glaciers to the tallest peak in North America.
Towering 20,310 feet above sea level, Denali — formerly known as Mount McKinley — is a true giant. Of the roughly 1,000 people who attempt to climb it every year, about half actually reach the summit, according to the National Park Service's most recent data.
Climbing Denali is costly and difficult. A typical trip with an authorized guide takes 21 days and costs about $8,000. However, there are cheaper and less grueling ways to experience this natural wonder. One memorable way is to go on a flightseeing trip.
Flightseeing provides one of the most riveting views of Denali National Park, from inside a small plane above its mountainous landscape. Flightseeing companies typically operate from May to September. You can book a tour above Denali for less than $600, which includes landing on one of Denali's mountain glaciers.
Cabins are typically the best accommodations for the budget-conscious traveler, with rentals starting around $75 per night. Area hotels and lodges typically go for $200 per night or more. Campgrounds are available in the park, and you can reserve a site for $12 to $27 per night. The entrance fee for Denali National Park is $10 per person for a seven-day permit.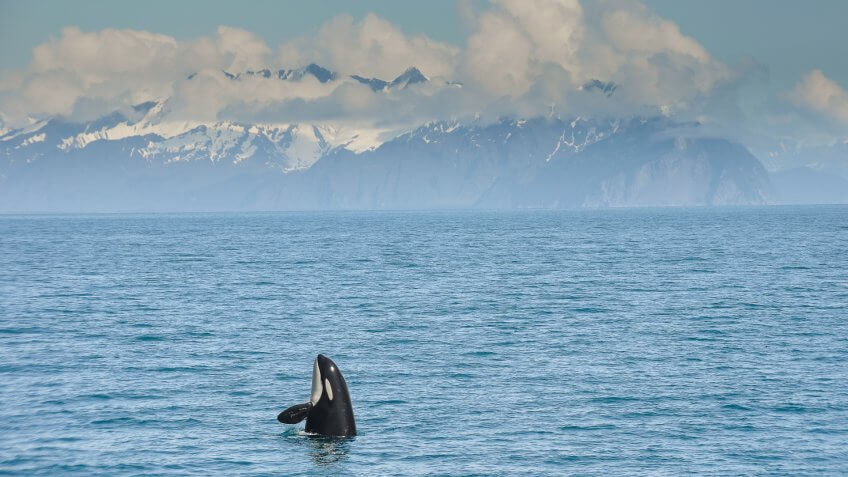 Alberto Loyo / Shutterstock.com
Resurrection Bay
Resurrection Bay offers one of the best spots for whale watching, a classic Alaska experience. Gray whales arrive every spring in great numbers as they migrate between Mexico and the Arctic. Humpback whales, minke whales and orcas are also commonly seen there. Some whales start to show up as early as March, but April and May are the prime whale watching months in Resurrection Bay, with a few stragglers hanging around well into summer.
The small city of Seward, Alaska, is the gateway to Resurrection Bay. Here you'll find lodging, dining options and a wide range of whale watching tours. Seward is a great destination for fishing and sea kayaking. And, it's a popular port for people who to cruise to Alaska. Seven-night cruises from Vancouver to Seward can cost as low as $900.
Prices for whale watching tours vary, but you can get a deal by booking a package that includes hotel accommodations and a whale watching excursion. Major Marine offers a four-hour whale watching cruise plus a night at the Seward Harbor 360 Hotel for $99 — a bargain considering that the whale watching tour alone costs $84. For a longer stay, you can find Airbnb rentals in the Seward area for under $100 per night.
If you don't visit during whale season, there's still plenty to do in and around Seward. You can rent a bike for $32 per day to explore the backroads around the bay, or head to the Lowell Point State Recreation Site, for $5 parking, to hike the beautiful Caines Head Trail. Nearby, the Kenai Fjords National Park is a great place see glaciers, and many companies offer a combination of whale watching and glacier tours.
Check Out: The Best Time of Year to Go On a Cruise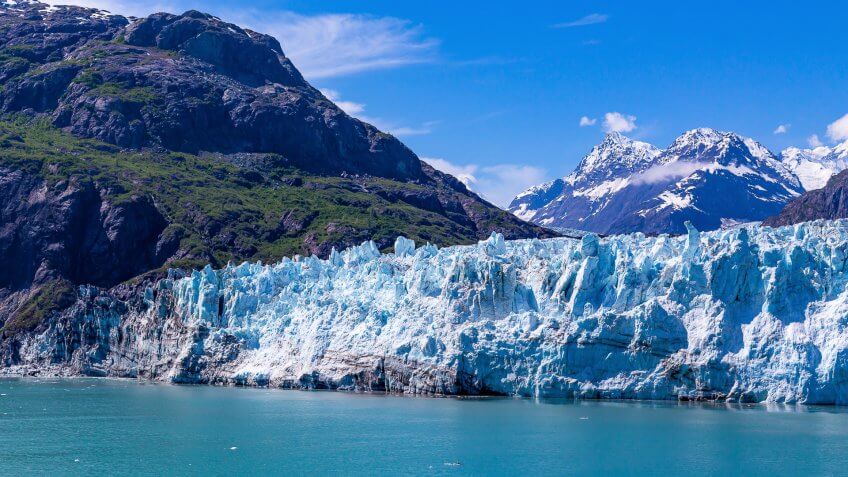 David H. Brown / Shutterstock.com
Glacier Bay
If you want to see glaciers on your Alaska vacation, head to Glacier Bay. This vast area of southeast Alaska's Inside Passage has been dramatically shaped by glaciers for millions of years, and there are 50 named glaciers at Glacier Bay. You can view them from a cruise ship as vast chunks of ice break away and tumble into the water, or approach from the land to see their origins in the craggy icefields farther inland.
The 3.3 million-acre Glacier Bay National Park and Preserve is home to some of the area's most impressive glaciers, including the Margerie Glacier, which is 1 mile wide and advances several feet every day, calving frequently. There's no fee to visit the park, and you can stay overnight at the primitive Bartlett Cove Campground for free. The Glacier Bay Lodge, although located within the park, is operated by an independent company and offers rooms for around $200 per night.
The most popular way to experience Glacier Bay is from the water, whether it's aboard a cruise ship, tour vessel or your own private boat. Tour boats depart daily from the Glacier Bay Lodge during the summer months, and you can take a full-day tour for $225 per person. Seven-day cruises from Seattle to Glacier Bay typically start between $800 and $900.
Other area activities include hiking, mountaineering, fishing, bird watching, rafting and kayaking. You can rent a kayak in Glacier Bay National Park for $50 to $65 per day, but expect to pay more for transportation service.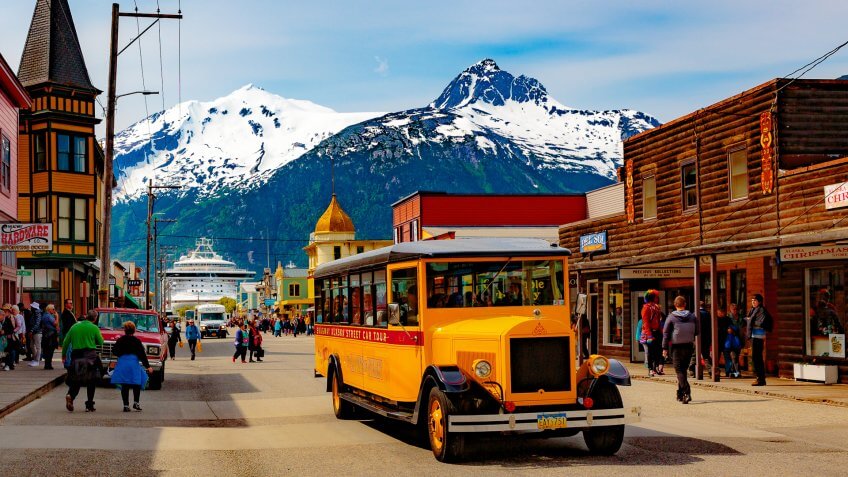 dshumny / Shutterstock.com
Klondike Gold Rush National Historical Park
Alaska might be a different place if gold hadn't been discovered there in 1896. The gold rush that overtook parts of Alaska and the Yukon Territory over the next few years transformed the region, and many of Alaska's present-day cities were once gold rush boomtowns. One such boomtown was Skagway, a tiny coastal city just across the mountains from the Klondike gold fields.
Today, Skagway is part of Klondike Gold Rush National Historical Park. There, you can hike the grueling Chilkoot Trail, which once led prospectors across the mountains to the headwaters of the Yukon River. Park rangers lead free walking tours of Skagway and the site of the long-gone boomtown of Dyea. A White Pass Summit railway excursion, for $122 per person, traverses 40 miles of railroad through the mountains of gold rush country.
Downtown Skagway — all seven blocks of it — bustles with life during the summer tourist season. Its buildings are restored to reflect the late 19th century, when many of them were built. Take in the nightlife at the Red Onion Saloon, sample a local craft beer at the Skagway Brewing Company and indulge in locally caught seafood at the Stowaway Cafe.
You'll find a handful of lodging options in the Skagway area, including bed and breakfast accommodations for $85 to $145, depending on the season — rates tend to be higher in the summer. For about $150, you can get a room at the historic Skagway Inn, a former brothel and boarding house built during the gold rush in 1897.
Ready to Plan Your Next Trip? Try These Places in Canada Where Your Dollar Goes Further