3 Cheapest, Best Airlines for Traveling With Your Pet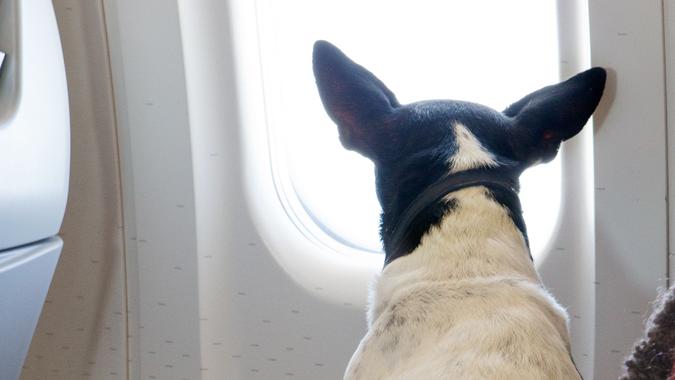 nycshooter / iStock.com
What better way to travel than by bringing your favorite furry companion alongside you? While some families like to travel with their pet instead of finding temporary boarding, other times traveling with a pet is essential to families moving or those flying with an emotional support or service animal.
See: 50 Ways You're Throwing Money Away
Check Out: 11 Things You Should Never Buy at Walmart
Regardless of the airline, flying with a pet is going to be pricy. In order to be able to sit back, relax and enjoy the journey, here are some critical airline and pet accommodation policies to be aware of to make your flight as seamless as possible.
Best Airlines for Pet Travel
These airlines offer great rates when traveling with pets.
1. Alaska Airlines
Alaska Airlines is a top choice for those traveling with pets due to flexibility and low travel fees. Alaska offers a flat rate of $100 each way per kennel or carrier in the main cabin, according to Alaska Airlines. The offer gets even better for travelers who are transporting two animals that are the same size or species and can travel in the same kennel, as each animal can travel for $50. The airline also allows rabbits and household birds to travel in the main cabin in pet carriers, but keep in mind that pet carriers count toward carry-on bag allotment for the flight.
Make Your Money Work for You
Travelers can also transport ferrets, guinea pigs, hamsters, non-poisonous reptiles, pigs and tropical fish in pet cargo. For those traveling with larger kennels for your dog, cat, rabbit or bird, those animals can also fly in the pet cargo section of the plane. While the cost to travel with an animal in pet cargo with Alaska varies by flight and size of the animal, fees start at $250.
POLL: Have Gas Prices Affected Your Driving Habits?
2. American Airlines
American Airlines follows shortly behind Alaska Airlines as another solid airline for traveling with pets and features fairly comparable rates. American Airlines charges $125 per animal traveling in the main cabin and requires the kennel to fit under the seat in front of you in lieu of a carry-on bag, according to American Airlines. For those who need to travel with their pet in a larger kennel, pet cargo for the airline starts at $200.
3. Hawaiian Airlines
Hawaiian Airlines offers some great options for passengers with a furry companion — but the airline has a few extra caveats for those traveling to Hawaii with their pet.
Comparable to American Airlines, Hawaiian Airlines charges $125 for main cabin flights for those with pets traveling in North America. If your pet will be traveling in pet cargo, the fees start at $225 per animal, according to Hawaiian Airlines.
Make Your Money Work for You
But that's not all that's involved in traveling to Hawaii with a pet. Things get more complicated as the Hawaii Department of Agriculture requires quarantine for all pets with a separate starting cost of $185 per pet, according to HDOA.
The Steps You Need To Take in Order To Fly With Your Pet
Before getting on the plane with your pet, there are several procedures pet owners must take in order to ensure the airline has space for their pet and the animal is cleared to enter the plane. Due to the main cabin of the plane having a maximum number of kennel spaces, it is critical to reserve a spot for your pet before booking your seat. You can reserve a spot by calling the airline and ensuring there is space available. Airlines also require several forms to be submitted regarding your pet's health and a customer acknowledgment form.
Many airlines allow service dogs to fly for free as long as they fulfill the airline's requirements for service dogs and owners submit paperwork 48 hours before the flight. However, emotional support animals and service dogs in training are no longer able to travel for free and are subject to pet policies and fees.
Why You Might Not Be Able To Fly With Your Pet
While most pets are able to fly on any airline, there are several health and safety reasons why you might not be able to fly with your animal companion.
Make Your Money Work for You
Some airlines won't fly brachycephalic, or "short-nosed" dogs and cats. Brachycephaly breeds include bulldogs, pugs, French bulldogs, Himalayan cats and Bombay cats. Short-nosed animals have a tough time flying because they are sensitive to the air changes that occur during flights and the temperature of the plane. Always be sure to contact the airline if you have a brachycephalic animal as policies vary by airline and the size of the animal.
Your pet may also not be allowed on board if airline staff notice your animal misbehaving. Behaviors that may lead to denied boarding include scratching, biting, urinating or defecating, and excessive whining or barking.
More From GOBankingRates
Make Your Money Work for You