5 Cheapest Ski Resorts in America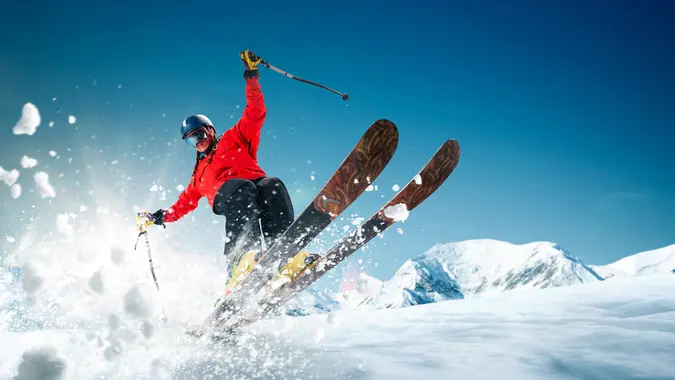 Artur Didyk / Shutterstock.com
A skiing vacation is an exhilarating, one-of-a-kind experience full of glistening white snow, crisp air and cozy nights by the fire. However, it can also put quite a strain on your wallet.
See: Unplug These Appliances That Hike Up Your Electricity Bill
More: 3 Signs You're Serious About Raising Your Credit Score
According to Family Skier, a five-day trip for a family of four to a ski resort like Beaver Creek or Deer Valley could cost $10,000 or more. That's because a one-day lift ticket at Beaver Creek for each adult is $233, and ski-in/ski-out accommodations could be around $1100 per night.
The good news is that you don't have to shell out that kind of cash to enjoy a family ski trip. Here are five cheapest ski resorts in America.
Cooper Spur Mountain Resort in Mount Hood, Oregon
Lodging: From $169 per night
Lift tickets: $49 for adults
Cooper Spur Mountain Resort is located on the north side of Mount Hood in the Mount Hood National Forest near the Portland, Oregon, metro area. It is one of the oldest ski areas in North America.
Make Your Money Work for You
The resort features nine runs and 50 acres of terrain for beginner and intermediate skiers. It also has alpine lessons, a rental shop and a historic lodge offering snacks and other refreshments. Lift tickets are $49 for adults and $39 for kids 7 to 14. Tickets are free for children 6 and under.
Friday night lift tickets are $15 and good from 4 p.m. to 8 p.m. Lodging is also affordable. You can book a Lodge Hotel Family-Style Room with one queen bed and two twins at the Inn at Cooper Spur for just $169 per night.
Canaan Valley Ski Resort in Davis, West Virginia
Lodging: From $329.99 per night for a 2-bedroom cabin
Lift tickets: $65 for adults
Canaan Valley Ski Resort, located in Allegheny Mountains in north central West Virginia, is known as the premier golf and ski resort in the region. The resort is surrounded by the Monongahela National Forest and is only three hours from Pittsburgh and Washington D.C.
It features a variety of lodging options, including suites and cabins, and a spa, fitness center and arcade. For a family of four, a two-bedroom cabin, starting at around $330 per night, would likely be one of the most economical lodging options.
Make Your Money Work for You
Unlike some ski resorts, ski passes at Canaan Valley become cheaper when you purchase additional days. A one-day ski pass for an adult is $65, whereas a two-day pass is $110 and a three-day pass is $165. For children and seniors, a one-day pass is $45, a two-day pass is $70 and a a three-day pass is $105.
Take Our Poll: Do You Have a Second Job or Backup Plan in Case You Are Laid Off?
Sunlight Mountain Resort in Glenwood Springs, Colorado
Lodging: 10% off at partner hotels
Lift tickets: Starting at $69 for adults
Sunlight Mountain Resort is located between Glenwood Springs and Carbondale, Colorado. The resort claims to give guests a full day of skiing for about half the cost at a mega resort.
It features 72 trails and you can even rent your gear online ahead of your trip. Various lodging options are available in the area, including 10% off at the resort's Ski & Stay partners. Depending on the day of the week, one-day lift tickets for adults, age 13 and up, are $69-$72, while one-day lift tickets for children ages 6-12 range between $39-$45.
Make Your Money Work for You
Snow King Mountain in Jackson, Wyoming
If you visited Snow King Mountain before 2022, you'll be pleased to know the resort has been undertaking renovations that will improve the property's infrastructure and its attractions. A new restaurant and bar with rooftop deck seating and an observatory and planetarium are in the works to be completed this year. Activities include skiing, snowboarding, a cowboy coaster ride, scenic gondola rides and snow tubing.
Stay at the Snow King Resort at the base of the mountain or in one of the downtown hotels. Through May 31, 2023, the Snow King Resort is offering the third night free. One-day lift tickets start at $75 for adults, ages 16-64. One-day lift tickets for children ages 6-16 and seniors are $50. Multiple-day tickets receive a discount, as well.
Nordic Valley Ski Resort in Eden, Utah
Lodging: Starting at $125 per night
Lift tickets: $23-$71
The Nordic Valley Ski Resort is located deep within the Wasatch Mountains near the bustling town of Ogden. The area is known as one of the most family-centered, budget-friendly ski areas in the U.S.
Nordic Valley features five lifts and 40 runs. Plus, at night, 50% of the mountain is lit up, allowing for night skiing, and tickets start at $10. The resort does not offer lodging, but you can find places to stay a few miles away in Eden, starting at $125 per night. Lift tickets range between $23-$71, depending on day of the week.
More From GOBankingRates
Make Your Money Work for You