20 Cool Travel Spots for Bookworms To Visit After the Pandemic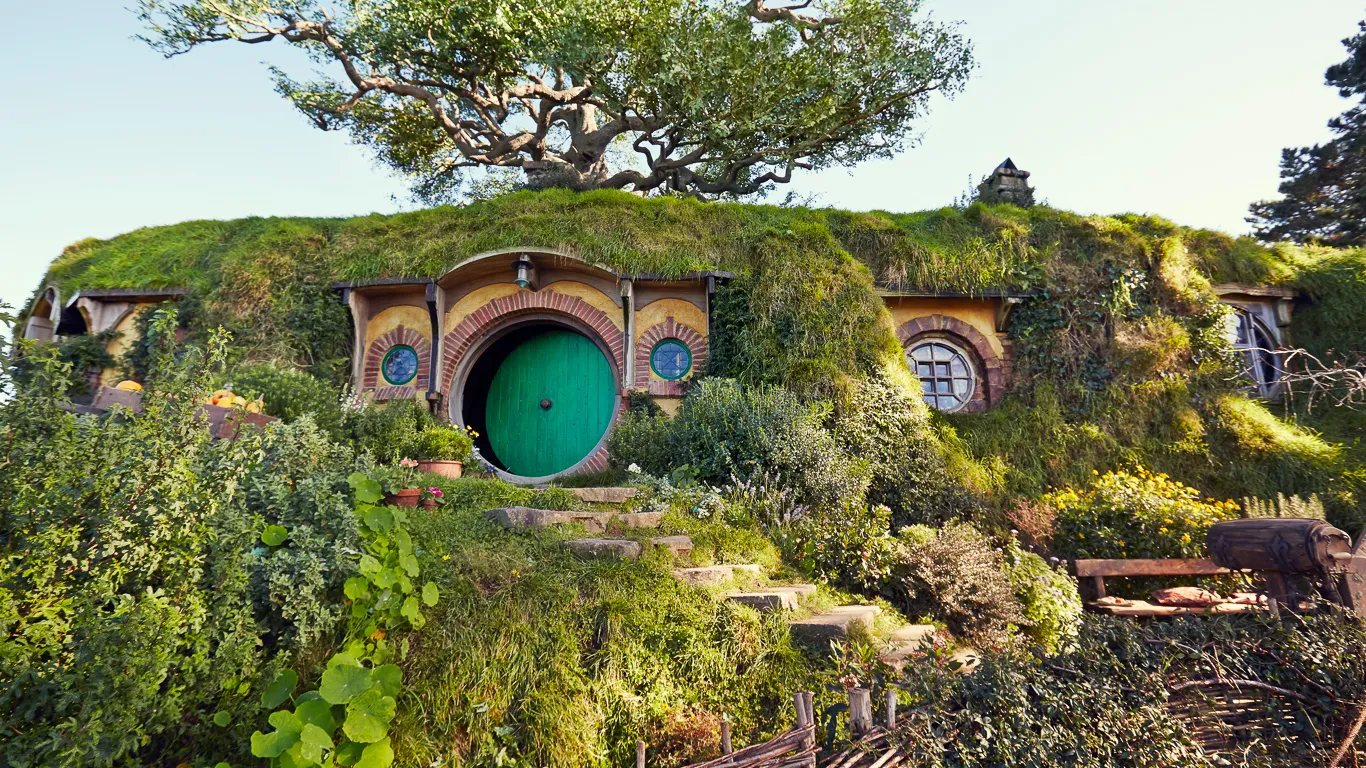 A person's favorite book is often something that's very vivid and real to them, making a trip to visit actual places with a connection to what they read about into something of a pilgrimage. Being able to feel that sort of connection to your favorite characters or figures from history can be powerful. That came into clear relief for some literature fans recently when the bus featured in the book and movie "Into the Wild" — in which Jon Krakauer details the failed attempt by an idealistic but naive young man to leave modern society — was removed from near Alaska's Stampede Trail by the state's National Guard.
As such, if you had long dreamed of seeing Christopher McCandless' bus in its original location, your opportunity seems to have passed. Maybe for the better — part of the reason for the removal had been fans trying to see it were putting themselves into danger. However, just because your window of opportunity to visit this landmark has closed, there's a number other places featured in some of your favorite books or movies that you can still see — and without the danger of getting stranded in the Alaskan wilderness.
Before you book your next vacation, check out these can't-miss destinations for nerds, from castles to museums and even Middle-earth itself.
Last updated: Oct. 21, 2020
The Wizarding World of Harry Potter
Location: Orlando, Florida; Universal City, California
Spanning not one but two theme parks — Universal Studios Florida and Universal's Islands of Adventure — the Wizarding World of Harry Potter in Orlando is a must-see for fans. The Hogwarts Express will shuttle you between the parks, where you'll be enchanted by plenty of rides, including Harry Potter and the Forbidden Journey and the Dragon Challenge. Afterward, visit the Three Broomsticks restaurant for a quick bite.
You'll need a park-to-park ticket to visit both theme parks, which starts at $165 for a one-day pass. Although that cost ranks highly among the priciest theme parks around the world, the trip is certainly worth the visit.
Plan to spend around $270 per plane ticket and roughly $70 per night on your hotel room. If you live nearer to Southern California, opt instead for the Wizarding World of Harry Potter at Universal Studios Hollywood, where a day pass will cost between $105 and $116.
Make Your Money Work for You
Middle-Earth
Ditch the beach and visit the fantasy realm of Tolkien: Middle-earth. Here, you'll see the real-life backdrops to the beloved and high-earning book-to-film adaptations of "The Lord of the Rings" trilogy and "The Hobbit."
Visit Fiordland National Park for sweeping views of lands shown in both movie trilogies. Spend $25 on a Weta Workshop's Weta Cave Workshop Tour and embark on a Hobbiton Movie Set Tour for $79 to $195. If you're feeling adventurous, hike the challenging four-hour Earnslaw Burn Track, which starts in Glenorchy, near Queenstown.
Fly into Auckland for around $1,100 and shuttle around the North and South Islands on domestic flights. Hotel prices vary as you journey throughout the country, but expect to spend around $100 per night in both Auckland and Queenstown.
Gravesite of Edgar Allan Poe
If you've read every Edgar Allan Poe work, from "The Fall of the House of Usher" to "The Tell-Tale Heart," visit "The Raven" author's grave in West Baltimore.
Tours are available on the first and third Fridays of the month from April to November. Afterward, drive about a mile down the road to the Edgar Allan Poe House and Museum, where admission is $5 for adults.
Expect to spend around $275 on your flight. Accommodations can cost as much as $200 per night, so find ways to save on your hotel stay.
Living Computers: Museum + Labs
Living Computers: Museum + Labs is a geek's dream come true. Pay a $12 admission fee to enjoy a hands-on experience with computer equipment dating back to the 1960s. The museum is home to the largest collection of fully restored and usable supercomputers, mainframes, minicomputers and microcomputers in the world, so prepare to spend hours exploring and learning.
Airfare should cost approximately $140. Budget around $200 per night for a hotel room in the city.
Alnwick Castle
Location: Alnwick, Northumberland, England
Known as the Hogwarts castle in "Harry Potter and the Sorcerer's Stone" and "Harry Potter and the Chamber of Secrets," Alnwick Castle makes for a truly magical vacation destination. Adult admission costs around $17 and grants you unlimited visits for an entire year.
Located in the town of Alnwick in Northumberland, you'll want to fly into Newcastle International Airport. You can get a flight for around $800 and a hotel room in Alnwick for roughly $75.
Make Your Money Work for You
Bletchley Park
Location: Milton Keynes, Buckinghamshire, England
The home of British codebreaking and birthplace of modern information technology, Bletchley Park is a fascination destination for coders. You can visit the site of secret intelligence during World War II for about $21 per person or $56 for a family ticket.
Located in Milton Keynes, London's Heathrow Airport is about an hour drive from Bletchley Park. Your flight will cost around $600 and accommodations can cost around $90 per night. If you're not sure whether you can afford the trip, try following these tips first.
Petra
Petra is one of the most famous archaeological sites on Earth. Explore the "Lost City" to discover world-renowned facades and Nabatean tombs. If you're an Indiana Jones fan, you'll love these ancient sights. The fictional Canyon of the Crescent Moon — from "Indiana Jones and the Last Crusade" — was modeled after the eastern entrance to Petra. Other scenes from that movie were filmed in Petra.
If you spend at least one night in Jordan, entrance fees to Petra start at around $70. Plan to spend around $40 per night on a hotel. Unfortunately, the most expensive part of your vacation will be your flight into Israel's Eilat Airport, which is about two hours from Petra. You'll spend about $1,350 on a round-trip ticket.
Kennedy Space Center
Location: Titusville, Florida
Embark on an out-of-this-world vacation at Kennedy Space Center in Titusville. A $50 adult admission ticket grants you access to an exciting lineup of attractions, including the KSC Bus Tour, Shuttle Launch Experience, the Space Mirror Memorial and 3-D space films.
The closest major airport is in Orlando. Expect to spend around $270 on your flight and $130 per night on accommodations.
Also in Travel: Travel Experts Reveal the Best Ways To Save on Vacation
MIT Museum
Location: Cambridge, Massachusetts
Located on the Massachusetts Institute of Technology campus, the MIT Museum will blow your nerdy mind. Explore a variety of exhibits highlighting scientific, artistic and technological advances from MIT. These exhibits include "Glass: Between Liquid and Solid," "Large-Format Polaroid Camera" and "Herreshoff Collection Highlights."
Fly into Boston Logan International Airport — about a 20-minute drive to the museum — and plan to spend approximately $300 for your flight. Your hotel should cost around $200 per night.
Make Your Money Work for You
The Burgess Shale
Location: Field, British Columbia, Canada
The Burgess Shale is a UNESCO World Heritage Site and one of the most essential fossil sites on the planet. Two types of guided tours are available, and they're both challenging. A tour of Walcott Quarry lasts 11 hours and costs $94.50 for adults, and the Mount Stephen Trilobite Beds tour spans seven hours and costs adults $70.10.
A hotel room in Field will cost approximately $140 per night. Fly into Calgary International Airport for around $270 and make the two-and-a-half-hour drive to Field.
Museum Für Naturkunde
Location: Berlin, Germany
For a vacation you can take with the kids, try Berlin's natural history museum. Flying into the famed city will cost you just over $600 on a plane ticket. Once at the museum, you can see permanent exhibits that explore the origins of the solar system, minerals, fossils and more. And don't miss "Evolution in Action," which has the world's largest dinosaur skeleton on display.
Admission costs about $8.50. A hotel room near the museum will cost around $90 per night.
Biosphere 2
Location: Oracle, Arizona
If you're a science buff, Biosphere 2 is your place to be. A facility committed to the study of global scientific issues, this unique spot serves as a laboratory and purveyor of public education. Adult general admission tickets cost $20 and tours are available daily.
Biosphere 2 is located at the University of Arizona, about an hour outside Tucson. Fly into Tucson for around $170 and stay at a hotel in the area for around $70 per night.
Highgate Cemetery
Location: London, England
Pay your respects to some of the most talented people in history at London's Highgate Cemetery. Consisting of the East Cemetery and West Cemetery, the site serves as the final resting place for many accomplished minds, including Karl Marx, Patrick Caulfield and George Eliot.
The West Cemetery can only be accessed by guided tour, which costs around $14.50 for adults. Wander the East Cemetery alone or take a guided tour for about $10.
Fly into London's Heathrow Airport and budget approximately $600 for your plane ticket. Expect to spend around $65 per night for your London hotel room.
Make Your Money Work for You
CERN
Location: Geneva, Switzerland
If you've never been to Switzerland, it certainly ranks among the top destinations you need to visit before you retire. Once there, visit CERN, the European Organization for Nuclear Research. Explore the world's largest physics laboratory with a free guided tour and access to exhibitions. See equipment used by CERN physicists, such as the Large Hadron Collider.
Budget around $700 for your flight to Geneva. You can get a hotel for roughly $150 per night.
Smithsonian National Museum of Natural History
Location: Washington, D.C.
If you've never seen the Hope Diamond, it's time to change that. This exceptional gem, and loads of other must-see exhibits like coral reef and a mummified cat, are on display at the Smithsonian National Museum of National History. Admission is free.
Your flight into Reagan National Airport will cost roughly $350 and put you about four miles from the museum. Hotels in Washington, D.C. aren't cheap, but you should be able to get a room for approximately $180 per night.
National Videogame Museum
You might not know this, but there is such thing as a video game museum. Buy a plane ticket to nearby Dallas for around $150 and immerse yourself in video game history for a day.
Learn about the origins of video games, check out old gaming pieces and, of course, play plenty of actual games. Book a hotel room in Frisco for around $130 per night.
Legoland Denmark
Location: Billund, Jutland, Denmark
Take your kids to the original Legoland theme park. Arrive early to enjoy more than 50 fun rides and events.
Buy your tickets at least seven days in advance to save 10 percent. At this discounted rate, kids' tickets start at around $43 and $46 for adults. Travel into Billund Airport for around $600 per person and book a hotel room in the city for around $110 per night.
Related: Ultimate Guide to Spending Your Money Around the World
Hall of Heroes Museum
Location: Elkhart, Indiana
If you're a superhero aficionado, the Hall of Heroes Museum was made for you. At the only superhero and comic book museum, take a journey through the entire 75-year history of superheroes in comics, toys, film and animation.
The museum doesn't miss a detail either, as the building itself is housed in a two-story replica of the Hall of Justice from the "Super Friends" cartoon. Expect to spend around $120 per night on your hotel room. Fly into the nearby Kalamazoo, Michigan, airport for around $500 and drive about 60 miles into Elkhart.
Make Your Money Work for You
Very Large Array Radio Telescope
Location: Socorro, New Mexico
If you've spent long nights looking up at the stars, New Mexico's Very Large Array Radio Telescope facility is the perfect destination to go stargazing. Adult admission is $6 and self-guided tours are available daily.
Book your flight into Albuquerque, New Mexico, for roughly $200 and drive just over an hour into Socorro. Your hotel room will cost around $150 per night and put you around 50 miles from the secluded VLA.
Museo Galileo
Location: Florence, Italy
Take a closer look at the incredible life and work of the late astronomer, mathematician and philosopher Galileo — and his peers — at the Museo Galileo. Adult admission is around $9.50, and the museum is open every day of the year, with the exception of Christmas Day and New Year's Day.
Plane tickets to Florence cost approximately $1,100 each. Plan for your hotel room to cost roughly $90 per night.
More From GOBankingRates
Joel Anderson contributed to the reporting of this article.
Flight prices were based on a round-trip ticket from Los Angeles International Airport (LAX) in May 2017. Hotel costs were calculated for stays at three-star properties for the same time period. Admission pricing for attractions were converted to USD and accurate as of March 22, 2017.
About the Author