What It Costs to See These 7 Ancient Ruins Around the World
Discover the secrets behind the most incredible ancient ruins around the world.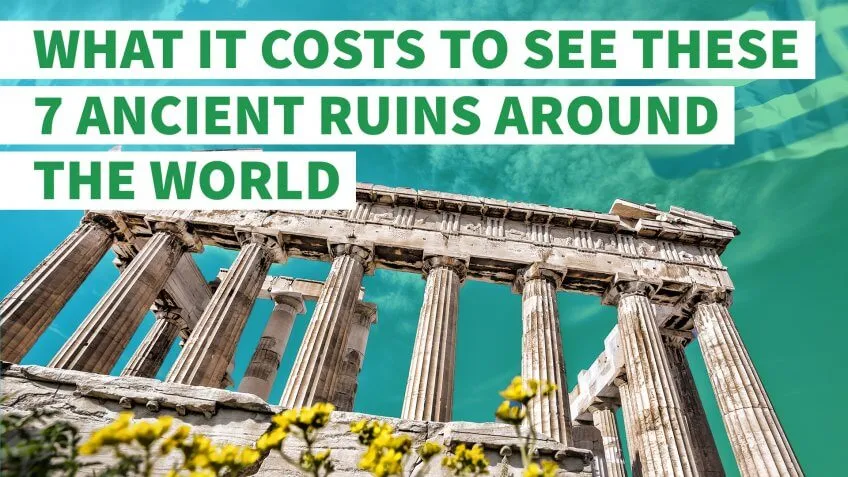 Samot / Shutterstock.com
Ancient ruins stoke the imagination and uncover the distant past. How historic sites like Stonehenge were constructed remains a mystery, but one thing is clear — they are absolutely worth the visit.
Discover the world's most incredible archaeological discoveries on these life-changing trips.
Rich Lynch / Shutterstock.com
The Acropolis, Greece
The past centuries in Europe have not been kind to historical sites. Between fires, earthquakes and wars, ancient ruins are disappearing — but you can still visit them, at least for now.
One can't-miss site is the Acropolis. It has sat atop a hill in the heart of Athens for more than 2,400 years and remains one of the most strikingly well-preserved remnants of ancient Greece. UNESCO calls its limestone pillars and monuments "universal symbols of the classical spirit and civilization."
Construction of the Acropolis began on July 28 in 447 BC, under the leadership of Athens' great statesman Pericles, though fortifications on the hill where the Acropolis stands date back much further. Its centerpiece is the Parthenon, a massive edifice of limestone and marble whose towering Doric columns are among of the most iconic ancient structures in the world.
The central location of the Acropolis in the middle of Athens makes it one of the most accessible ancient ruins. A variety of hotel accommodations are available in Athens for under $80 per night, and you can expect to pay about $700 for round-trip airfare from New York. Admission to the Acropolis is approximately $20, and tickets are available only at the onsite ticket office.
The Acropolis museum, just a five-minute walk from the archaeological site itself, offers another unique perspective on ancient Greece. It houses many of the monuments and sculptures from the Acropolis that were removed years ago. Admission to the museum is approximately $5.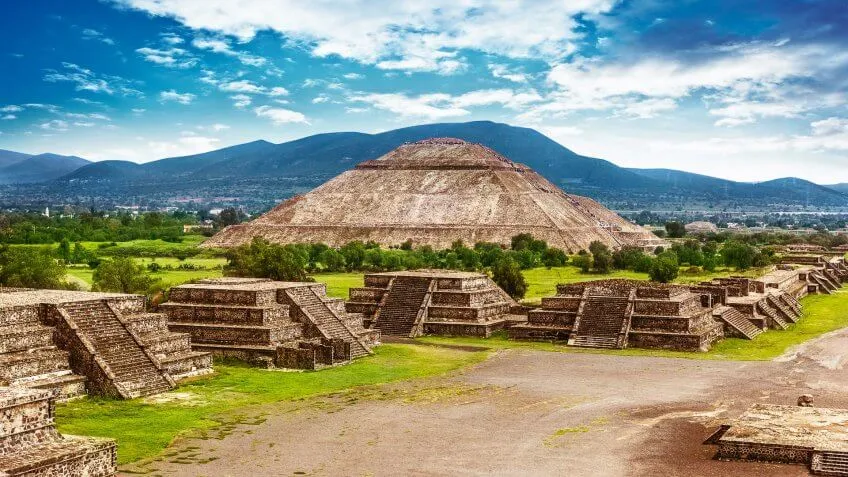 Anna Om / Shutterstock.com
Teotihuacan, Mexico
The ancient city of Teotihuacan is astonishing in its scale. At its peak, between the first and seventh centuries AD, it was one of the largest and most powerful ancient cities in the Americas. At least 25,000 people lived there at one time.
With its plazas, palaces, temples and dwellings connected by an enormously wide central road known as the Avenue of the Dead, Teotihuacan was a religious, cultural and commercial hub in ancient Mexico. Of all Teotihuacan's structures, its pyramids are the most impressive. The Pyramid of the Moon stands 140 feet above street level but is dwarfed by the 216-foot Pyramid of the Sun, which is one of the biggest structures ever constructed in the ancient Americas.
Although the architectural ingenuity and incredible manpower that went into building Teotihuacan is obvious, its origins are unclear. By the time the Aztecs discovered the city and gave it its name, it was a 1,000 years old and long abandoned.
The nearest airport to Teotihuacan is in Mexico City, about 30 miles away. You can get a round-trip flight from Los Angeles for $260 or less. Once there, you'll embark on a cheap, adrenaline-filled adventure.
Transportation between Teotihuacan and Mexico City's Terminal Central Del Norte costs just 35 pesos — less than $2 — each way. In Mexico City, you'll find plenty of hotel rooms under $40. Admission to Teotihuacan itself is under $5.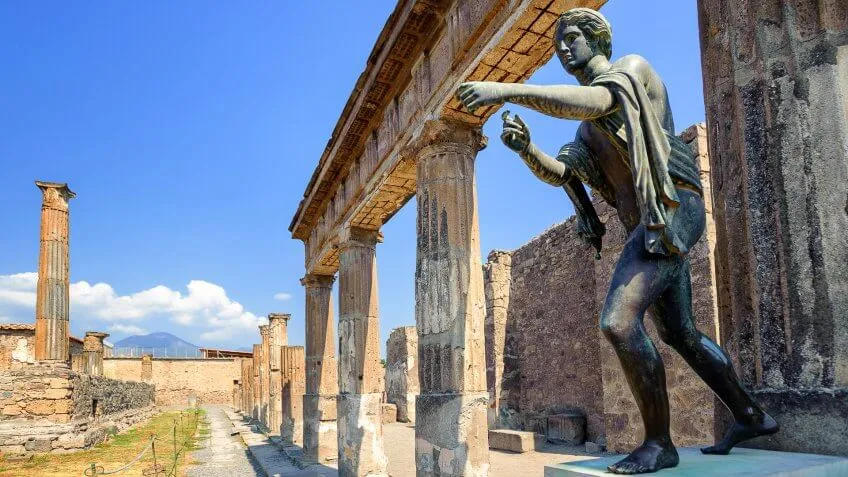 Boris Stroujko / Shutterstock.com
Pompeii, Italy
The story of Pompeii is well known. Built in the shadow of Mount Vesuvius and buried under ash during the cataclysmic eruption in 79 AD, the city was frozen in time for centuries.
As many as 20,000 people might have lived in Pompeii at the time of its destruction, and the day-to-day lives of the people in this ancient Roman city have been well preserved. The buildings of Pompeii — elegant villas, modest dwellings, temples, bathhouses, workshops, brothels — were protected from exposure to air for hundreds of years by the soft but dense volcanic ash that covered the city, leaving almost everything exactly as it was moments before the eruption.
Many furnishings, signs and even paintings are still intact, and plaster casts of cavities in the hardened volcanic ash have been created to reveal the shapes of human bodies where they fell. You can see a lot in a day, but the city is huge, and it's best to give yourself at least a few days to experience it all.
Flights from New York to Naples — which is about 18 miles from Pompeii — cost under $600. Train service from Naples to Pompeii is roughly $4 each way. Admission to the ruins at Pompeii is another $12 for a one-day pass, though you can get a three-day pass that includes admission to four other nearby archaeological sites for about $22. Several hotels near the Pompeii ruins provide accommodations for around $70 per night.
Related: Your Cost to Witness the Most Life-Changing Festivals Around the World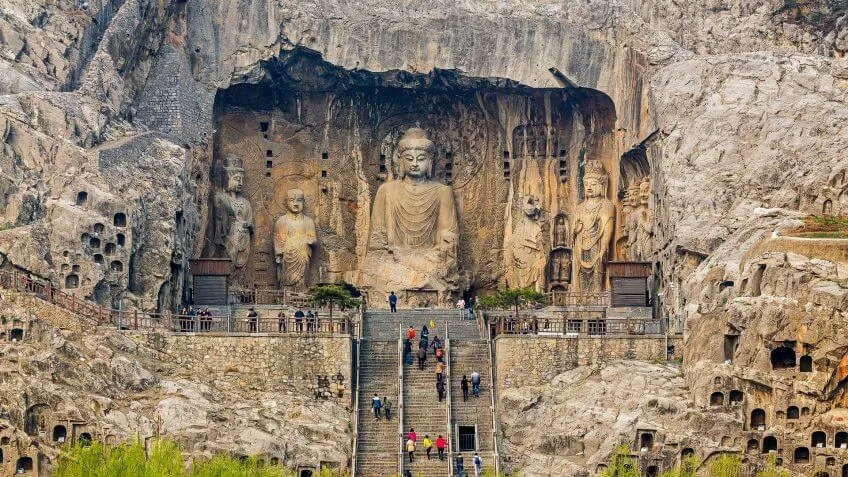 Bule Sky Studio / Shutterstock.com
Longmen Grottoes, China
Housing one of China's largest and most impressive collections of art and stone carvings, the Longmen Grottoes are awe-inspiring. More than 100,000 Buddhist stone statues are carved in a vast network of more than 2,300 caves and niches in the limestone cliffs overlooking the Yi River.
The carvings date back to the Northern Wei and Tang dynasties, and were created over the course of several hundred years between the fifth and eighth centuries. The Longmen Grottoes are an opportunity to trace the changes in Chinese sculpture styles over the course of 400 years. Some carvings stand 50 feet or higher, and the time and artistry that went into their creation is staggering.
The Longmen Grottoes are located about 6 miles south of Luoyang in the Henan province. The vastness of the Longmen Grottoes makes it virtually impossible to explore all of the grounds in a single trip, but be sure to include the Central Binyang Cave and the Fengxian Temple, which are home to some of the most impressive carvings.
The most expensive part of visiting Longmen Grottoes is the airfare, with a round-trip ticket from New York to Luoyang going for $900 or more. But hotel accommodations in the Luoyang area are fairly inexpensive, with numerous options under $50 per night. The entrance fee to Longmen Grottoes is about $15 per person. You can also take a private tour with an experienced guide for $107, which includes transportation from Luoyang, entrance to the Longmen Grottoes and lunch at a local restaurant.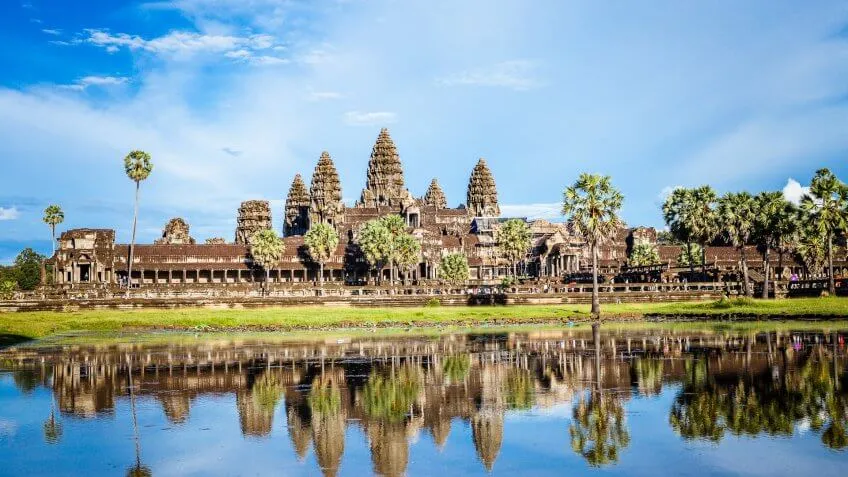 Oleskaus / Shutterstock.com
Angkor Wat, Cambodia
Deep in the jungles of Cambodia lies a vast complex of ancient ruins that were once the city of Angkor — the largest preindustrial settlement ever built, spanning over 500 acres. The city contains the ruins of more than a thousand ancient temples, ranging from mostly intact structures to crumbling heaps of rubble. At its heart is one of the most incredible ancient ruins on Earth: Angkor Wat.
Angkor Wat is the largest religious building ever constructed, and has been unsurpassed since its origins in the 12th century. Originally a Hindu temple dedicated to the god Vishnu, it became a Buddhist temple in the 14th or 15th century. The temple's lofty towers, relief carvings and cavernous galleries are incredibly well preserved. A French expedition stumbled upon Angkor Wat in 1860.
Today, Angkor Wat and the surrounding remnants of the city of Angkor are located within Angkor Archaeological Park. This large protected area includes not only the ancient ruins and jungle, but several villages that continue to be inhabited.
Angkor Wat is just 3 miles from Siem Reap International Airport, with airfare from New York typically costing around $900. While airfare is pricey, your dollar will stretch far in this destination.
Siem Reap offers a wide range of affordable hotels and villas, where you can get a room for $30 or less. An Angkor Pass is required to visit Angkor Archaeological Park and costs $37 for a one-day pass, $62 for a three-day pass and $72 for a one-week pass.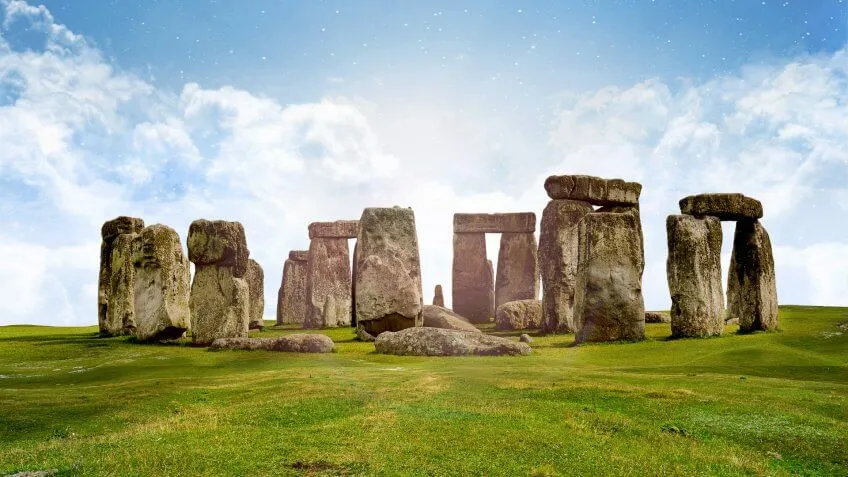 Abdoabdalla / Shutterstock.com
Stonehenge, England
A feat of engineering that continues to inspire visitors and baffle historians, Stonehenge has been one of Britain's most iconic monuments for centuries. It is, arguably, the most famous prehistoric monument in the world, but its origins are still a source of debate and speculation.
Stonehenge was built about 5,000 years ago, during the Neolithic period. The more than 100 stones that make up Stonehenge did not come from the chalk downlands of Wiltshire where the monument stands. The large, 25-ton stones that make up Stonehenge's outer circle, referred to as sarsen stones, are composed of a type of granite that is found in the Marlborough Downs, some 20 miles from Stonehenge. The smaller stones of the inner circle, known as bluestones, were probably the first to be put in place. They weigh 2 to 5 tons each, and are composed of various types of rock that are found in the Preseli Hills in southwest Wales.
How these massive stones were transported, who transported them and for what purpose is not entirely clear, though modern experiments using systems of rollers and ball bearings suggest the feat of moving the stones might not have been as impossible as was once thought. Theories surround the purpose of Stonehenge, though. It might have been the site of religious rituals or used as a sort of calendar.
It's also important to remember that Stonehenge was not built in isolation. Dozens of other archaeological sites have been discovered in the general vicinity, pointing to the existence of a complex society from around 2500 BC. Whatever the explanation might be, visiting Stonehenge is a remarkable experience.
London offers the closest international airport to Stonehenge, with round-trip airfare from New York for around $600. You can get train service from London to Salisbury, just a few miles from Stonehenge, for as little as $20, and a tour bus from Salisbury to Stonehenge for about $18.
As of April 1, 2017, adult tickets to enter Stonehenge cost approximately $20, but you can also save a couple bucks by buying in advance. Accommodations in the Salisbury area start at around $80, but you're likely to find a cheaper room in London.
Find: 16 of America's Weirdest and Free Roadside Attractions
Anton_Ivanov / Shutterstock.com
Machu Picchu, Peru
It's hard to imagine a place as extraordinary as Machu Picchu being completely unknown for hundreds of years. But, that's exactly what happened. Although it was abandoned in the 16th century, Machu Picchu wasn't discovered until 1911. It continues to be one of the most striking remnants of the once-mighty Inca Empire.
Perched in the Andes Mountains of Peru, Machu Picchu is one of the world's most beautiful ancient ruins. Founded sometime around 1450 CE, Machu Picchu's astonishing architecture is perhaps most notable in the way it makes use of the natural contours of the mountain.
The 200 or so structures of this Inca settlement — including temples, tombs, palaces and homes — reveal it was a center of activity, built by a people at the peak of their power. Sadly, that peak was short-lived. The Incas were all but wiped out by Spanish invaders in the 1500s, and Machu Picchu fell into obscurity until its 20th century rediscovery.
Hotel accommodations in the immediate vicinity of Machu Picchu tend to be pricey, with most rooms going for $150 or more. You can save on hotel costs by booking a room in the nearby city of Cusco for $75 or less. Cusco is also the location of the nearest airport, Alejandro Velasco Astete International Airport, where a round-trip flight from New York is typically in the neighborhood of $800.
Round-trip train service is available between Cusco and Machu Picchu starting at $68. A ticket to enter the ruins at Machu Picchu costs about $40.
Keep Reading: 12 Adrenaline Trips for the Wealthy Daredevil